Shiraz railway has become one of the most important means of transportation in Fars and Shiraz province. Considering that the city of Shiraz is very popular among tourists and many people enter Shiraz every year to visit this city, the relevant officials decided to consider a railway for Shiraz as well. Today, traveling anywhere by train is both very safe and one of the most economical ways to travel. Join us to review the history, facilities, access routes, services, rail routes, etc. of the Shiraz Railway in this article from Eligasht.
Book Iran Air flights from London to Tehran  and Tehran to London with Eligasht UK:

History of Shiraz Railway routes
It is interesting to know that the history of the Shiraz railway goes back 20 years ago. The construction of the railway in Fars province started from that time and it was finished and put into operation in 2008, but it can be said that it was finally in 2009 that the Shiraz railway was opened completely and without interruption.
More than 12 years have passed since the opening of the railway station in this city, it can be said that this railway is currently one of the most equipped and best railways in Iran. If you plan to travel to Shiraz, we suggest that you consider the option of traveling by train.
Facilities of Shiraz train station
The facilities of Shiraz train station are in good condition and various features are considered for the convenience of the public. One of the best facilities of the Fars railway station is the presence of a very large parking lot, which has completely solved your concern about the parking space. A large number of sunshades have been installed in the railway area, which provides good comfort for passengers.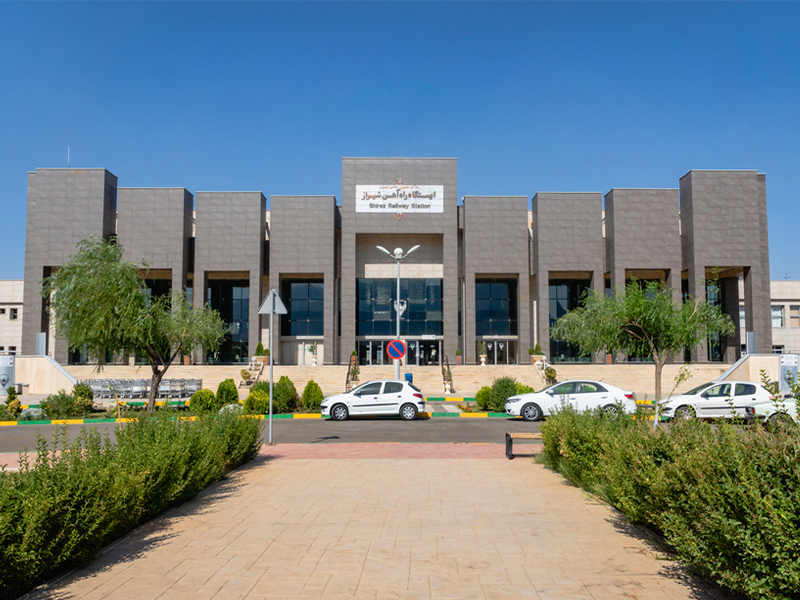 A suitable waiting room, various shops for buying souvenirs and gifts, restaurants, coffee shops, drinking facilities, restrooms, and digital boards announcing the status of trains and routes are among the features and facilities of Shiraz Railway station. Also, if you need a wheelbarrow to move your belongings, you can use the wheelbarrows placed at this station. Inside the station, there is also a place for taxis, and when you get off the train and want to go to your hotel, you can take advantage of their help.
Related post:

16 of The most delicious Shiraz local dishes you have to try!
The Best boutique hotels in Shiraz
Shiraz railway stations
Now that we are familiar with the Shiraz railway station and its good facilities, it is better to take a look at some of the most important railway stations in Shiraz. Important stations on the route of these railway lines are Marvdasht, Shahreza, Shiraz, Abadeh, Eqlid, Safashahr, and Saad Shahr. All these stations are busy and full of traffic and people use them well to get around. It may be interesting for you to know that nearly 2 thousand people use these train stations daily and move between the mentioned stations.
The routes of the Shiraz railway line
When you board a train or railway in Fars and Shiraz, your destination will not necessarily be one of the cities of Fars. Most of the railway lines of Shiraz's railway routes lead to Qom, Mashhad, and Tehran.  it should be noted that the destinations of Bandar Abbas, Jahrom, Lar, Bushehr, and Asalouyeh will soon be added to the stations of the Shiraz railway line.
The route from Shiraz to Tehran
The duration of this journey is 14 hours and 40 minutes, and in the meantime, you pass through stations such as Rudasht, Saadat Shahr, Safashahr, Eqlid, Abadeh, Shahreza, Isfahan, Sistan, Badroud, Kashan and Mohammadiyeh. The 4-star 4-seater Omid train with a 4-seater coupe, the 4-star train with 4-seater Sarir, the 4-star Nur train with a 4-seater coupe, and the 4-star 4-seater Ghazaal train are among the trains operating on this route.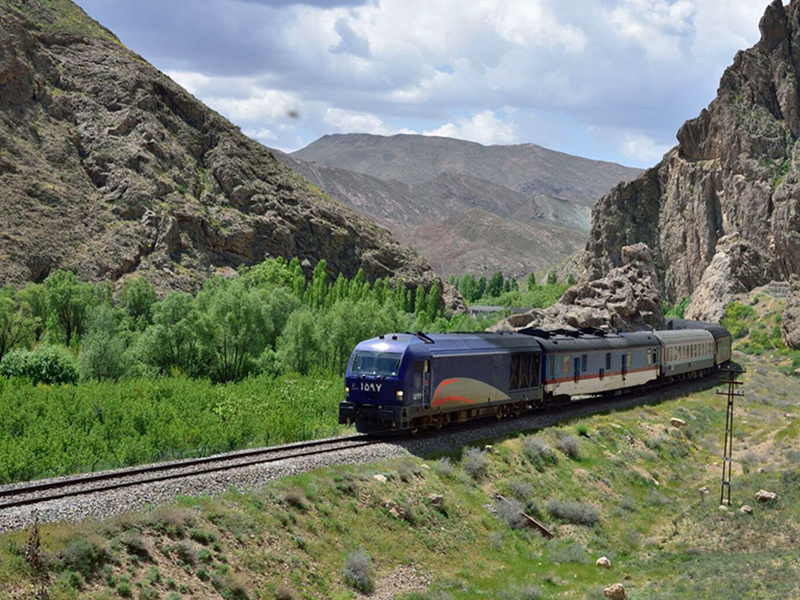 The facilities of these trains include a library, wheelchair, passenger service, WiFi, WC, sleeping service, video system, audio system, a power outlet, catering package, food sales in the restaurant, and a reading light. These facilities exist in most trains with slight changes.
The route from Shiraz to Mashhad
In terms of time, this route takes the longest time among train journeys. This trip takes about 24 hours. Raja Passenger Company is active on this route, and the 4-star, 4-seat Omid train, with a 4-seater coupe, moves to Mashhad. The facilities of this train can be mentioned as a library, wheelchair, bathroom service, sleeping service, video system, audio system, a power outlet, catering package, food sale in the restaurant, and air conditioning system.
Distance from Shiraz train station to the city center
One of the most important and main questions that can be discussed for most Shiraz travelers as well as those who travel to Shiraz is how far is the Shiraz railway station from the main points of the city? We will answer this important question below.
If you want to go directly to Hafeziyeh from Shiraz railway station, you should keep in mind that the distance between these two places on the map is 25 km. If you travel this route with a private car or a taxi, you will reach your destination after 28 minutes, but if you take a bus to reach Hafeziyeh, the length of the journey will increase to 1:45 minutes.
After getting off the train, some travelers like to go directly to the shrine of ShahCheragh of Shiraz and start the first step of their journey with a visit to this place. The distance between Shahcheragh Shiraz and the railway is 28 km, and if you use a private car or a taxi to reach this route, you can reach your final destination after 40 minutes.
Another regular destination for railway travelers is Saidiyeh. The distance between Saidiyeh and Shiraz railway is 27 km, and if the streets are quiet, you can reach the destination after 31 minutes.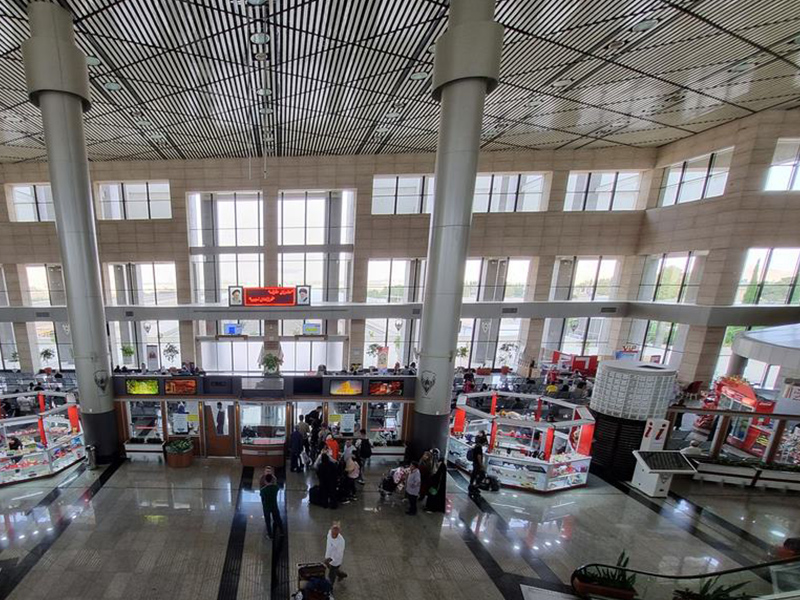 You can find the Shiraz train station at the address of Fars province, Shiraz, Sepidan, Shiraz highway.
Fortunately, the access route of the Shiraz railway to all parts of Shiraz city is possible with the shortest distance, and the taxi and bus lines of this city allow travelers to easily reach their attractive destination.
Shiraz railway, final words
Shiraz railway was opened in 1390 and since then it has been welcomed due to the good amenities it has provided for passengers. By riding at this station, you will not only have access to the cities of Fars province such as Safadasht, but you can also go to other provinces such as Tehran, Qom, and Mashhad. About 2,000 passengers travel by Shiraz railway every day. Also, with a large parking lot, you won't have to worry about parking your car, and you can reach your desired destination by using taxis. The distance from the Shiraz railway station to different areas of the city is very convenient and you can reach the desired train by spending less than an hour.