Dad Hotel Yazd is the subject of our discussion in this article, but before we delve into this hotel and its history, let us briefly talk about hotels in general. Traveling has been one of the desirable activities for humans since ancient times and has its special enthusiasts. The main concern of every person is to be able to find a peaceful and clean place to relax and unwind during their short stay at the destination. To this end, caravanserais were initially established, and then with the passage of time and entry into the modern world, inns, hotels, motels, etc., came into existence to temporarily meet the basic needs of travelers.
In the heart of the enchanting city of Yazd, Iran, lies a hidden gem that seamlessly blends tradition with modern comfort – Dad Hotel Yazd. Nestled within the historical fabric of the city, this extraordinary hotel offers an unforgettable experience for travelers seeking to immerse themselves in the rich cultural heritage of the region.
Yazd is a historical and beautiful city that invites many tourists. In our opinion, no matter why you travel to this city, you will undoubtedly enjoy your decision. The famous souvenirs of this city are delicious sweets and silk fabrics. Of course, the historical buildings in this city are also remarkable and beautiful, and Dad Hotel Yazd is one of the unique beauties and unmatched attractions of this city. Today, it serves as an accommodation facility and ranks among the best and most luxurious hotels in Yazd, offering the best amenities to its guests and travelers.
Book Iran Air flights from London to Tehran  and Tehran to London with Eligasht UK:

The history of Dad Hotel Yazd
Dad Hotel Yazd has a history dating back to the beginning of the present century. It was built in 1307 and initially served as a freight business where transportation drivers would take a rest. The initial founder of this building was Mr. Hajj Abdul Khaleq Dad, who established this structure through his efforts and endeavors. Until approximately 1372 SH, this building served drivers with the same purpose, and then in 1380 SH, it was transformed into a beautiful guesthouse and hotel named Dad Hotel Yazd, providing exceptional services to its visitors and guests.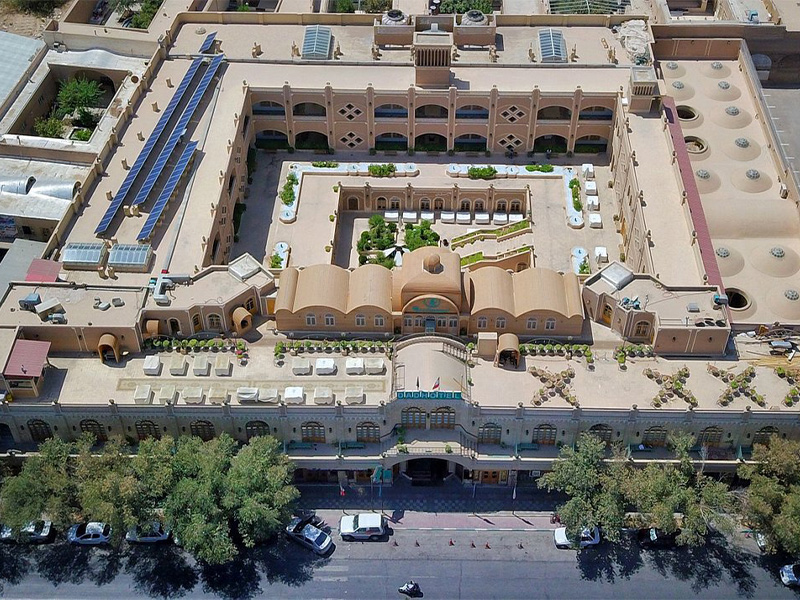 Legally, this place required restoration, which began in 1380 and was completed in 1386. When the project was completed, the caravanserai had transformed into a magnificent 4-star hotel. Dad Hotel Yazd, with its 80 years of history, is located in the heart and center of the beautiful and traditional city of Yazd.
A Glimpse into the Architecture of Dad Hotel Yazd
This 4-star hotel, a prominent landmark in the city of Yazd, has been renovated and transformed into a new structure while still maintaining an undeniable fusion with classical architecture. The lighting design of Dad Hotel Yazd showcases it as a radiant gem in the heart of the night. Despite its modernization, the hotel has preserved its authentic Iranian architectural style, embracing its original structure with tall and sturdy walls, reminiscent of a fortified castle.
Iranian authentic architecture has a distinctive blend with nature, and you can easily observe this beautiful combination in the windows and light wells of all the rooms in this hotel, which open up to a green courtyard. The courtyard and interior of Dad Hotel Yazd are designed as a sunken garden, providing a cool respite during the summer and showcasing the authentic architecture of the desert region of Yazd.
Related posts:


Introducing the most delicious local dishes of Yazd
21 of the tourist attractions of Yazd, Iran
Dad Hotel Yazd, an Environmentally Conscious Hotel
Both in its outdoor and indoor spaces, this hotel has preserved the traditional architectural style while making every effort to minimize any impact on the environment. For example, on the rooftop of Dad Hotel Yazd, you can see solar panels, which serve as an environmentally friendly addition. These panels generate 40,000 kilowatt-hours of electricity annually and contribute to a reduction of 25 tons of carbon dioxide emissions per year. The overall design of Dad Hotel Yazd is entirely inward-looking, and this aspect is even evident in the architecture and interior furnishings of the rooms. The traditional carpets, handwoven kilims, and embroidered bedspreads all serve as beautiful and extraordinary reminders of the past.
Location of Dad Hotel Yazd on the Map
Our suggestion for reaching Dad Hotel Yazd hassle-free is to use a taxi. This hotel takes the lead in the tourism and hospitality industry and is located right in the historical context, overlooking the main shopping centers of the city. The accurate and precise address of Dad Hotel Yazd is Baharestan Square, right in the middle of 10th Farvardin Street. Once you enter 10th Farvardin Street from Baharestan Square, the hotel proudly presents itself in the middle of the right side of the street with the number 214. The geographical location of this hotel is highly unique and embodies the traditional and ancient structure of Yazd. It is a luxurious hotel that is remembered as one of the best and most renowned hotels in the city of Yazd.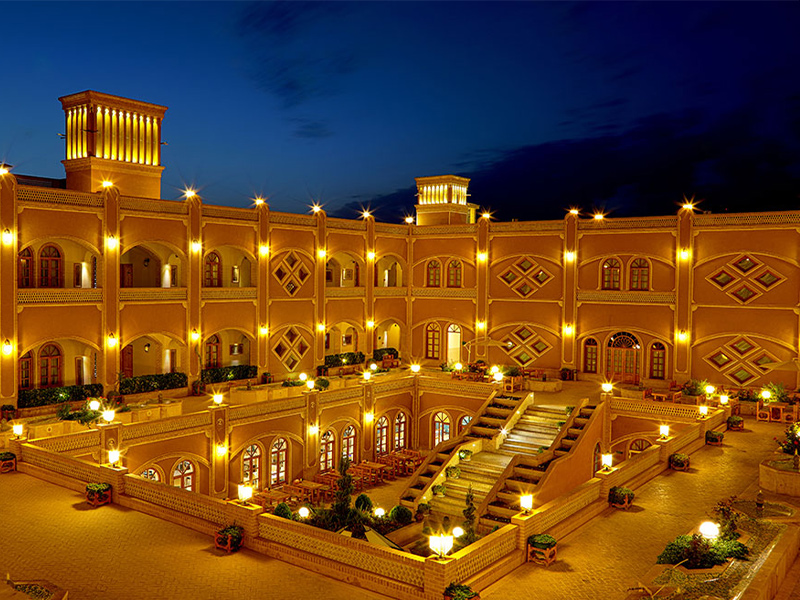 The distance from the hotel to Yazd Shahid Sadoqi International Airport is 11 kilometers, to the railway station is 4 kilometers, and to the Star Yazd Commercial and Recreational Complex is 1 kilometer. In other words, you only need a 5-minute walk to reach this shopping center. Furthermore, the distance from Dad Hotel Yazd to the Zoroastrian Fire Temple in Yazd is 940 meters, and continuing, it is 2 kilometers to the Jameh Mosque of Yazd and 471 meters to the Shesh Badgireh Water Reservoir.
The Interior World of Dad Hotel Yazd with Special Amenities
One of the honors of Dad Hotel Yazd is receiving the STUDIOSUS Germany award in 2009, which was achieved due to its highly precise and excellent customer-oriented approach. This means that this hotel has considered special and unique amenities for its guests and has easily managed to attract positive feedback from its visitors through its exceptional services. Among the special amenities of Dad Hotel Yazd, one can mention its sports and recreational hall, as well as its swimming pool and jacuzzi, which have their dedicated fans.
The modern world today has nothing to say without the Internet, and this hotel has made it easy for travelers to have special access to Internet services in all rooms and even in the lobby. Additionally, at Dad Hotel Yazd, you can easily utilize services such as laundry, a travel agency office, a handicrafts shop, a conference hall, and a separate parking lot, which are all part of the hotel's services. For example, the conference hall and banquet hall in this hotel can easily be customized according to your preferences and will be equipped with advanced facilities to cover your events.
Additionally ,this Hotel offers special services for its rooms. Refrigerator, safe box, power switch, furniture, television, telephone, wardrobe, writing desk, complimentary water, lamp, minibar at an additional cost, heating and cooling system, fire alarm system, tea maker, Western-style bathroom, and more are among the services provided to guests at Dad Hotel Yazd with the highest quality. The notable feature of the hotel rooms is the possibility of separate charging, and you can enjoy a delightful breakfast in your room alongside all these amenities.
room services
Each of the 88 accommodation units in this hotel has unique and interesting services for you. The single, double, and triple rooms, interconnected rooms, and honeymoon suites at Dad Hotel Yazd all have attractive living spaces. The exterior view of the rooms is clay-like with colorful windows surrounding the courtyard. The room spaces are designed traditionally, with handwoven rugs and bedspreads, which add authenticity to this place. The exceptional view of the rooms towards the hotel courtyard completes the picturesque scenery for you.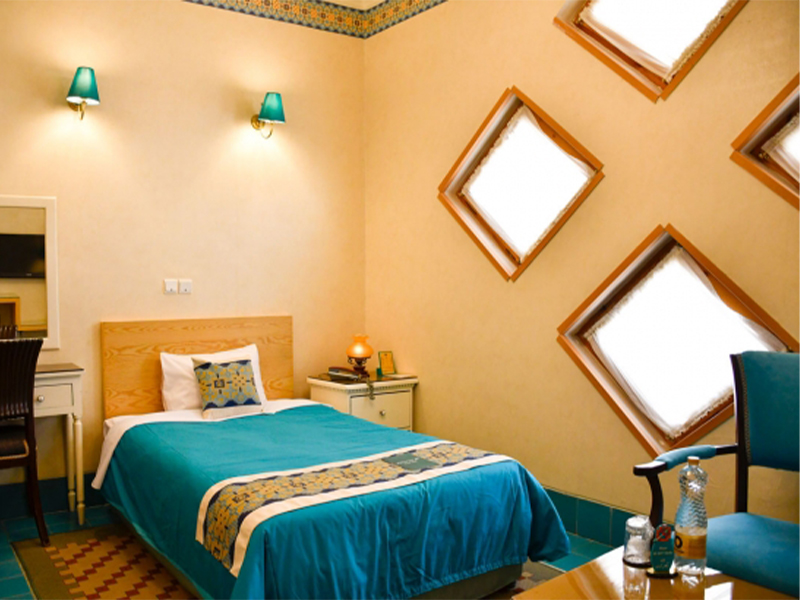 Special Amenities for Special Guests
Without a doubt, you are a special individual who has chosen Dad Hotel Yazd for your stay, so raise your expectations and anticipate special services as well. We recommend that you don't overlook the Dad Hotel gift shop because it is meant to surprise you and create beautiful memories by offering authentic handicrafts and unique souvenirs. Well, here we come to the delicious part of the hotel, which is the food section.
In this hotel, there are 2 restaurants and a café shop so that you won't have any concerns about your meals. One of these restaurants is called Bameh Restaurant at Dad Hotel Yazd. This restaurant has an extraordinary panoramic view of the city of Yazd, which we recommend you don't miss. The historical and charming atmosphere of this restaurant will provide you with a unique experience. In this restaurant, various traditional, grilled, and vegetarian dishes are served with special seasonings.
The second restaurant is named Aineh, and it can temporarily take your soul away from this world with its delightful ambiance. In this restaurant, you will taste forgotten and authentic Iranian flavors. This restaurant also offers various French and Iranian dishes with exceptional flavors. Now, let's move on to the cozy and delightful café shop at Dad Hotel Yazd, called Niloufar Gallery Café, which will have a strong connection with your memories. It has an intimate and emotional atmosphere that can captivate you for hours and complete your enjoyment with a variety of hot and cold beverages and delicious cakes.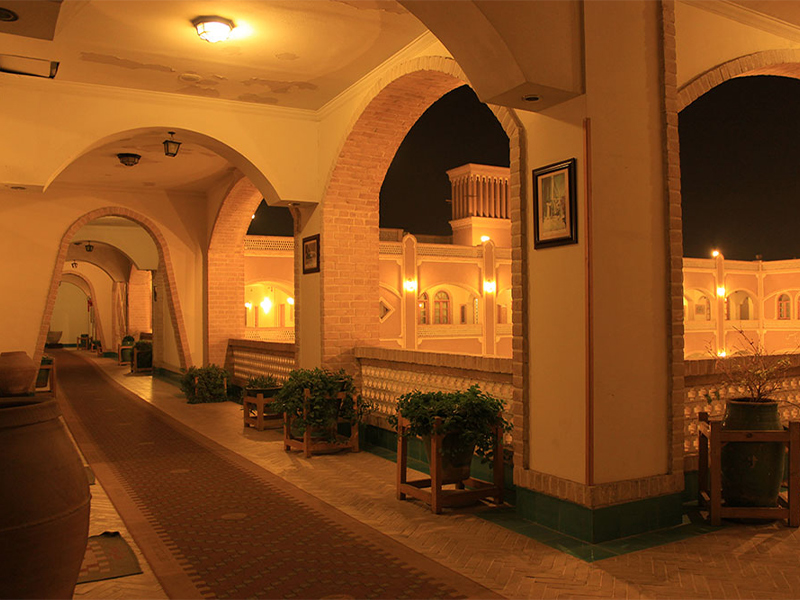 Pedar's Reception Hall
this Hotel has a separate reception hall equipped for your parties and events, to be the host of your ceremonies, conferences, and seminars. The staff in this hall are all trained and experienced, and all the advanced facilities you need are provided to ensure that you can be a good host to your guests. It is worth noting that the capacity of the Pedar's Hall varies between 25 and 100 people, considering your specific arrangement.
Tourist Attractions around Dad Hotel Yazd
As mentioned before, Dad Hotel Yazd is located in the historical fabric of the city and has an interesting location. This hotel is close to the tourist attractions of the city, such as the Jameh Mosque of Yazd, Ab-Anbar Shesh Badgir, Tekiyeh Amir Chakhmaq Yazd, Yazd Water Museum, Khan Bath, and Zoroastrian Fire Temple. The Zoroastrian Fire Temple in Yazd is only 2 kilometers away from Dad Hotel Yazd, so you won't have to travel a long distance to visit this historical site. Another attraction, Tekiyeh Amir Chakhmaq Yazd, is located 1 kilometer away from the hotel, and we highly recommend visiting it. The good news is that the historical Golestan House, dating back to the Qajar period, is also nearby. The distance from the hotel to the hospital is short, only 2 kilometers, and it is sufficient to travel a distance of 9 kilometers to visit the International Exhibition.
Dad Hotel Yazd Rules
Like any other unique space, Dad Hotel Yazd has its own specific rules and regulations. For example, you must have your national ID card and passport with you during check-in. The check-in time is at 2 PM, and the check-out time is at 12 PM. It should be noted that if a room reservation is canceled, according to the policy, the cost of one night must be paid.
According to the rules of Dad Hotel Yazd, if your child is under 7 years old, all services are free of charge for them. If your child is over 7 years old, you must pay the additional cost for one person. Don't forget that the use of the swimming pool is completely free for resident guests at the hotel, but if you only want to use the swimming pool services, you will have to pay for it.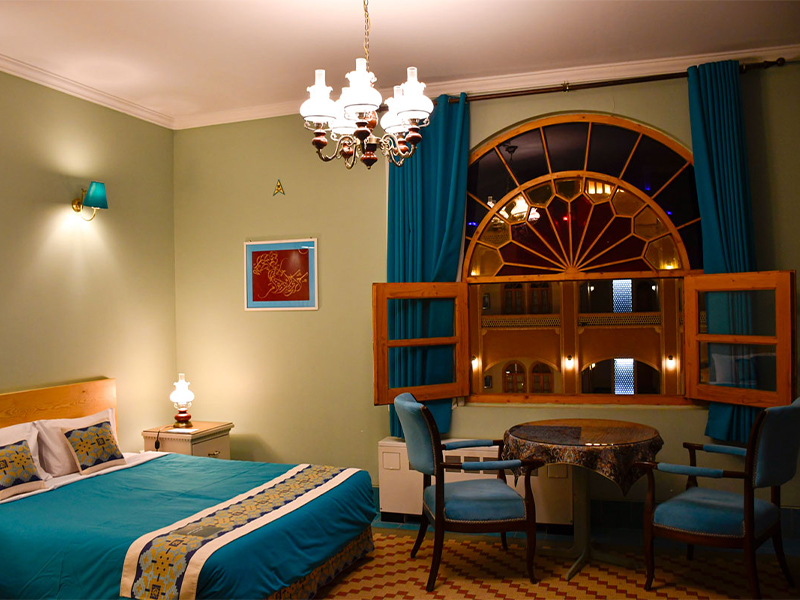 Dad Hotel Yazd Prices
As you know, in every city, different hotels consider different prices based on the number of stars and the services they provide. It is natural that this also applies to Dad Hotel Yazd. Generally, Dad Hotel calculates and announces the prices based on the type and style of architecture, the special services they provide, and the number of nights you plan to stay. In other words, the tariffs are clearly defined, and you will not be charged more than the specified amounts. In summary, the price of Dad Hotel Yazd depends entirely on the facilities and services you request.
Final words
Dad Hotel Yazd offers a unique and memorable experience for travelers visiting the historical city of Yazd. Its prime location in the heart of the city allows easy access to various tourist attractions, including the Jameh Mosque of Yazd, Ab-Anbar Shesh Badgir, Tekiyeh Amir Chakhmaq Yazd, and many more. Dad Hotel offers a comfortable and convenient base for your adventures. With its welcoming atmosphere, attentive staff, and prime location, Dad Hotel Yazd is the perfect choice for travelers seeking a memorable stay in this enchanting city.