With their grand and beautiful architecture, the boutique hotels in Kashan offer guests the opportunity to stay in a space with Iranian history and culture. By stepping into these hotels, you can go on a journey back in time and have an unforgettable and extraordinary experience in the heart of Kashan's history and culture.
Boutique hotels are places where guests can enjoy a unique and special stay. These hotels often have a small number of rooms and very beautiful and creative decorations. In boutique hotels, guests can enjoy amenities such as breakfast, restaurants, sports hall, pool, and other luxury facilities.
These hotels are often located in beautiful natural surroundings, in the middle of historic cities, or areas with unique spaces and designs. Boutique hotels are very attractive to those looking for a different and new accommodation experience and are usually offered at a higher price than regular hotels. In this guide, the tourism magazine Eligasht will introduce some of the most popular boutique hotels in Kashan.
Book Iran Air flights from London to Tehran  and Tehran to London with Eligasht UK:

The boutique hotels in Kashan offer luxurious and unique accommodations to their guests with unparalleled architecture, unique decoration, and high-end amenities. By escaping the hustle and bustle of the city, you can spend unforgettable moments in a peaceful environment with stunning views of Kashan's historic beauty.
Sourijan Boutique Hotel – Boutique Hotels in Kashan
The Sourijan Boutique Hotel is a historic building that is more than 250 years old and was built during the Qajar period. This hotel is located in an old and authentic neighborhood that provides access to Kashan's historic and magnificent buildings. To enter the Sourijan Boutique Hotel, you first pass through a beautiful passage and then arrive at a peaceful environment with four steps to rest at the gate. On the right side is the Sourijan Boutique Hotel, one of the most popular boutique hotels in Kashan.
This hotel has eight rooms, including four suites named Shah Nesheen, Sedri, Denj, and Sardab, three double rooms named Bamdad, Gozar, and Ghalam, and one single room named Parna. All rooms are equipped with amenities such as air conditioning, telephone, minibar, bathroom, hairdryer, and Wi-Fi. All hotel staff speak English, and various tours with different themes are available to guests. For guests' comfort, all rooms have a recommended menu for winter/summer blankets and pillows. To maintain a peaceful environment, there are no televisions in the rooms, and children under 12 are not allowed to stay at the hotel for privacy reasons.
Sourijan is a magnificent building that is more than two and a half centuries old. This hotel is located in an old and authentic place that takes travelers back to the historic past of Kashan. By entering Sourijan, you will feel a sense of peace and tranquility where all the elements of nature are gathered to bring you peace.
After passing through the beautiful passage, you will enter a world of peace, where just by taking a breath, you will return to the past era. Sourijan is a building made of mud that has resisted erosion and other disasters for two and a half centuries and is still one of the most attractive boutique hotels in Kashan today. Staying in this place takes you back to the past, to a time of peace, sunshine, water, happiness, and beauty.
Address: Kashan, Fazel Naraghi Street, Haj Baba Atouf Alley
Website: http://www.sourijanhotel.com/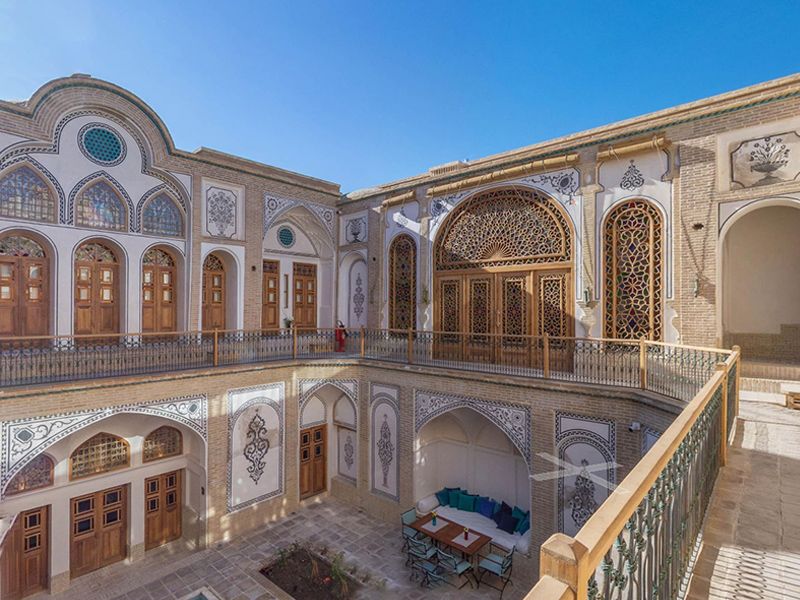 Saraye Aameriha Boutique Hotel – Kashan
Saraye Aameriha Boutique Hotel is a four-star hotel in Kashan that is recommended as one of the best boutique hotels in Kashan for guests looking for a luxurious stay. During their stay at Saraye Aameriha Boutique Hotel, guests will enjoy Iranian hospitality and a complimentary breakfast. The hotel was built 250 years ago and has been converted into a traditional hotel after renovation. The location of this hotel is excellent and you will have access to all the city's attractions by walking a short distance. Saraye Aameriha Boutique Hotel has a beautiful courtyard and an excellent restaurant.
In the past, this building suffered damage due to neglect, but now, due to renovation, it has become one of the most prominent examples of Persian architecture and, of course, one of the most popular boutique hotels in Kashan.
With a pleasant atmosphere, each room at Saraye Aameriha Boutique Hotel has a unique design and decoration, and a peaceful and pleasant environment with all the necessary amenities for your comfort has been provided. With water and gardens in the middle of the hotel, staying there will be very relaxing, and it will awaken a sense of returning to the past in you. Additionally, visiting the bazaar and old baths in the surrounding area is also among the activities that you can do in this area.
With the experience of staying at Saraye Aameriha Boutique Hotel, you will feel that you are staying in the best place in the city. Dreamy rooms, beautiful gardens, a unique rose water distillation display, a quality restaurant, quality services, and special features of this hotel will surprise you. The friendly and committed staff of the hotel make your stay more pleasant. All of these services and attention to detail make your stay at Saraye Aameriha Boutique Hotel an unforgettable experience.
Address: Kashan, Alavi Street, Baastan 7
Website: www.sarayeameriha.com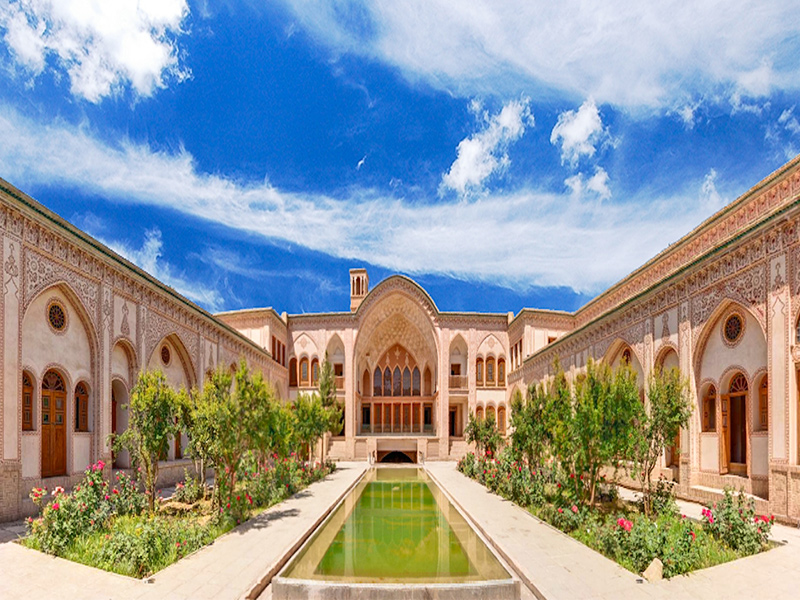 Related posts:
Underground City of Nushabad: The Hidden Wonder in Kashan
Abuzeidabad Desert | A Captivating Oasis in the Heart of Kashan
Sarva House – Kashan
Coordination among the elements of life has given meaningful quality to it. Each of these elements is a complex phenomenon, and a worthy life can only be imagined by coordinating all these parts. In this regard, the concept of home is closely related to our lives. The house has always been intertwined with the sky, earth, art, belief, and tradition. However, such coordination in present-day individualism has gradually disappeared.
Kashan is one of the last strongholds of resistance to this destructive attack on the concept of home. Sarva Hotel is one of the best boutique hotels in Kashan and one of these strongholds.
In the renovation of this building, efforts have been made to preserve all its features that date back more than two hundred years. In other words, traditional proportions and Kashan's architectural features were taken into account as a criterion in the renovation. This building is located in an area of less than 250 square meters.
This building consists of an entrance hall, a central courtyard, a main underground hall, a subterranean hall, and four rooms that form a genuine Persian four-fold courtyard. The east entrance leads directly to the entrance hall through the caretaker's quarters, and the north entrance leads directly to the entrance hall. This house was registered in the list of national heritage with the number 31507 under the name of Zar'ati Historical House in 2016.
Houses in Iran find their real and pleasant experience only in the presence of guests. The pleasure of travel is due to providing new and pleasant experiences. The feature of travel is to create new environments and various facilities. The Sarva handmade collection, along with a part of Kashan's local arts, presents guests with a selection of works by prominent Iranian artists.
Address: Kashan, Molla Habibollah Sharif Street, Esfahan Gate, Babayiha Alley, No. 130
Website: http://www.sarvahouse.com/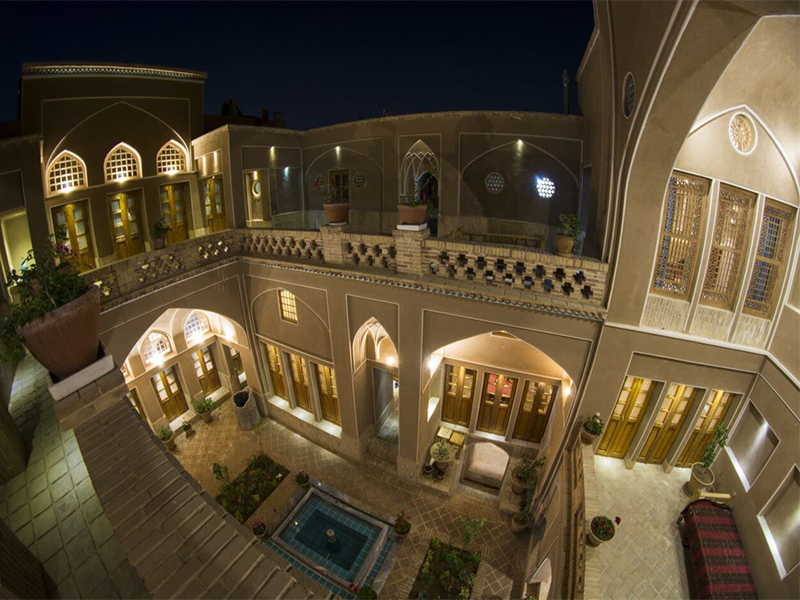 Sepanj Boutique Hotel – Kashan Boutique Hotels
Sepanj Boutique Hotel is a 200-year-old house located in Kashan and is one of the most attractive boutique hotels in Kashan and Iran. It has been renovated by its owners and provides a peaceful environment and diverse experiences for guests.
This boutique hotel is located in the historical part of Kashan, near the Agha Bozorg Mosque and the old bazaar of the city. The architectural design of this house has a unique style and showcases its special beauty with various details. A unique approach has been taken in the reconstruction of this house, which usually reveals hidden architectural details. Therefore, this boutique hotel not only provides a peaceful stay but also offers an exciting opportunity for exploring Iranian architecture.
This house has 10 rooms, a restaurant, two courtyards, a shop, an organic garden, and various galleries. Guests who have stayed in this boutique hotel have praised the beauty of the house, relaxing rooms, beautiful gardens, and friendly and hospitable staff. A delightful breakfast is served in this hotel, and new items are added to the breakfast menu every day. The hotel's location is also very good and provides easy access to the city's attractions.
Regarding the reconstruction of the house, the approach taken to preserve the original parts of the house is very interesting. The interior design is also very delicate and beautiful. The water channel in the house is also very unique and adds freshness to the environment. Overall, this house not only provides a place to stay but also offers a beautiful opportunity to explore Iranian architecture.
Address: No. 20, Shahid Aghajani Alley, Agha Bozorg Mosque Street, Kashan.
Website: http://www.sepanjhouse.com/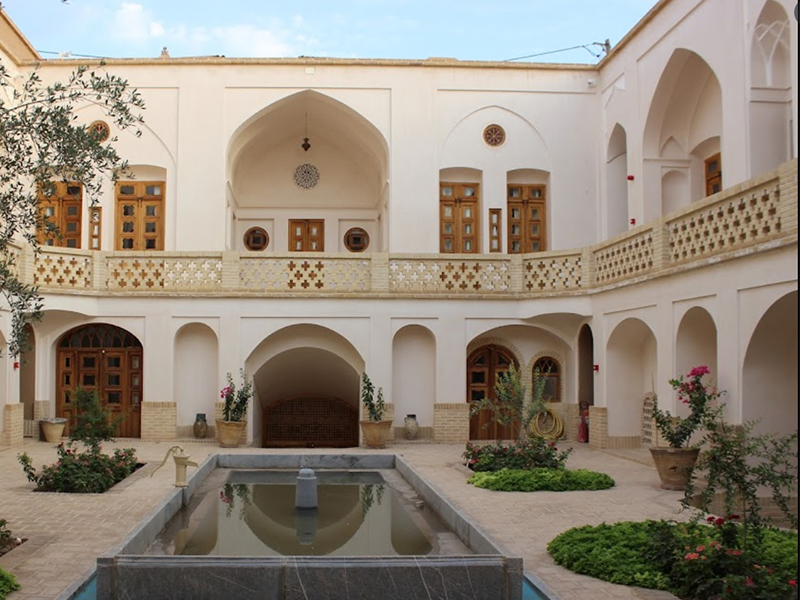 SangPoloy Boutique Hotel
SangPoloy Boutique Hotel is an old historical house in Kashan, which was opened in 2019. This historical boutique hotel, with a peaceful environment and modern facilities, offers the experience of staying in Iranian old houses for tourists and guests of Kashan and is one of the most popular boutique hotels in Kashan.
SangPoloy Kashan has eleven traditional rooms on two floors built in the style of a garden well. The central courtyard with a fountain and green space, the surrounding courtyards with eight entrances, and the rooms around the courtyard with a beautiful view of the gardens, pond, and fountain, are the features of this beautiful mansion. The traditional architectural style and the high windows around the courtyard have attracted tourists to this hotel.
Moreover, this mansion is equipped with the latest modern facilities, and the authenticity of the building has been preserved. It should be noted that the rooms on negative floor two do not have windows and have a light receiver on the door. Elderly people and families with young children should be aware of the presence of stairs at the entrance and the entrance to negative floors one and two.
SangPoloy Kashan traditional accommodation is located on Alavi street, Sultan Amir Ahmad Alley and its convenient location provides easy access to the historical attractions of Kashan, such as the Abbasian Historical House, Tabatabaei Historical House, and Borujerdi Historical House. Also, by walking a maximum distance of 2 km, tourists can visit Agha Bozorg Mosque, Jameh Mosque, and Kashan Traditional Bazaar.
Address: After Tabatabaei Historical House, Sultan Amir Ahmad Alley, Alavi Street, Kashan.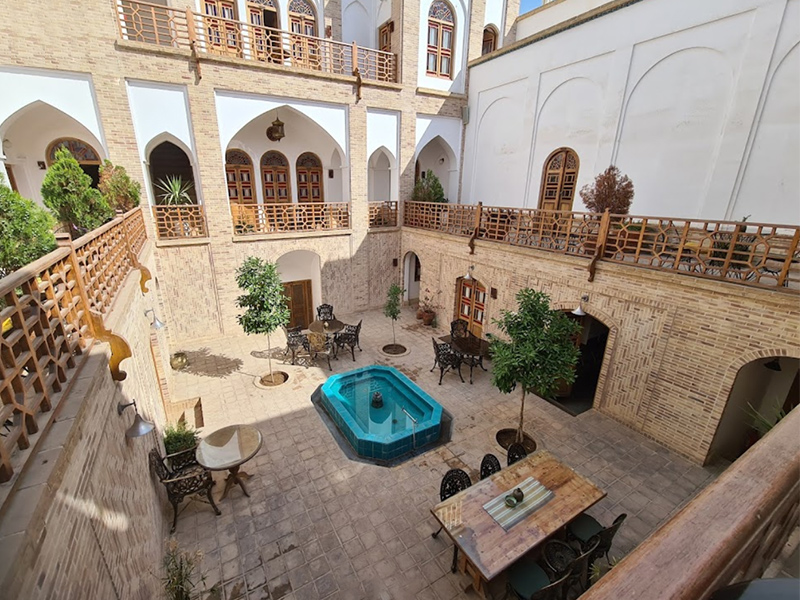 Morshedi House Boutique Hotel – Kashan Boutique Hotels
This chic boutique hotel is located in a decorated 18th-century old house, nestled among other houses and only 1 kilometer away from Agha Bozorg Mosque and Borujerdi House Museum. Kashan Airport is also located 17 kilometers away from this hotel.
Comfortable rooms in a stylish setting with Iranian handmade carpets and bathrooms decorated with colorful tiles have made this place one of the most popular boutique hotels in Kashan. These rooms have TVs, comfortable sandals, and some of them have kitchens and dining areas.
The hotel facilities include an informal restaurant, a furnished terrace, and a courtyard with several fountains. Parking is also available. This is one of the historic houses of Kashan with a 250-year history full of various events that have been transformed into a traditional hotel.
Like other historic houses in Kashan, Morshedi House was gradually deteriorating, but its fate changed, and it turned into an amazing boutique hotel. The rooms of this hotel are decorated in the style of Iranian aristocratic houses. Persian handmade carpets can be seen in every corner of the hotel. Some of the special services offered at Morshedi House include Kashan tours, high-speed internet, Kashan syrup, and proximity to other historic houses. Here, you can experience Iranian hospitality in one of the best boutique hotels in Kashan.
Address: Bustani Alley, Darvazeh Esfahan St., Kamal Ol-Molk Square, Kashan.
Website: www.morshedihouse.ir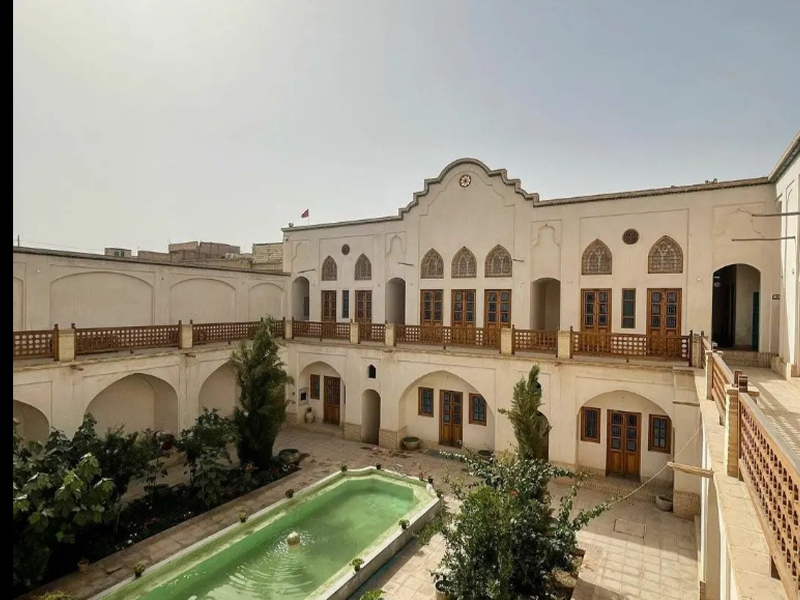 Final words
Kashan, with its rich history and unique architecture, is a must-visit destination in Iran. Staying in one of its boutique hotels can enhance the experience and provide a glimpse into the traditional Iranian lifestyle. These hotels not only offer comfortable accommodations but also showcase the beauty of Iranian architecture, design, and culture. Visitors can enjoy a peaceful and relaxing stay and explore the city's historical attractions while experiencing Iranian hospitality at its finest.