You want to go to Iran to visit your family in the coming days, what kind of British souvenirs are the best to take from England to Iran?
Buying souvenirs is one of the favorite traditions of people around the world. By buying souvenirs for our friends and acquaintances, we show them that we have not forgotten them during the trip and that we have always remembered them. Besides, buying souvenirs is usually a way to keep travel memories alive, especially if we have traveled to a beautiful country like England.
For those who travel to England and especially London, shopping is always a part of their trip. From crowded street markets to large and modern shopping malls, items are sold everywhere in this beautiful country that reflects its atmosphere. But definitely getting to know British souvenirs will make shopping much easier for you and prevent you from getting confused. So let's take a look at the most famous British souvenirs and where you can get them. It is interesting to know that most British souvenirs have a symbolic aspect and are handmade.
This article from EliGasht offers you the best choices and the most famous British souvenirs that you can gift to your friends and loved ones.
Booking plane tickets, hotels, and various tours by EliGasht:

British souvenirs: Liberty Print Knotted watches
Knotted watches in various Liberty fabric designs are one of the most beautiful yet practical British souvenirs you can buy from England. These watches are colorful, stylish, and eye-catching and are decorated with new and contemporary English designs, including the image of the Liberty Building. The Liberty building was built in the 1920s and is one of the famous symbols of London. That is why these watches have a special authenticity, which may not be found anywhere else in the world. Liberty knot watches are made of twisted fabric and have a small circular gold dial. Since the bracelet of these watches is made of fabric and has a knotted shape, it can be adjusted to the size of the wrist. The set of this wristwatch with a Liberty shawl or scarf doubles its beauty.
You can buy these beautiful watches in London from the Liberty Store located on Great Marlborough Street.
British souvenirs: Tower Bridge Cufflinks
These stylish and premium cufflinks are made in Deptford, South East London. Usually, these buttons are decorated with a beautiful and symbolic image of Tower Bridge. These accessories are originally made of ceramic and have a shiny coating. The image of the Tower Bridge is usually engraved in the form of a delicate black-and-white image on these accessories. These buttons are completely handmade and measure just over 1.5cm square. These accessories are suitable for men of any age and give special originality to a person's clothes. Because these earring buttons are made with white ceramic clay and finished with a nickel finish, they are lightweight, yet durable. These men's accessories come in a nice little velvet box and are listed as one of the best British souvenirs.
To buy a Tower Bridge button, you should visit The British Museum, which is located on Great Russell Street, London.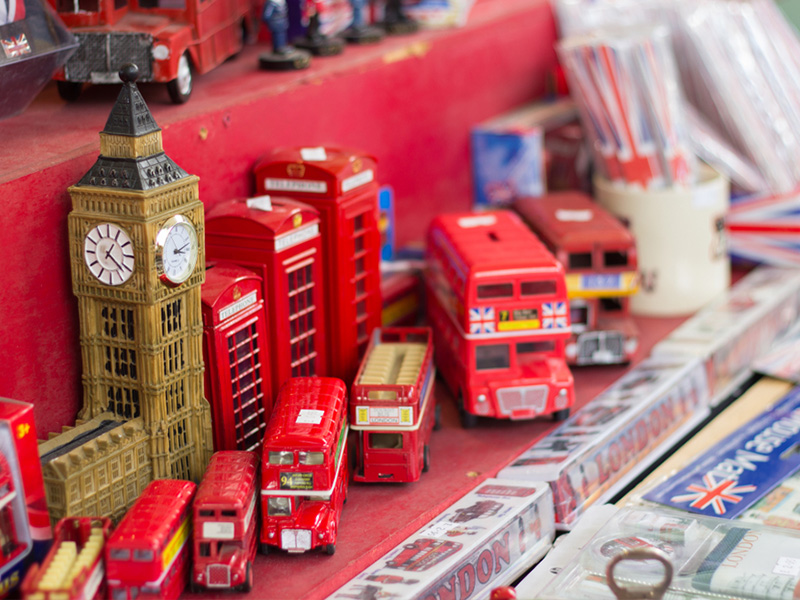 British souvenirs: Commemorative Pillbox
This commemorative box is one of the decorative items designed and produced by Buckingham Palace to commemorate the wedding of Prince William and Catherine Middleton on April 29, 2019. This premium porcelain commemorative box is only available in Buckingham Palace stores and makes very special British souvenirs and collectible gifts. This memorial box has a circular shape, its diameter is a little more than 6 cm and its height is about 2.5 cm. The first letter of the name of the royal couple along with the royal crown is engraved on the lid of this box with gold and silver plating.
To buy a memorial box, you should visit The Royal Mews Shop, which is located on Buckingham Palace Road in London.
Teapots decorated with images of London
Teapots decorated with pictures of London are among the best British souvenirs because they have both original and original shapes and are very practical. Also, if you are looking for a perfect travel souvenir, these teapots are great. These teapots are very diverse in terms of design and each of them shows the image of a part of the beauty of London, including pictures of Buckingham Palace, Tower Bridge, the Tower of London, etc.
These teapots are made by the Great British Pottery Company. The handle of these teapots has golden motifs, and the same motifs are also worked on the lid of the teapot and its opening. The height of this teapot is a little more than 15 cm and the distance from the handle to the tip of the teapot opening is about 20 cm. This teapot is originally designed to make two cups of tea. Usually, when buying, sellers pack these teapots in a suitable and tight way. So you don't need to worry about breaking them along the way.
To buy these teapots, you can visit various stalls located in London, Portobello Road Market.
London Umbrella
The London umbrella is one of the British souvenirs that you should definitely keep an eye on. The characteristic of the London umbrella is the "I love London" logo in bold and white letters, with a red heart standing out next to it. This high-quality umbrella has a chrome telescopic handle that folds up perfectly and fits in a handbag when you don't need it. At the same time, this umbrella has a nylon cylindrical cover that has a handle and you can easily carry the umbrella with it. This umbrella, while being strong, is very light and weighs only a little more than half a kilogram. At the same time, the price of this umbrella is much lower compared to other souvenirs. For this reason, it is considered a suitable gift for almost anyone.
To buy a London umbrella, you can go to the Fancy That of London store at 48 Great Russell Street.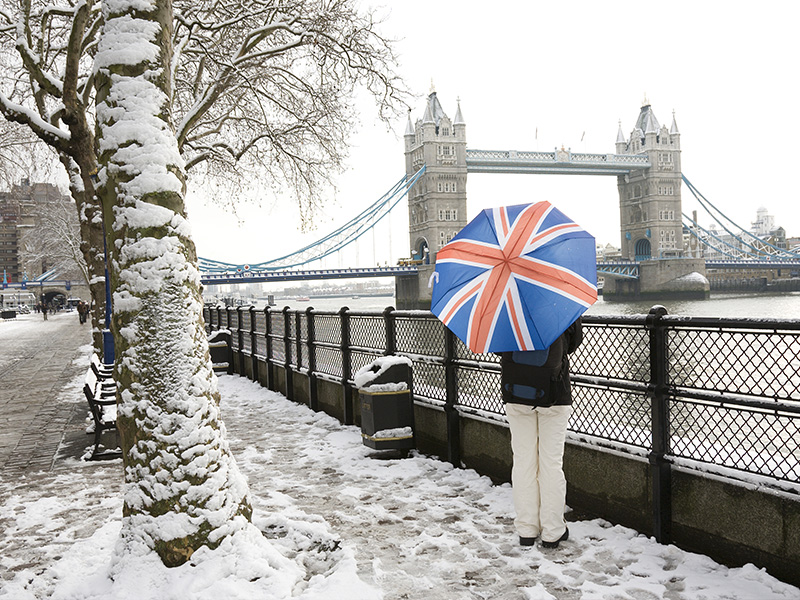 Digestive biscuits
You may be familiar with the name of these biscuits because we have similar ones, but you should know that the English version has a special taste that you will not regret trying.
These biscuits were prepared in the past under the name of sweet meals by two doctors and their purpose was to help better digestion of food with these biscuits.
These delicious biscuits are one of the best British souvenirs, which you can find with different and delicious coatings such as chocolate, caramel, etc. Among the best brands of these biscuits, we can mention "McVity's".
souvenirs from museums
It might be interesting for you to know that England and its museums have small shops where you can find interesting products.
In addition, London's museums often have free entry and you can spend your money in their shops and get great souvenirs. Among the most famous British museums, we can mention the "British Museum" and the "Victoria and Albert" museum.
Of course, note that the stores of these two museums are located in different places, but you can buy a variety of accessories and even home appliances in them.
British souvenirs: Union Jack
If you are curious about this souvenir, it is interesting to know that the Union Jacks are various objects that include switches, t-shirts, sandals, and clothes, and all of them are designed with the British flag and its colors. They are a great symbol of England and your trip to it.
So if you are thinking of getting British souvenirs with British color and culture, don't forget Union Jacks. These products are easily found in most stores and you can get them without any problems.
British souvenirs: Mags of Emma Bridgewater
You must be familiar with the English afternoon tea ceremony, and if you have the chance to participate in one of them, it is very likely that you will see at least one of the "Emma Bridgewater" dishes.
This brand is one of the famous English brands in the field of pottery and all kinds of mugs, which can be considered one of the best options in front of you for choosing British souvenirs.
British souvenirs: Paddington teddy bears
If you like to buy funny British souvenirs, Paddington Bear is one of the best options for you. It is better to know that Paddington Station is one of the best places where you can find these cute bears.
Paddington Bears are very soft and lovable dolls that are wonderful for gifting and with their British authenticity, they will record the memory of your trip well.
British souvenirs: Mini Cooper buses
London is one of the most popular cities in England, which has attractions to surprise you on every corner, so making souvenirs with the color of London can be very exciting.
Mini Cooper buses are familiar scenes in London that bring back the memory of that city well, so buying small replicas of these buses, which are designed with delicate details, can be one of your best choices to buy a British souvenir.
British souvenirs: Sherlock Holmes Frame
Undoubtedly, you all know Sherlock Holmes or at least have heard his name many times. This famous and professional detective is English and you can see many signs of his popularity in this country.
Even in London, there is a cafe with this name, where spending time in your favorite environment can be very attractive for you. In addition, if you are a fan of Sherlock, you can easily get his photo frames in this country or even give them as a British souvenir.
British souvenirs: Buttons with London Bridge design
As we told you before, one of the most famous museums in this country is the British Museum, where you can find wonderful souvenirs.
One of these wonderful products is delicate buttons with the London Bridge painted in the background, and they can be one of the most special British souvenirs that you can buy for your loved ones.
British souvenirs: Cashmere Scarves
If you are a fashion fan or a follower of the most up-to-date fashion news, it is likely that the British style of dressing has caught your attention. The people of this country often wear stylish clothes, among the most popular of which we can mention Kashmir scarves.
You can get these shawls as wonderful British souvenirs. Cashmere shawls are easily found in famous and reputable clothing stores and you can choose them with the design and color of your choice.
British souvenirs: English Tea
Undoubtedly, the first rank of the best souvenirs of this country belongs to no other product than the famous English teas. As you know, the afternoon tea ceremony is one of the most famous ceremonies of the British people, in which English tea with its wonderful flavor has the main place.
Therefore, if you are also a tea fan and you don't exchange its relaxation with anything else, don't neglect English teas.
In this country, there are many famous and wonderful brands in the field of tea production that you can choose from, but one of the best of them is "Yorkshire Gold" tea, which has a unique taste and aroma and is counted as one of the best British souvenirs.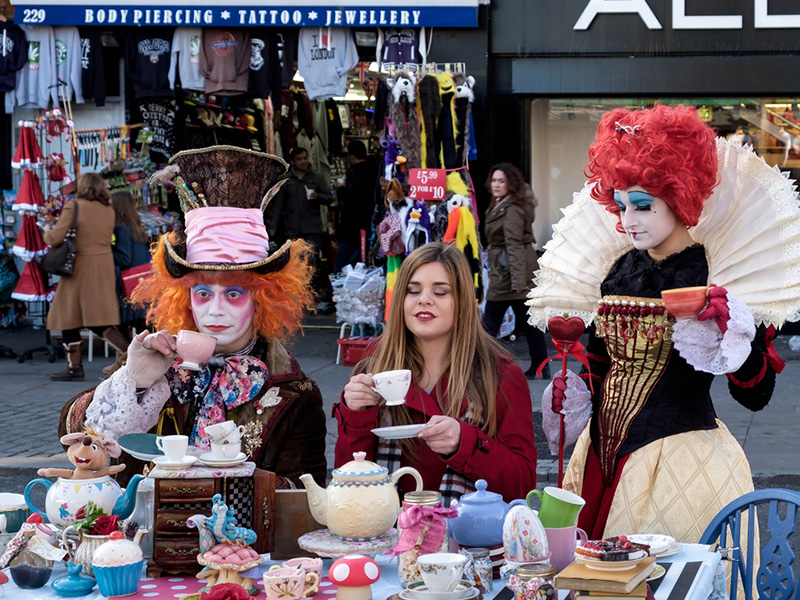 Conclusion
The list of British souvenirs is not limited to these items and is much more than these items. Cosmetic products, tea, glass cups, and various souvenirs and foods were among the souvenirs that we did not have time to talk about in this article. Each of these souvenirs has a corner of the beauty and originality of England. These souvenirs are also very diverse in terms of price, for example, handmade and branded souvenirs have a higher price. But in any case, the variety of British souvenirs is so great that you can choose the best souvenir based on your budget.