Madame Tussauds is a museum of wax statues whose center is located in London and has smaller branches in other countries and major cities of the world. Madame Tussauds Museums are one of the main tourist attractions in London and other cities and was founded by Marie Tussaud. In these museums, wax figures of famous people throughout history, the royal family, and famous movie characters are displayed, which have an extraordinary resemblance to these people themselves.
The oldest wax figure in Madame Tussauds museums belongs to "Madame du Barry", which is one of the works that came to Tussauds after the doctor's death. Due to the limited space and rising rent of this place, he had to move his museum to its current location, Marylebone Road. Marie Tussaud made a statue of herself in 1842, which you can see today at the entrance of this museum. The first overseas branch of Madame Tussauds was established in 1970 in Amsterdam. Follow Eligasht to know about other branches of Madame Tussauds museums.
Eligasht is the only source for buying direct plane tickets from London to Tehran and Tehran to London

History of Madame Tussauds Museums
Madame Tussauds was the name of a woman artist and sculptor who was born in 1761 in the heart of France, Paris. Marie Tussaud's mother worked for a doctor in the city of Brunswick, who was skilled in making wax models. Marie Tussaud learned her work from this doctor and made her first wax statue 1777 of the famous French philosopher, Voltaire. At the end of his childhood years and the arrival of adolescence, he went to Versailles with his uncle, a sculptor named Philip Curtius, to learn to make wax statues. He decided to hold an exhibition of wax sculptures in different cities and countries.
"Benjamin Franklin" and "Jean-Jacques Rousseau" can be mentioned among the famous people whose wax statues were made by Marie Tussauds. After the doctor died in 1794, the large collection of his sculptures went to Marie Tussaud, who devoted 33 years of her life to traveling in Europe and showing these wax statues. He rented a small space in London's Baker Street, which became Tussaud's first permanent exhibition in 1836. The most important part of Madame Tussauds was the "Chamber of Horrors" which contained criminals, victims of the French Revolution, and famous people such as Walter Scott and Horatio Nelson.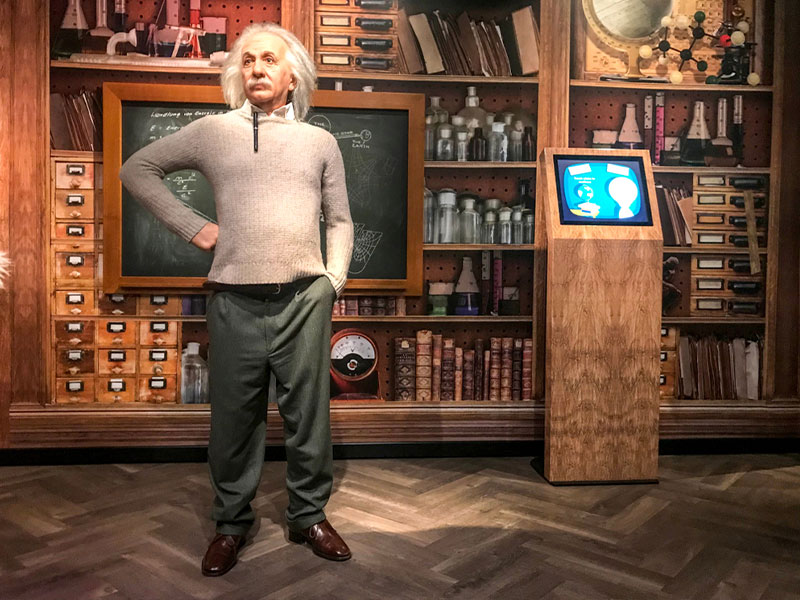 Branches of Madame Tussauds Museum
Madame Tussauds has branches in Amsterdam, Berlin, Vienna, Prague, Las Vegas, New York, Hong Kong, Shanghai, Tokyo, Sydney, Blackpool, Istanbul, Singapore, and Dubai.
Madame Tussauds museums:
London
The first to establish and the main branch of Madame Tussauds Museums. Located in Marylebone Road in the center of the city, this branch hosts real-life replicas of numerous famous figures.
The most popular figures in the London branch are Queen Elizabeth II, David Beckham, Michael Jackson, and Cristiano Ronaldo. There are other fascinating figures of celebrities and historic icons like The Beatles, William Shakespeare, Stephen Hawking, and Albert Einstein, as well as movie characters such as Iron Man, Spider-Man, and Darth Vader.
This museum also owns some of the very first wax figures built by Marie Tussaud, including her self-portrait which is placed in the entrance.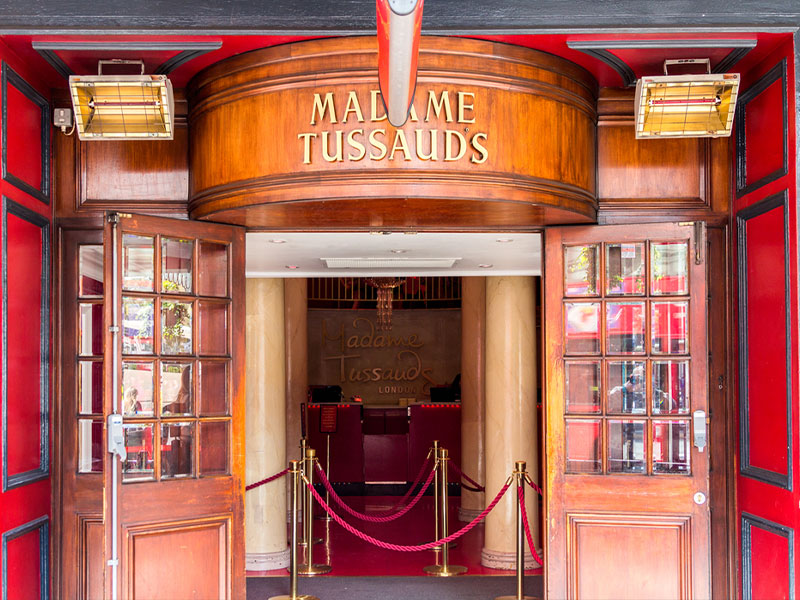 Madame Tussauds museums:
Istanbul
The branch of Madame Tussauds museums in Istanbul is located on the famous street of this city, Istiklal Street. like other Madame Tussauds museums around the world, it has statues of artists, actors, athletes, and politicians. This museum was built on November 28, 2016, on Istiklal Street in the Beyoglu district of Istanbul. One of the most famous figures of this museum, which is very much welcomed by domestic and foreign tourists of this city, is the statue of Maulana Jalaluddin Bekhi, an Iranian mystic, and poet, who was exiled to Konya. The remarkable thing about this statue is that due to the absence of any specific pictures and paintings of Rumi, it was made by his 22nd descendant named Farugh Chalabi, and it took a lot of time to make. In this museum, there are statues of famous Turkish people such as Mustafa Kemal Atatürk, Sultan Suleiman, Arda Turan, Burnsat, Kivanc Tatlitua, Tolga Twich, Recep Tayyip Erdogan, Messi, Rafael Nadal, Maria Sharapova, Muhammad Ali Kelly, Brad Pitt, Angelina Jolie, David Beckham, Albert Einstein, Mona Lisa, Leonardo da Vinci, Mozart, and Steve Jobs and many other famous people are on display.
Address: Hüseyinağa, Grand Pera, İstiklal Cd. no: 56 D:58, 34440 Beyoğlu/İstanbul, Turkey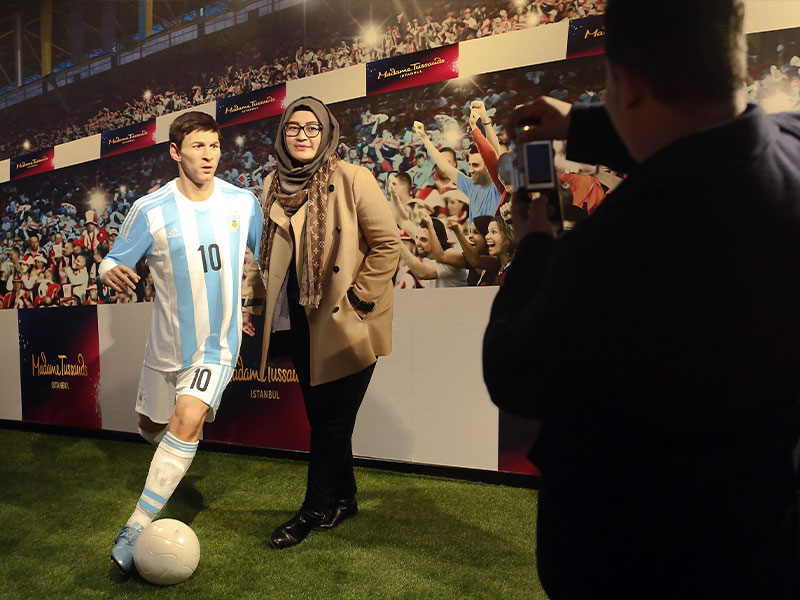 Madame Tussauds museums:
Bangkok
The branch of Madame Tussauds museums in Bangkok is located in the Siam Discovery Mall and has more than 70 sculptures on display. In addition to the statues of prominent world celebrities, the statues of Thai artists and historical figures such as the King of Thailand can also be seen in the collection. In this museum, you can take a selfie with your favorite characters and feel your moments in their form and by their side. On the second floor of this complex, there is a historical museum where you can see the construction and evolution of the collection and sculptures over the years.
Address of Madame Tussauds museum Bangkok: 989 Rama I Rd, Khwaeng Pathum Wan, Khet Pathum Wan, Krung Thep Maha Nakhon 10330, Thailand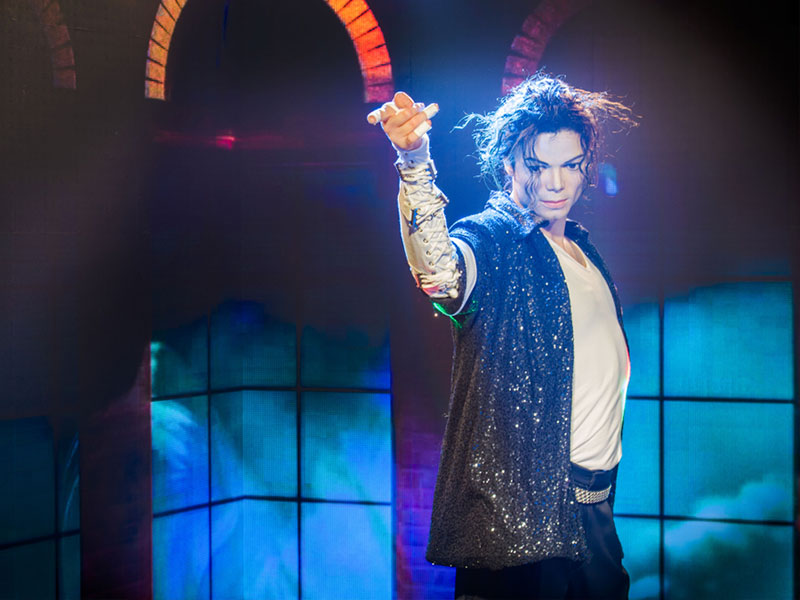 Madame Tussauds museums: 
Amsterdam
The branch of Madame Tussauds museums in Amsterdam offers one of the best photo spots with Amsterdam Central Station as a backdrop. A large round window can be seen on the top floor of the museum. In the summer, you can take a picture of the Damrock streets and the iconic De Bijenkorf building in one frame. Since the days are shorter in fall and winter, you may be able to capture the sunset from this window before the museum closes for the day. We can add that for fans of artists like Taylor Swift and Beyoncé, the music section of the museum will be the best place for photos and videos. The institution also has an art section that includes works by Salvador Dali and Mondrian.
Address: Dam 20, 1012 NP Amsterdam, Netherlands
Madame Tussauds museums:
Berlin
The branch of Madame Tussauds museums in Berlin with more than 100 famous statues is located just down the street from the Brandenburg Gate. Hollywood actors, world-famous singers, scientists, athletes, musicians, politicians, and popular stars such as Justin Bieber, Taylor Swift, Brad Pitt, Elias Mubarak, Manuel Neuer, Calvin Harris, Barbara Schnoberger, Albert Einstein, Sigmund Freud, Beethoven, Christian Ronaldo, and More than 110 others are waiting for you. In 2008, at the opening ceremony of the Madame Tussauds museum in Berlin, one of the guests entered the exhibition stage and tore off the head of the statue of Adolf Hitler. His statue is placed behind the glass after renovation and represents the last days of one of the most infamous people in history.
Address: Unter den Linden 74, 10117 Berlin, Germany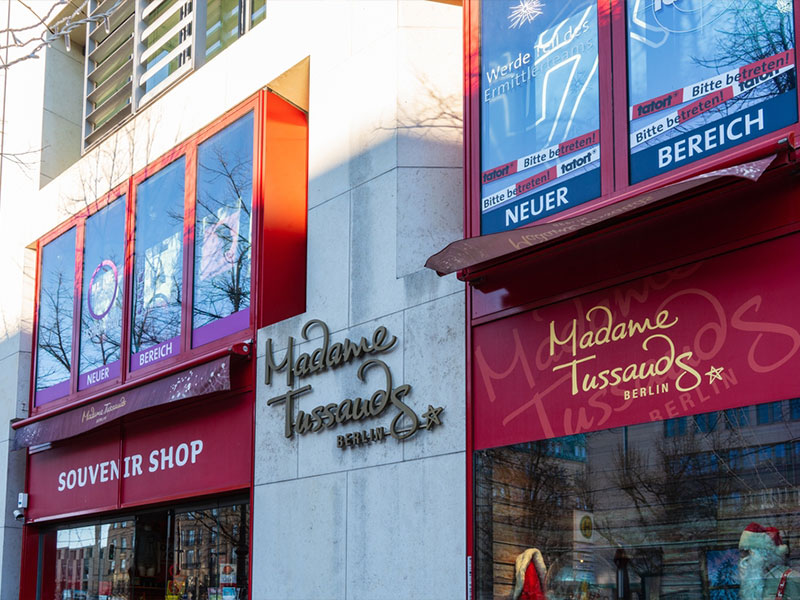 Madame Tussauds museums:
Dubai
The branch of Madame Tussauds Museums in Dubai is located on Blue Waters Island. If you haven't heard the name Blue Waters before, we must say that Blue Waters Island is one of the tourist attractions of Dubai and contains many luxury hotels and first-class restaurants. By the way, Ain Dubai, that is, the famous Dubai Ferris Wheel is located on the same Blue Waters Island. As a result, you can go to Ain Dubai after visiting Madame Tussauds Dubai and finally complete your day by going to a luxury restaurant in Blue Waters.
Madame Tussaud's museum ticket price is 135 dirhams per person. the Madame Tussauds museum also has a 300 dirham ticket, which is considered a VIP ticket of the Madame Tussauds museum, and anyone who buys it will have the opportunity to have a more comprehensive and complete acquaintance with the guide and leader. It should be noted that Madame Tussauds Dubai is open from Sunday to Thursday from 12 noon to 8 pm and on Fridays and Saturdays from 11 am to 9 pm.
Address: Bluewaters Mall, Bluewaters Island – Dubai – United Arab Emirates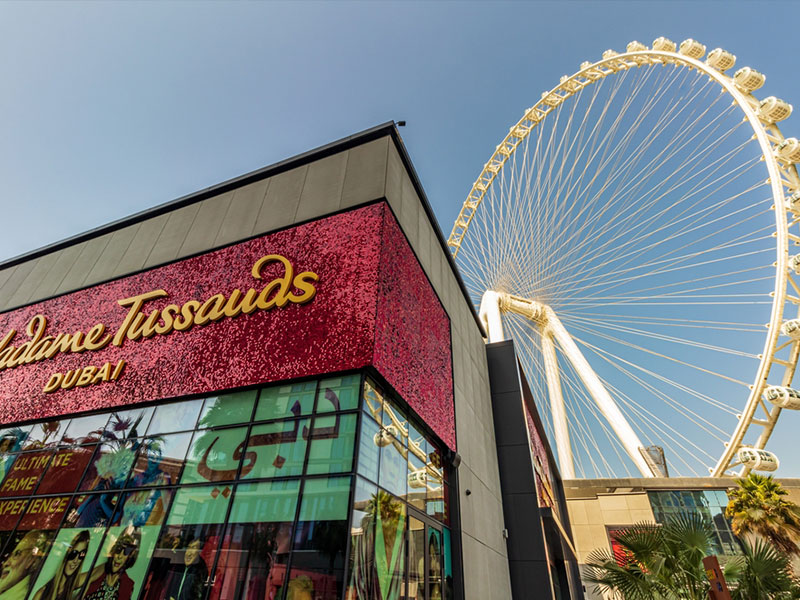 Madame Tussauds museums:
Singapore
In the branch of Madame Tussauds museums in Singapore, there are many other sightseeing and entertainment areas, among which you can watch simulated programs such as the Oscar and Bollywood awards, watch videos of the history of the advanced country of Singapore, and the driving simulator section for children. It has also a 4D cinema hall for rest and a little fun for all ages, as well as amenities such as restrooms, parking, drinking water, wheelchair rental for the disabled and disabled, green space for recreation and relaxation, and taxi service for the current well-being Visitors pointed out.
How to get to Madame Tussauds Singapore
To visit Madame Tussauds Singapore, you can buy tour tickets from hotels and tourist centers and go to see it with other tourists, or take a taxi to Imbia Street, you can also ride a tram. Get on the Sentosa Island train line, you can go to Sentosa Island via the Harbor Front Skyscraper by cable car.
Address: Singapore, Sentosa Island, Imbia Road
Madame Tussauds museums:
Shanghai
Like other Madame Tussauds museums in famous tourist areas around the world, this museum in Shanghai is also a popular tourist attraction among tourists visiting China. This museum includes 7 exhibition areas with different topics. Tourists can take photos with more than 80 supernatural wax figures of Chinese and international celebrities.
Shanghai won the competition among more than 30 cities and was chosen to build one of the few Madame Tussauds museums in the world. Until 2011, this museum was one of the 11 museums in the world. Currently, this number is about 25 museums. The situations in which you can take pictures next to the statues and with special poses add to the charm of these museums. Whether you are a movie fan, a sports fan, or a historical and cultural figure, you can find your favorite characters at Madame Tussauds Shanghai. For basketball fans, there are life-size statues of Yao Ming and Michael Jordan in the museum, and action movie fans can see statues of martial artists like Jackie Chan. Visiting this museum is a great way for both adults and children to learn about these historical figures and have fun.
Address: the 10th floor of New World Plaza, West Nanjing Road, Shanghai
Madame Tussauds Museums:
Tokyo
another branch of the Madame Tussauds Museums is in Tokyo and is located in a shopping center called Aqua City, and maybe few people know about the existence of the Madame Tussauds Museum in Tokyo. In front of the entrance of this complex, a statue of Marilyn Monroe and Lady Gaga attracts attention, encouraging visitors to enter.
The entrance to the museum is 2000 Japanese yen. The color of the door and wall of the museum, which you enter from a corridor, is red, and in the museum, you can pay a fee to hire a photographer to take your picture, and there are many accessories for makeup and changing your face for photography. Madame Tussauds Tokyo branch was established in 2013.
Address: 1-chōme-6-1 Daiba, Minato City, Tokyo 135-0091, Japan
Madame Tussauds museums:
Sydney
The Madame Tussauds museums in Sydney is located in Sydney's Darling Harbour, Australia, and contains wax figures of famous people in the fields of science, art, sports, religion, and politics. Madame Tussauds Sydney, which is the 13th branch of Madame Tussauds world museums, was opened in 2012. In this museum, visitors can pose and take selfies with the wax figures of famous people. Adele, Queen Elizabeth, Batman, Superman, Einstein, and Audrey Hepburn are among the figures whose statues are in the museum.
Address: 1-5 Wheat Rd, Sydney NSW 2000, Australia
Other branches of Madame Tussauds museums in the world
All branches of Madame Tussauds museums have wax figures of world-famous people including artists, athletes, politicians, and scientists. Visiting these museums can create unique memories and photos for you.
In the last part of this article, we listed the addresses of the remaining branches of Madame Tussauds around the world.
Address: 234 W 42nd St, New York, NY 10036, USA
Madame Tussauds Las Vegas
Address: America Las Vegas S Las Vegas Blvd, Las Vegas, NV 89109, USA
Address: Riesenradpl. 5, 1020 Wien, Austria
Address: Staré Město, Prague in Crezchia.
Madame Tussauds Blackpool
Address: 89 Promenade, Lancashire FY1 5AA, England.
Madame Tussauds Hong Kong
Address: The Peak Tower. Victoria Peak, Hong Kong Island
Reference: madametussauds.com