As the capital of Iran, Tehran has always been a popular destination for domestic and international visitors due to its diverse and abundant tourist attractions. However, choosing the best accommodation for a trip to Tehran can be challenging. While there are various hotels throughout the city, boutique hotels have become an attractive option for accommodation in Tehran due to their unique features and additional services. In this article from Eligasht, we will review the best boutique hotels in Tehran and introduce you to their different features. Join us to become familiar with the best accommodation options in Tehran.
Book Iran Air flights from London to Tehran  and Tehran to London with Eligasht UK:

What is a boutique hotel?
Boutique hotels are small, luxurious hotels with unique features and personalized services for guests. These types of hotels, with beautiful and distinctive interior designs, comfortable and chic spaces, additional amenities, and personalized services, are popular with travelers seeking a unique experience.  boutique hotels in Tehran also offer different amenities and services to their guests based on the city's cultural and historical diversity.
Best Boutique Hotels in Tehran
many boutique hotels in Tehran are known as the best places to stay due to their geographical location, interior design, facilities, and services. Let's take a closer look at the services and facilities of these boutique hotels.
Nezamiyeh Boutique Hotel
Nezamiyeh Boutique Hotel was once known as the house where the Fatahi family lived. In 1931, the house was registered under the name of "Kazem Khan Fatahi Noori". He was the protocol chief and the head of ceremonies at the German embassy and was very popular among diplomats due to his exceptional hospitality.
This house was the residence of Kazem Khan, his wife, and his stepdaughter, Alam Taaj. Due to their inability to conceive a child, Kazem Khan's sister gave her daughter to him as a gift. Interestingly, Alam Taaj's wedding was also held in this house. After Kazem Khan's death, the house was sold and today, after renovation and reconstruction, it has become one of the best boutique hotels in Tehran. It's worth mentioning that the hotel rooms are named after the Fatahi family as a sign of respect.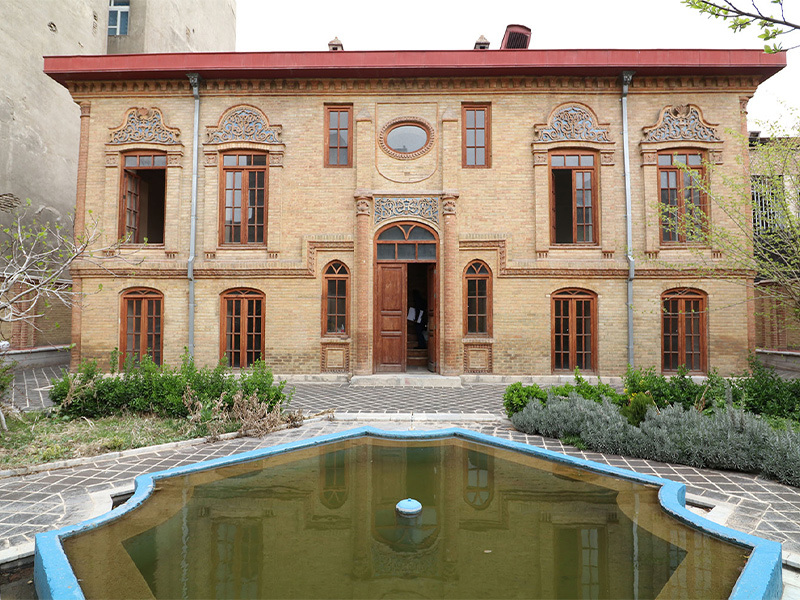 At Nezamiyeh Boutique Hotel, you can enjoy an amazing Iranian breakfast consisting of a combination of fresh and nutritious foods with Iranian tea. In Iranian culture, cooking is considered an art. Enjoying Iranian food goes beyond just the food itself and is considered a reason for people to gather and spread friendship and kindness. This culture is honored at one of the best boutique hotels in Tehran. In addition to room reservations, the hotel also offers the "Full House Rental" service for special occasions.
Address: No.21, 5th DE, Esalat Aly, Nezamiyeh Ave, Baharestan SQ, Tehran
Website: https://nezamiyeh.com/
Related posts:

Discover the Vibrant Arab Neighborhood in Tehran
From Lalehzar to Lolagar Alley: Exploring the Charms of Old Tehran
14 of the best cafes in Tehran
Hanna Boutique Hotel
The story of Hanna, one of the best boutique hotels in Tehran, begins with a ninety-year-old house on Lolagar Alley, a famous street in the heart of Tehran. Hanna Boutique Hotel is a statement of contemporary Tehran and a collection of layers that have been piled on top of each other for over ninety years. Staying at this hotel will give you a unique experience of living in Tehran, an intimate experience in the center of a bustling city, where you can enjoy contemporary art, architecture, design, and hospitality.
Hanna Boutique Hotel is the first urban reconstruction project of Persian Garden Studio. This boutique hotel was purchased in 2016 and reopened in the winter of 2019 after two years of reconstruction. The boutique hotel consists of seven rooms, a restaurant, and Platform and Pop-Up spaces. Its interior design is inspired by contemporary Iranian and international architecture, resulting in a modern space with new features that offer customers an intimate experience.
In 1309, six buildings were built facing each other on Lolagar Alley by a skilled builder named Hassan Bana. These buildings were commissioned by two brothers, Mohammad Bagher and Akbar Lolagar, and that's why the alley became famous by this name. The houses on Lolagar Alley were designed uniformly with similar doors and windows on the opposite side for each door and window. The story goes that in the early twentieth century when the streets of Tehran were formed and a level of public safety was established, the houses began to lose their high walls and opened their windows to the public space. The houses on Lolagar Alley are known as the first example of outward-looking architecture and the first residential complex in Tehran.
Plaque 2 on Lolagar Alley is the Hanna Boutique Hotel, with windows overlooking the street. This two-story building has an area of 540 square meters and is decorated with plaster and tiles. Persian Garden Studio started reconstructing this building in 2016. The first stage was researching the building's history and identifying its different layers. Each layer added to the building in different periods is a sign of the residents' life experiences and the people who lived in Tehran. In the reconstruction process, only the areas that needed repair and reconstruction were touched, and everything, from the building's different layers to other aspects, was preserved. It can be said that this hotel, as one of Tehran's most historical boutique hotels on Lolagar Alley, fully displays its ninety-year history.
Hanna Boutique Hotel is Persian Garden Studio's first urban reconstruction experience. Persian Garden Studio, the owner and developer of Hanna Boutique Hotel, is an architectural studio founded by Iranian architect Mahsa Majidi in 2001. She has a Ph.D. in architecture and is committed to three main elements in all her professional activities: "construction," "job creation," and "communication." Hanna Boutique Hotel is also designed based on this idea. With its urban reconstruction projects, Persian Garden Studio aims to bring life to the empty alleys of Tehran. Similarly, Hanna Boutique Hotel strives to preserve the purity of the building and its main spaces while meeting the needs of contemporary life.
Address: Nofel Loshato St., Lolagar Alley, Plaque 2, Tehran
Website: http://hannaboutiquehotel.com/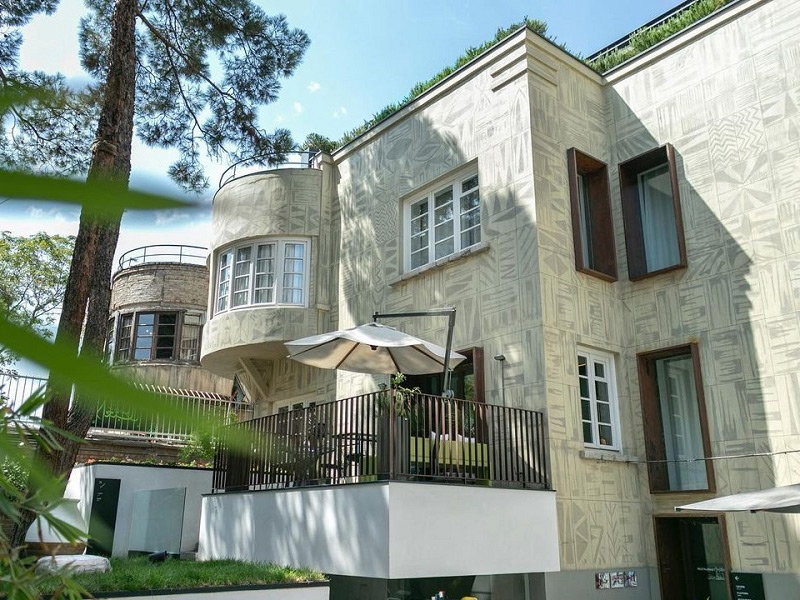 Niloo Boutique Hotel
The large rooms at Niloo Hotel are furnished to the best standards. Here, you can relax in the calmness of one of the best boutique hotels in Tehran. Each suite can have one or two bedrooms. Additional amenities include free high-speed internet access, a large-screen TV with a bed, a safe, a minibar, and all the other amenities expected from a modern international hotel. For those who want to experience luxury and comfort, the apartments and large suites of the hotel offer a chic and luxurious experience.
The rooms and suites of Niloo Boutique Hotel have been among the top-ranked in Tehran over the past 20 years and offer guests a luxurious space. Each room is equipped with a different design and style, with 2 or 3 beds and tea and coffee-making facilities. Large groups can benefit from connecting rooms for their stay.
Niloo Boutique Hotel has 6 floors. All rooms in this beautiful hotel are decorated with beautiful designs and color schemes, and the presence of traditional Iranian painting panels has made them even more beautiful. In this beautiful hotel, there are many facilities such as a breakfast room, Italian restaurant, 24-hour coffee shop, parking, meeting and conference room, swimming pool, sauna, Jacuzzi, and spa. In addition, there are facilities for heating food in the hotel suite's kitchen. The hotel's location in the city center and easy access to the airport and railway are also among the advantages of Niloo Hotel, one of Tehran's best boutique hotels.
Address: No. Gate, Shams-e Lahijani St, Gita St, Hemmat Bridge, Tehran, Iran.
Razzaz Boutique Hotel
Razzaz Boutique Hotel is an old house in Tehran, only an 18-minute walk to the metro station and 2 kilometers from Tehran Grand Bazaar and Golestan Palace. When you enter this place, it feels like you've returned to the past. The details and space are beautifully designed. This boutique hotel is located on a narrow street behind beautiful wooden doors.
The bedrooms of this boutique hotel are decorated with warm decorations and have Wi-Fi access. The facilities include a shared kitchen, a beautiful terrace and a barbecue area, indoor and outdoor spaces, a TV room, and a dining room with a breakfast buffet.
The hotel's affordable cost, central location, walking distance from Tehran's attractions, authentic neighborhood, historical building with interior and exterior sections, cozy atmosphere, modern facilities, clean and safe rooms, very comfortable beds, terrace, 24-hour front desk, efficient staff, free Wi-Fi, complimentary breakfast, and free coffee and tea throughout the day have made Razzaz one of the most popular boutique hotels in Tehran.
Address: No. 38, Shojai Alley, Javidy St, Amir Kabir St, Tehran, Iran
Website: http://razzaz-boutiquehotel.com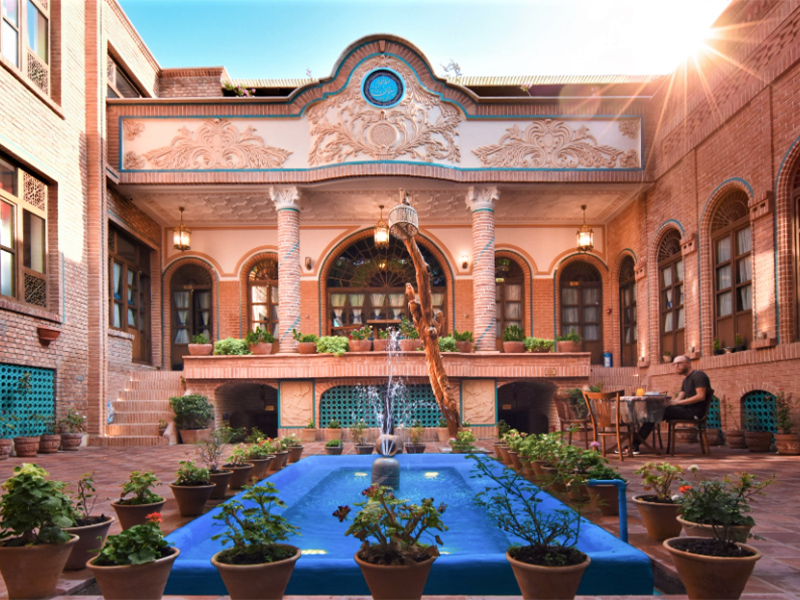 Tooba Boutique Hotel
Tooba Boutique Hotel is one of the most luxurious hotels in Iran, located in the upscale area of Jordan in Tehran. This hotel includes 28 units, a restaurant, and a conference hall. At Tooba Boutique Hotel, guests can choose their favorite colors, fruits, flowers, and even scents for their room.
Tooba Hotel is located in a beautiful and peaceful neighborhood, close to shopping centers, luxury restaurants, and recreational facilities, with easy access to the city center and commercial centers. The hotel has won several customer service certificates and provides excellent services to its guests. Staying at Tooba Hotel is a guaranteed experience of excellent and luxurious services, comparable only to the comfort and convenience of your own home.
With a variety of rooms from luxury rooms to large suites with unique designs and high-quality equipment, Tooba Boutique Hotel is a haven for discerning guests in Tehran. The rooftop restaurant at Tooba Hotel is one of the best restaurants in Tehran. Expect a unique design, excellent views of Tehran, and professional and trained staff in this restaurant. The restaurant offers international and grilled dishes prepared by an experienced chef. A comfortable space with complete amenities has also been provided for hotel guests and conference meetings.
The rooftop café offers a unique space and beautiful views of the Alborz Mountains in Tehran, serving Italian dishes (pasta and pizza) using the principles of Feng Shui design. The café offers a variety of salads, burgers, cold and hot sandwiches, and cold and hot drinks.
The conference hall, with a capacity of up to 80 people, includes advanced audio and visual systems, interactive boards, projectors, and simultaneous translation, making it suitable for seminars, training courses, and workshops. Guests can arrange the hall space in a U-shape, classroom, or cinema style according to their needs. In addition, a section of the lobby has been dedicated to contemporary art exhibitions and galleries to introduce Iranian art. Tooba Hotel's sports facilities, one of the most luxurious boutique hotels in Tehran, include a dry and steam sauna, a Jacuzzi, and a gym.
Address: No. 17, Naseri St, Africa (Jordan) Blvd, Tehran, Iran
Website: http://www.toobahotel.com/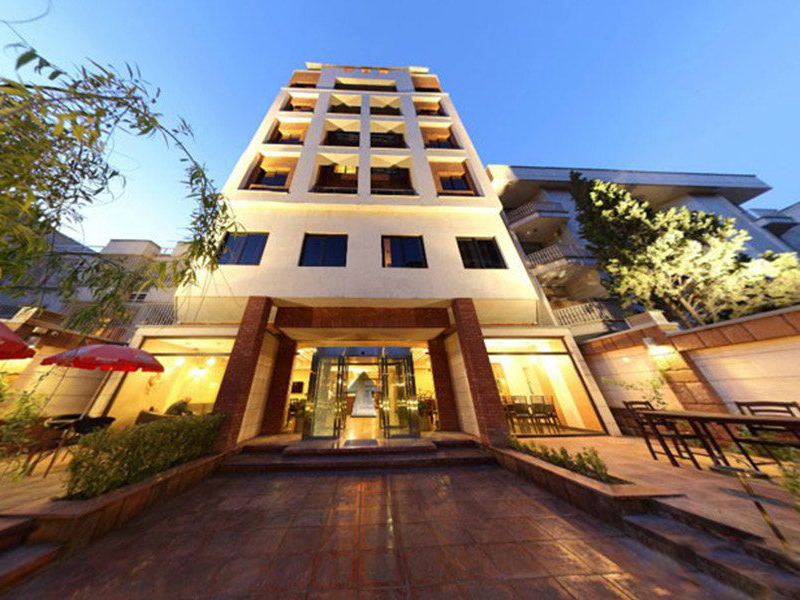 Final words
boutique hotels in Tehran offer a unique and personalized experience for travelers seeking luxury and comfort. From the contemporary design of the rooms to the exceptional service and amenities, these hotels are ideal for those looking for a more intimate and exclusive stay in Tehran.
Whether you're in the city for business or leisure, boutique hotels provide guests with a memorable and authentic experience in the heart of Tehran. With their prime locations, exceptional services, and personalized touches, boutique hotels in Tehran are a must-try for anyone looking for a luxurious and unique stay in this vibrant city.