The benefits of flying with Turkish Airlines are so many that needs a complete article. Turkish Airlines is one of the most reliable and well-known airlines in the world. At the same time, the flights of this company are almost economical and the price of the plane ticket is considered reasonable for Turkish Airlines flights.
The huge and long-term investments of Turkish Airlines in airplanes and passenger services have made this company gain a good position among all the airlines in the world. Also, Airline review magazines have mentioned this company as one of the best in the world due to the quality of service and flight security it provides.
For this reason, In this article from Eligasht, we will discuss all the benefits of flying with Turkish airlines and choosing it for a trip.
Book a London to Tehran  and Tehran to London flight on Turkish Airlines with Eligasht uk
History of Turkish Airlines
Turkish Airlines was built by the order of Atatürk in 1933 during the modernization program of Turkey. Over the years, this airline has received many awards and in 2015, it was announced as the best airline in Europe and the fourth airline in the world.
Turkish Airlines is the largest and main transit contractor for the arrival and departure of Turkish air passengers and has flights to more than 200 international airports in the world. With 247 flight routes, this company is the fourth largest company in the world in terms of flight routes and the third largest airline in Europe after Air France and Lufthansa in terms of passenger traffic. The head office of Turkish Airlines is located in Istanbul and its main branches are at Ataturk Airport and Sabiha Gokcen.
Tips on buying Turkish Airlines tickets
You can easily book a Turkish Airlines ticket with the Eligasht website. you only need to pay attention to the date and time of the flight and be very careful in entering the information and choose the best flight according to the list of flights displayed.
Turkish flights for the popular flight from London to Tehran are available through the Eligasht website and you can easily use the internet services to buy plane tickets. It is very important to be careful and follow the rules in buying Turkish Airlines tickets, so those who want to have a very good trip can use the benefits of flying with Turkish Airlines. In general, it can be said that Turkish flights can be a good option for travelers due to the quality and good flight services.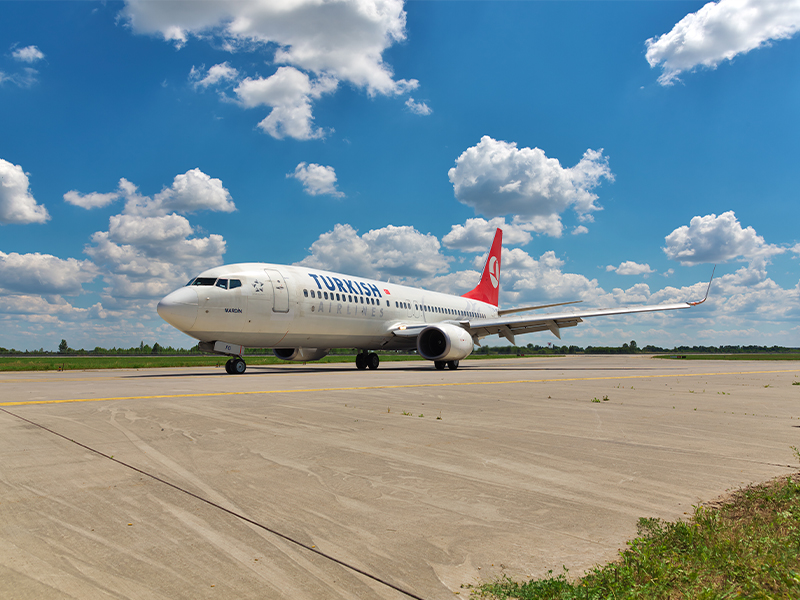 Types of tickets of Turkish Airlines
Turkish Airlines offers its seats in three types: economy, business, and comfort. The economy class is considered the most useful class. Passengers traveling in economy class can use the benefits of flying with Turkish Airlines and all of them have been satisfied with the amenities provided. According to reviews, comfort kits are provided for each customer in the economy cabin. Also, passengers have the right to choose their seat position and cancel their ticket in case of an emergency.
In the business type of this airline, the seats are about 188 cm long and can be fully reclined. Also, a reading light, a central table with the ability to move, etc., along with high-quality food, are other benefits of flying with Turkish Airlines for passengers in the business section. Various foods, fruits, and desserts are served in the restaurant of this flight class.
The comfort class is at an average price and service level. Comfort class features include personal monitors, reading lights for each seat, and comfortable seats suitable for long journeys.
Benefits of Turkish Airlines
Turkish Airlines seats and legroom
Seat facilities are one of the benefits of flying with Turkish Airlines that travelers look for when booking tickets. One of the advantages of this airline's seats is that seats with adequate space for the legs. These seats are designed in such a way that they are suitable for any passenger of any height and weight. Also, these seats are equipped with movable supports for complete comfort.
Carrying pets on Turkish Airlines
Pets are allowed on Turkish Airlines flights. However, according to the policy of Turkish Airlines, among the types of pets, only small pets can enter the plane in carry-on luggage. If the customer wishes to fly with more than one pet, he must notify the airline in advance. Also, if the pet does not meet the size set by Turkish Airlines, it will not be allowed to travel in the cabin section, but it can travel in the cargo section. It can be added to the benefits of flying with Turkish Airlines for whom that have pets.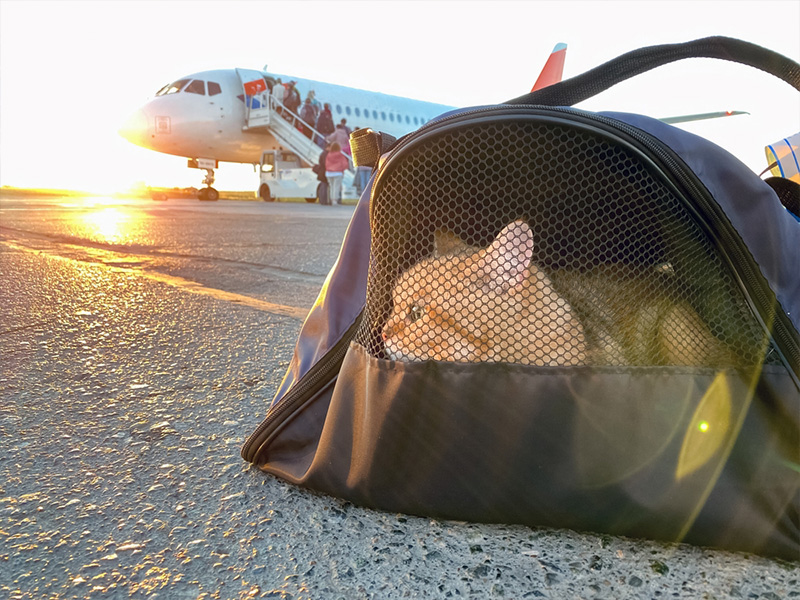 Safety of passengers
Maximum safety has been observed for Turkish Airlines passengers. As seen in several Turkish Airlines safety reviews, the airline has an amazing 7 out of 7 safety record. In addition to the safety of passengers, the safety of luggage will also be maintained at an excellent level. Therefore, you can safely travel to your desired destinations with this plane and use all the benefits of flying with Turkish Airlines.
Customer satisfaction
Travelers love Turkish Airlines mostly for its excellent food service. Seats are also known as the second reason for the great interest of passengers in this airline. Overall, looking at the many Turkish Airlines passenger satisfaction surveys, it can be seen that there are lots of benefits to flying with Turkish Airlines.
Cleaning and hygiene
Turkish Airlines never disappoints its passengers in terms of health services. The airline keeps its tables, kiosks, and seats clean throughout the journey. Once passengers arrive, staff will ensure that they have followed the appropriate hygiene rules. Also, due to the remaining guidelines due to COVID-19, extra care is taken to maintain the overall cleanliness of the aircraft and the use of masks. As one of the benefits of flying with Turkish Airlines, we can add that Passengers of Turkish Airlines have declared that the trip was safe in terms of matters related to corona disease and general health.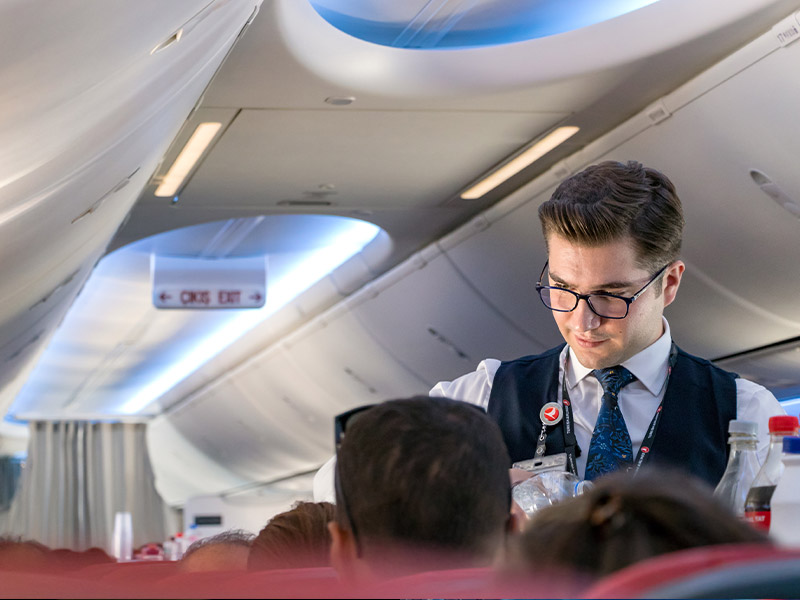 Reviews and ratings of Turkish Airlines
After many reviews of Turkish Airlines, it became clear that this airline is an excellent choice for travelers. This Turkish airline is affordable in terms of ticket prices. Looking at other Turkish Airlines ratings, the seats are shown to be rated 4.6 out of 5 stars. It has also received 7.4 out of 5 stars for food served on the plane and 1.4 out of 5 stars for safety.
You can have a short trip to Istanbul on transit trips with Turkish Airlines
Istanbul is one of the tourist cities in Turkey that every traveler should visit at least once. So, if you are traveling with Turkish Airlines and have a transit trip on the way, never miss this opportunity. This city has 2500 years of history and rich culture. Topkapi Palace, Grand Bazaar, and Hagia Sophia Blue Mosque can be mentioned among the tourist attractions of the Istanbul tour. Istanbul Airport is about 60 minutes away from the center of Istanbul so you can use the benefits of flying with Eligasht and have a short trip to Istanbul city.
  Turkish Airlines offers free hotel accommodations for passengers with long layovers
It doesn't matter if you are flying in economy or business class. If you have a long layover, you can get a free hotel room. Long layover hours are 10 hours for economy class passengers and 7 hours for business class passengers. This can be added to the benefits of flying with Turkish Airlines.
awards
Turkish Airlines has won many awards so far. This airline has received Skytrax awards, which is a British airport and airline rating site, in the following cases: Best European Airline Award, Best Southern European Airline Award, and Best Premium Economy Flight Class Award. In addition, Turkish Airlines was recognized as the best airline of the year at the Air Transport News Awards ceremony in 2013. Also, Turkish Airlines catering has won awards for serving quality and appropriate food on the plane. You can read everything about airline food by clicking on the link. These awards and credits add to the benefits of flying with Turkish Airlines.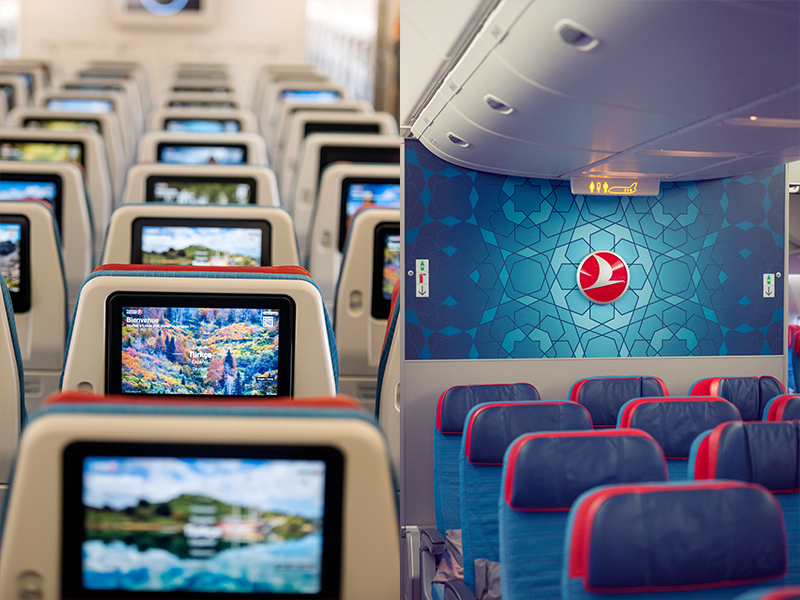 Allowed baggage weight in Turkish Airlines
depending on the type of ticket, each passenger is allowed to carry a certain amount of baggage with him, and if the weight of the luggage exceeds the allowed amount, he will have to pay an excess baggage fee. But in general, the amount of baggage allowed for Turkish Airlines international flights is 30 kg for a  business class flight and 20 kg for an economy flight.
Fleets of Turkish Airlines
According to the latest statistics obtained from July 2022, Turkish Airlines has a fleet of 383 aircraft. This number consists of 13 different types of passenger airplanes. It is interesting to know that Turkish Airlines started its operations in 1933 with five planes, which increased to 52 planes in 1945 after the addition of the Douglas DC-3 in World War II. This made Turkish Airlines become the largest airline company in the Middle East at that time. Currently, Airbus and Boeing airplanes have the main share in the transportation of passengers of this airline. It goes without saying that the Airbus A350 is the newest aircraft added to this fleet.
the fleet of Turkish Airlines:
Airbus A319-100 series
Airbus A320 200 series (Airbus A320-200)
Airbus A321 200 series (Airbus A321-200)
Airbus A321neo
Airbus A330 200 series (Airbus A330-200)
Airbus A330 300 series (Airbus A330-300)
Airbus A350 900 series (Airbus A350-900)
Boeing 737 700 series (Boeing 737-700)
Boeing 737 800 series (Boeing 737-800)
Boeing 737 900ER series (Boeing 737-900ER)
Boeing 737 MAX 8 series (Boeing 737 MAX 8)
Boeing 737 MAX 9 series (Boeing 737 MAX 9)
Boeing 777 300ER series (Boeing 777-300ER)
Boeing 787 Series 9 (Boeing 787-9)
Final words
Turkish Airlines has been able to find a good position among international airlines with large investments in equipping and improving the quality of its flights.  This airline is famous for the high quality of services provided, flight safety, the use of modern and well-equipped planes, and the delicious food served on the plane. and also, all of what we said in the article are other benefits of flying with Turkish Airlines. Various magazines and publications that examine different aspects of airlines have repeatedly praised Turkish Airlines and ranked it among the best airlines. In the end, we should add that you can buy Turkish Airlines tickets through the Eligasht website.