Tax-free shops in Asia are a popular shopping experience for both residents and visitors in the region. These stores allow shoppers to purchase goods without paying any sales tax or value-added tax (VAT), which can save them a significant amount of money. As a result, tax-free shops in Asia have become a popular destination for tourists and business travelers looking for luxury goods, electronics and appliances, and other items that are typically subject to high taxes.
Overall, tax-free shops in Asia offer travelers the opportunity to save money and time while shopping for luxury items or everyday necessities. Whether you're a tourist looking for a stylish watch or a business traveler searching for a new laptop, tax-free shopping can make your trip more enjoyable and your purchases more affordable.
In this article from Eligasht, we want to talk about Free Shop and also the best Free Shops in Asia. Read until the end to get to know the best free shops in Asia.

What is a tax-free shop?
Tax-Free means no tax. As you can guess, there are taxes on the goods you buy from various stores in foreign destinations. currently, some of the tourist-friendly countries of the world have applied laws to attract more tourists, according to the law applied by them, the buyers of the tax paid for the purchase of goods and they take it back when leaving the country, but in any case, the charms of tax-free cannot be reduced.
Advantages of tax-free shopping
One of the biggest appeals of tax-free shopping is the opportunity to save money on high-end items. Luxury brands, such as Rolex watches and Hermes handbags, can be prohibitively expensive in many places, and paying an additional 20-30% in taxes on top of the cost of the item can be a daunting prospect. By shopping in a tax-free zone, shoppers can avoid paying these taxes, making their purchases more affordable. In addition, tax-free shopping can also save shoppers money on everyday items, such as clothes and electronics, which can add up throughout a trip.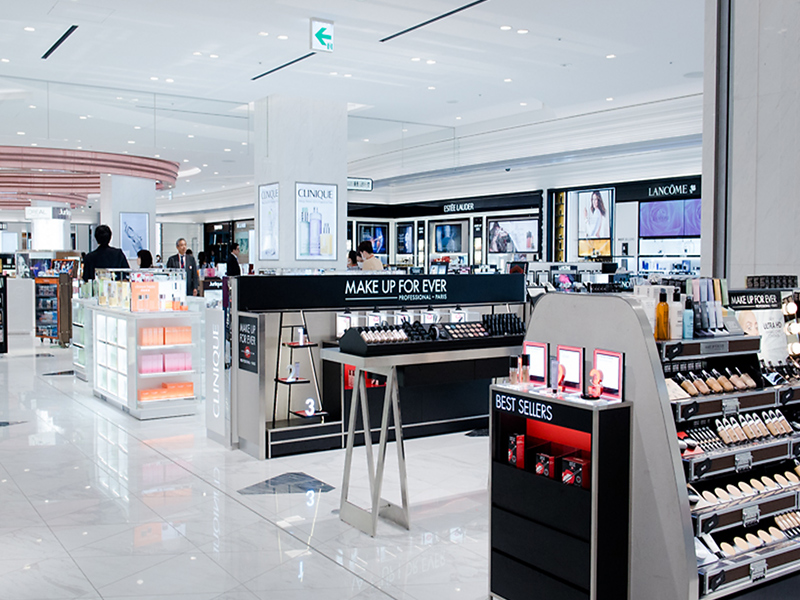 Another advantage of tax-free shopping is the convenience it provides. Travelers who plan to make purchases while they are abroad can take advantage of tax-free shopping to avoid having to declare and pay taxes on their purchases when they return home. This can be a big time-saver for travelers, as they won't have to deal with customs duties or taxes when they arrive back home.
While tax-free shopping is a popular experience for many travelers in Asia, it's important to note that not all items are eligible for tax-free status, and the rules surrounding tax-free shopping can vary depending on the country and the items being purchased. Therefore, it's important for travelers to understand the regulations surrounding tax-free shopping and to ensure that they are fully aware of the items that are eligible for tax-free status before they begin shopping.
Related post

What is the meaning of duty-free goods at the airport?
23 of the World's Weirdest Airports
Rules for buying from Tax-Free
When entering any store to buy, pay attention to the Tax-Free sign on the entrance door or above the seller's cash register, or ask the seller and the store manager if this store includes the Tax-Free law or not.
In different countries, the minimum purchase amount to benefit from this law is very different, for example, in Turkey to benefit from 4% tax-free, you must buy at least 100 lire.
At the time of purchase in most countries, you must complete a special form that is provided to buyers by the cashier of the store. This form contains information such as the buyer's name, surname, residence, and address, and in some cases, the tourist's passport number is also requested. This invoice is prepared in 3 copies and delivered to the buyers.
Tax-Free Shops in Asia-Dubai
Dubai Duty-Free is a shop in Dubai Airport where you can buy your favorite goods without paying tax. You can find its free shop in all terminals of Dubai airport. This store is located in the entrance and exit areas, as well as in Terminals 1 and 3 in its exit section. Dubai Duty-free is one of the most famous tax-free shops in Asia.
The Free Shop Dubai store is open at all hours of the day and on weekdays. In this store, you can buy various goods such as cigars, perfumes, alcoholic beverages, clothes, luggage, pens, autographs, gold, jewelry, etc. Meanwhile, a product like perfume is more popular among tourists.
If you are not sure whether the purchase price in your country and Dubai is different, you can go to this store's website and compare the prices. As we said, the best product that you can buy from Free Shop Dubai is perfume, the price of which will be very affordable.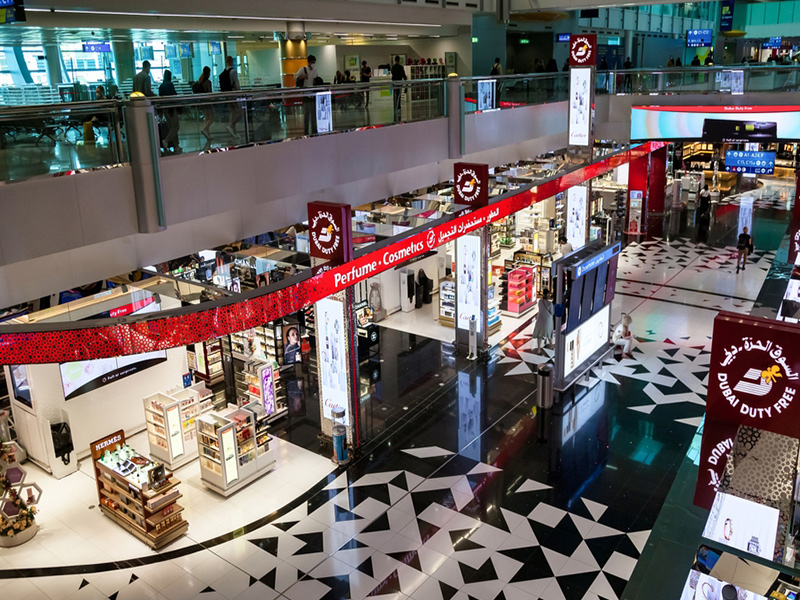 Rules for using the tax-free system in Dubai
According to the rules of Dubai Customs, the following restrictions are considered for tax-free shopping for every passenger entering Dubai at Free Shop Airport:
Buy gifts up to 3000 dirhams
400 cigarettes, 50 cigars, and 500 grams of tobacco
4 liters of alcoholic beverages or 2 cartons of beer (each carton contains 24 cans and each can is less than 355 ml)
25% discount to coincide with the opening of the Dubai airport store
On the occasion of the anniversary of the establishment of the store in Dubai Airport, on the 20th of December every year, auctions with a 25% discount are held, which continue until the end of that day, and the reason for this auction is the establishment of Free Shop on this day. In addition, the unique raffles of these stores annually give millions of dirhams, cars such as Bentley, Porsche, Audi, BMW, Jaguar, Mercedes-Benz, Aston Martin, Lamborghini, etc. to their buyers based on the gift lottery.
Dubai Duty-free
Address: Terminal 1, Dubai International Airport – Dubai – United Arab Emirates
Dubai Duty-Free
Address: Dubai International Airport – Dubai – United Arab Emirates
Dubai Duty-Free
Address: Dubai International Airport UAE Duty-Free Terminal 3 Concourse A – Dubai – United Arab Emirates
Dubai Duty-Free
Address: Dubai International – Airport Rd – Dubai – United Arab Emirates
Dubai Winter Festival
Every year, mid-January to mid-February is the time for the Dubai Winter Festival. At this time, the weather is great and there are many happy programs.
Dubai Summer Festival
The Dubai Summer Festival is held every year from late June to late July. The weather is very bad and hot, but the prices are very reasonable.
Ramadan
The price of goods, especially food, is very reasonable.
Reopening of schools Back to school
Before school starts, the supplies needed by the students are available at reasonable prices.
Arabic travel market Arabian Travel Market
The Arab travel market is usually held in May.
Tax-Free Shops in Asia-Istanbul
Istanbul is home to several tax-free shopping malls and centers, which provide tourists with the opportunity to purchase goods without paying value-added tax (VAT) or other taxes. These shops offer a wide variety of items ranging from designer handbags and luxury items to electronics and souvenirs.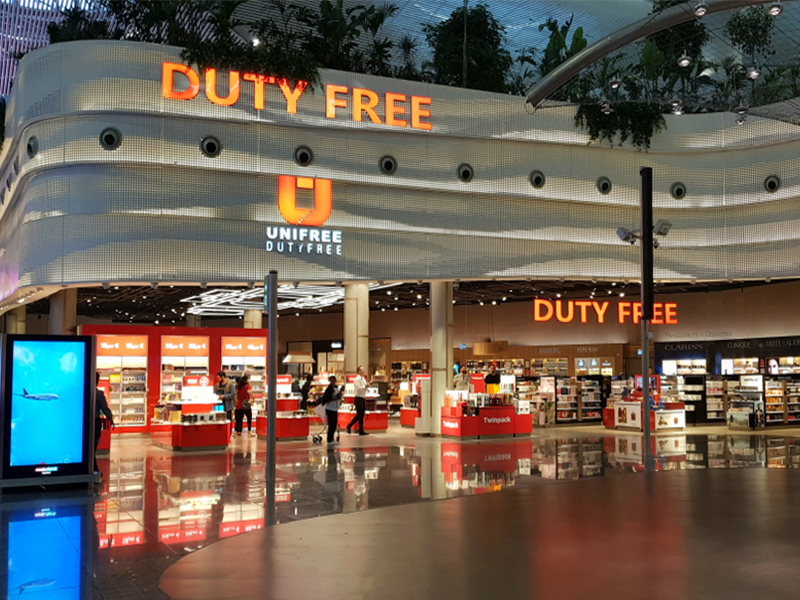 Tourists and shoppers can find tax-free stores in the duty-free halls of Istanbul's two main airports – Istanbul Airport and Sabiha Gökçen Airport – as well as in the city's premier shopping districts like Eminönü and Taksim Square. Additionally, several shopping malls, including IstinyePark and Zorlu Center, also offer tax-free shopping options to customers.
Rules for using the tax-free system in Turkey
For tourists to get a part of their purchases back at international airports, they must meet the following conditions:
No more than 3 months have passed since their stay in Turkey.
Have bought from stores that have a tax-free system and have the relevant invoice. Usually, stores that have a tax-free system announce it on their shop windows, or you can be sure of the implementation of this system by asking the store manager.
Tourists should inform the seller when paying for their purchases that they want the invoice tax-free, and the seller will issue a special invoice with the store's stamp.
The purchase amount of passengers must be above 100 Turkish liras.
You can get a refund for your Free Shop purchases at the international airport and when you leave Turkey. Pay attention, in order to have enough time to get your money back, it is better to go to the airport 4-5 hours earlier with the coordination of the tour manager so that you can hand over your invoices to the relevant counter without worrying and spending a lot of time.
As you can see, Istanbul duty-free shops are among the best tax-free shops in Asia. A tax-free system is implemented in some shopping centers in Istanbul, the most important of which are the following:
Kanyon Shopping Mall, Ak Shopping Mall, City Shopping Mall
Jewelry shopping center, Atakoy Plus shopping center, Galleria shopping center
Kale Outlet Shopping Center, Istanbul Forum Shopping Center, Turim Shopping Center
Olivium Mall, Historia Mall, Ataturk Airport in Istanbul
Sabiha Airport in Istanbul
Tax-free shops in Asia- Malaysia
Malaysia is a great destination for tax-free shopping and it has the best tax-free shops in Asia. You can take advantage of a wide variety of goods, including electronics, appliances, jewelry, cosmetics, and more. If you're looking for an affordable trip or just want to save some money, Malaysian tax-free shopping is an excellent choice.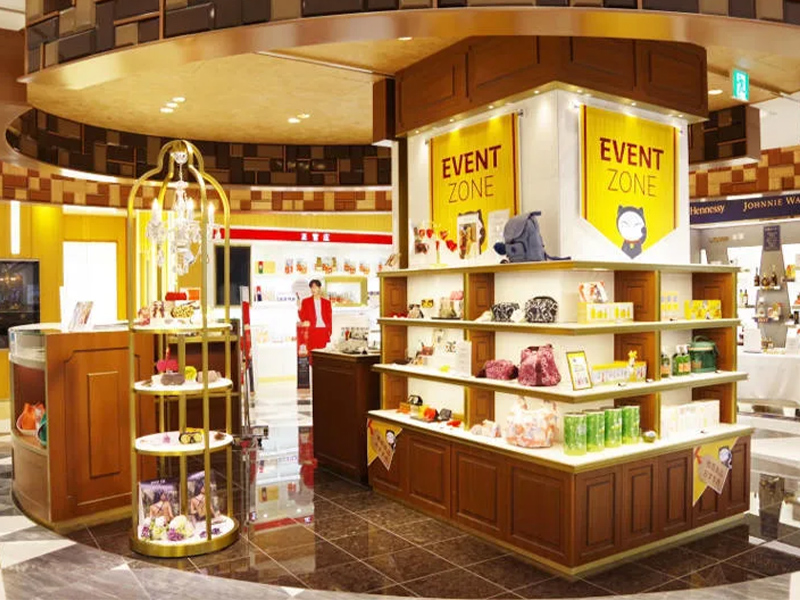 To take advantage of Malaysian tax-free shopping, be sure to bring along your passport and look for shops or stores that offer tax-free shopping as part of their services. And before you make any purchases, be sure to read the tax-free shopping guidelines to make sure you're compliant with local rules.
Some of the best locations to take advantage of Malaysia's tax-free shopping include the Genting Highlands duty-free shops, Penang's famous streets and malls, and the many outlets of Malaysia's capital city, Kuala Lumpur.
Final words
Tax-free shopping is a great way to save money on your purchases – and it can be found all over Asia. When you shop tax-free in Asia, you can avoid local taxes on your purchases, giving you more control over your spending. This is an especially great option for travelers who want to save on their holiday costs, as well as individuals and families looking to stretch their budgets and get the most out of their money.
In this article from Eligasht, we discussed the most famous tax-free shops in Asia. Other Asian tax-free shopping destinations include Thailand, Singapore, China, Japan, Hong Kong, and many other countries and territories, so there are plenty of opportunities to save on your shopping!