The best restaurants in Mashhad include the best dining halls in this city that have many customers in all months of the year. Choosing the best restaurants in Mashhad depends on your taste, but since some restaurants have become more famous, they are very popular for eating. In this article from Eligasht, we will review all the best restaurants in Mashhad City. so we suggest that you have a meal in these restaurants during your trip to Mashhad.
Book Iran Air flights from London to Tehran  and Tehran to London with Eligasht UK:

Pesaran Karim Restaurant
Eating is an important part of our life, and this category becomes even more important when traveling. Pesaran Karim Restaurant is one of the best restaurants in Mashhad, which is worth spending money on for some luxurious meals. This restaurant has several branches, but its central branch is better known, busier, and more popular.
Address of Pesaran Karim restaurant in Mashhad: sajad boulevard,  Farhad St., 22 Farhad St.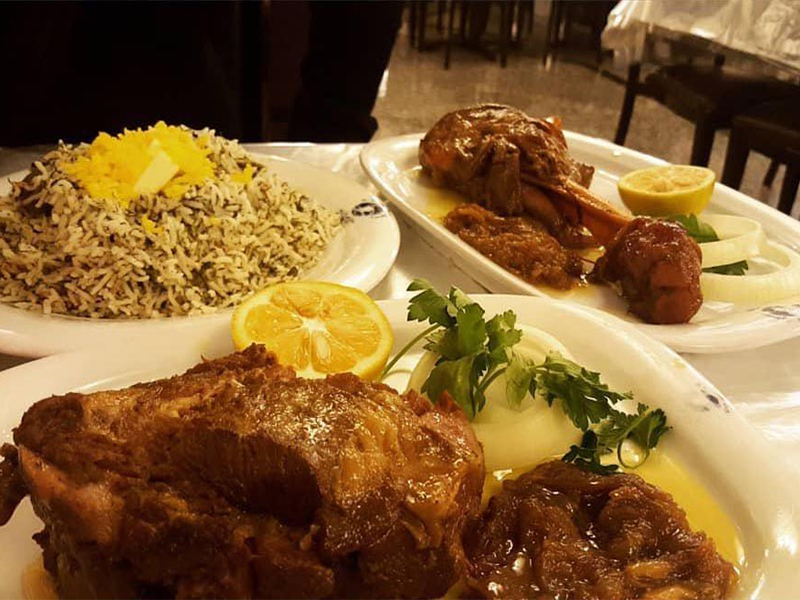 Related posts:

16 of The most delicious Shiraz local dishes you have to try!
The best restaurants in Tabriz
Moein Darbari Restaurant
One of the oldest restaurants in Mashhad, which has a great reputation and is known for cooking delicious and authentic Iranian dishes, is the Moein Darbari restaurant. If you like kebabs and Iranian stews, go to Moein Darbari restaurant, which is known as one of the best restaurants in Mashhad don't rush to be served because this restaurant is always full and you may have to wait for a long time.
Address of Moein Darbari Restaurant in Mashhad: Mashhad, Pasdaran St. (Jam), between Pasdaran 2 and 4, in front of Baakhtar Hotel
Mashhad Moalagh Restaurant
If you are not afraid of heights, choose this restaurant, which is designed with a capacity of 32 guests and 10 crew members, with a total weight of 9 tons, and goes up and down only vertically up to a height of 40 meters. Live music is also played and creates exciting hours for you.
Address of Mashhad Moalagh Restaurant: Mashhad, km 10 of Shandiz-Mashhad road, Shandiz village
Olive Garden Restaurant
Olive Garden restaurant is one of the best restaurants in Mashhad, which has gained great popularity due to its Italian cuisine. If you are a fan of high-calorie, cheese-filled, and very delicious Italian food, this restaurant is a very good and ideal option that has no rival in Mashhad.
Address of Olive Garden restaurant in Mashhad: 3/10 Street, Bahar 10, Sajjad, Mashhad
Chelokababi Omid
Iranian kebabs are one of the most popular menus in Mashhad, and in this regard, Omid Chelokababi, with a very simple and original name, has been able to establish one of the best Cheloukababis in Iran and Mashhad. The unique taste of the kebabs in this Iranian restaurant will never be erased from your memory. It is interesting to know that this restaurant is more than 100 years old.
Address of Chelokababi Omid, Mashhad: Mashhad, Fadaian Islam St., 21 Fadaian Islam, between Shahid Erfani 1 and 3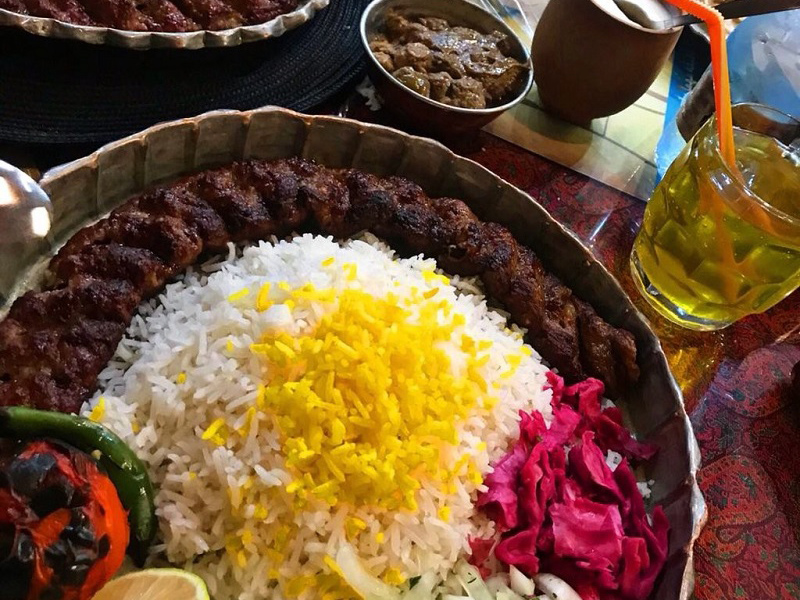 Lio Italian Restaurant
we should also mention Italian restaurants in the list of the best restaurants in Mashhad, which are the main places for cooking and serving all kinds of fast food and fatty and Italian chili dishes. The Lio restaurant is another restaurant in Mashhad that serves Italian-style food and its salads are very famous.
Address of Lio Italian Restaurant in Mashhad: Mashhad, Azadi Square, Park Square, corner of Azadi 1, next to Royal Golden Hall
Shayan Shandiz restaurant
Whenever the name Shandis comes up, it reminds food fans of the best Iranian dishes. If you are also a big fan of this luxurious and expensive food and want to order the best possible dish in Mashhad, go to Shayan Shandiz restaurant.
Address of Shayan Shandiz restaurant in Mashhad: Mashhad, not far from Shandiz, before Padideh Square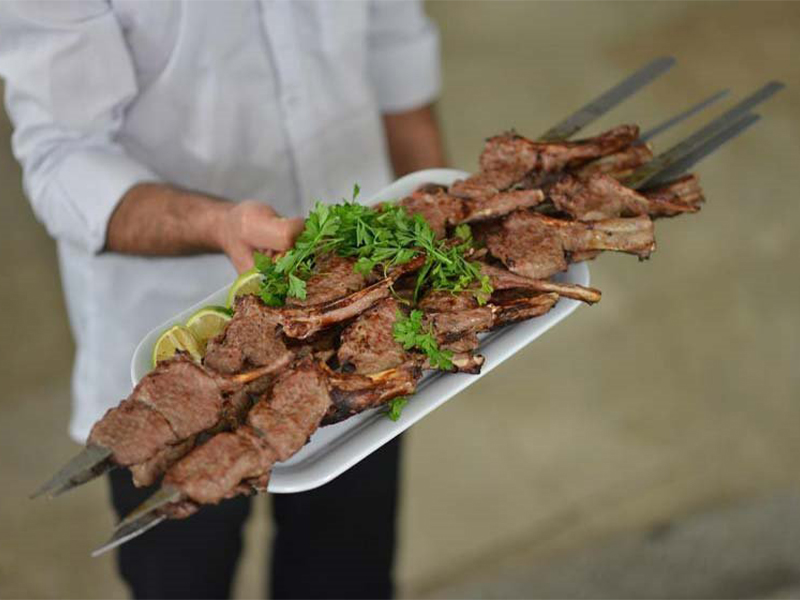 Sedros Mashhad restaurant group
Sedros is not just a single restaurant, but a group of restaurants in Mashhad that offer different types of food and different menus in different parts of the city. The Sedros restaurant group of Mashhad currently has 4 branches in the city and each of them offers good and high-quality menus, suitable services, and high service.
Address of Mashhad Sedros restaurant branches:
Branch 1: Sazemane Ab Boulevard – Shahid Sadeghi 13
Branch 2: Blvd. 17 Shahrivar North – Corner 17 Shahrivar North 12
Branch 3: Reza Shahr Street – Khazai Crossroads
Branch 4: Shandiz Road – Virani Corner 3
Padideh Shandiz restaurant
The high quality of the food and its variety has made most of the travelers of Mashhad try this restaurant at least once. Padideh Shandiz restaurant, offering Iranian food in the form of lunch, dinner, and snacks, can be a suitable choice for pilgrims of Imam Reza. Padideh has other branches in Tehran and Kish
Address: Shandiz – Shahada Square – Mirza Javad Agha Tehrani Blvd – Padideh Shandiz Tourism and Shopping Center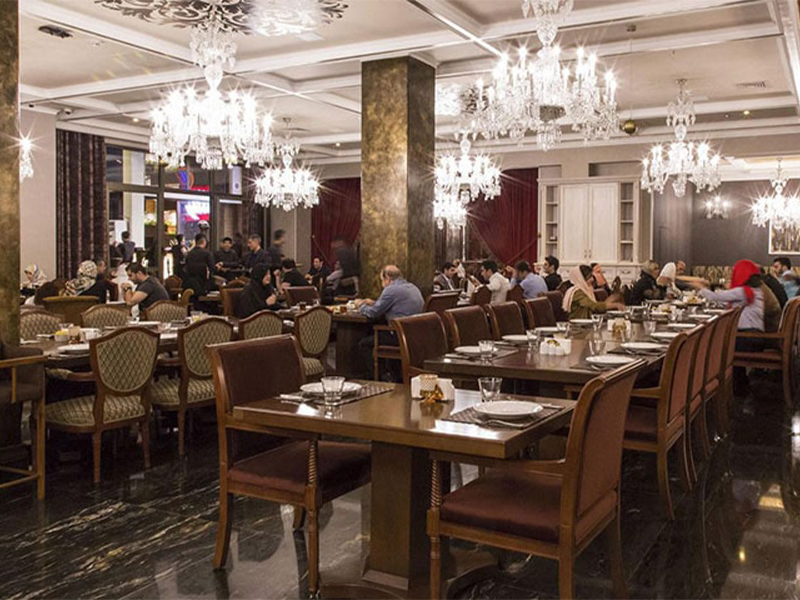 Lebanese Nasim Restaurant
Mashhad hosts many Arab guests from other countries, especially the Persian Gulf countries, which is why many restaurants cook food in Arabic style. If you are very interested in Arabic food, you can go to Nasim Lebanon restaurant, which is one of the best restaurants in Mashhad.
The address of Nasim Lebanon restaurant in Mashhad: Mashhad, Adabiat Street, in front of Jahad University
Baba Ghodrat restaurant in Mashhad
Baba GHodrat restaurant is built in the heart of one of the oldest buildings in Mashhad. This building is more than two centuries old and goes back to the Qajar era. In 1380, the experts of the cultural heritage organization reconstructed this building. Today, the building of Baba Ghodrat restaurant is available to people as a restaurant, traditional tea house, and traditional bazaar, and during this time it has become famous as one of the best restaurants in Mashhad.
Baba Ghodrat restaurant with completely traditional furniture and atmosphere is reminiscent of centuries of Iranian culture and history. Different parts of this restaurant along with its delicious food can be attractive and spectacular for every tourist. In this restaurant, you can taste a variety of traditional Iranian and Mashhad kebabs.
The address of Baba Ghodrat restaurant: The end of Imam Reza Market, 17 Shahrivar Square, Sadr Boulevard, corner of 16 Sadr, Tehran, Heravi Square, Vafamanesh Street, corner of Shams Alley
Bam Koohsar Restaurant
This beautiful cafe restaurant is located in a convenient place and offers a very beautiful view of the city of Mashhad. You can order all kinds of food here, but the Italian cuisine of Bam Koohsar restaurant is much more famous than other dishes. This restaurant will create an unforgettable memory for you in a special atmosphere.
Address of Bam Koohsar restaurant in Mashhad: Mashhad, at the end of Hashemiye Boulevard, Koohsar Complex
Malek Shahan restaurant in Mashhad
It is one of the other restaurants in Mashhad that has been able to attract the attention of many customers by using its traditional texture. This restaurant is located on Ebn Sina Street and is considered one of the luxury restaurants in Mashhad. Among the things that stand out from the moment you enter the restaurant, are the beautiful and pleasant atmosphere of the restaurant, and the respectful attitude of the restaurant staff.
If you wish, you can receive your food after ordering. Also, the restaurant offers only lunch and dinner meals to its customers. Another thing that this restaurant has prepared for its customers is a dedicated parking lot so that these people don't have to worry about where to park their cars when visiting this restaurant.
Address: Ahmedabad Boulevard – Shariati Square (Taghi Abad) – Ebn Sina Street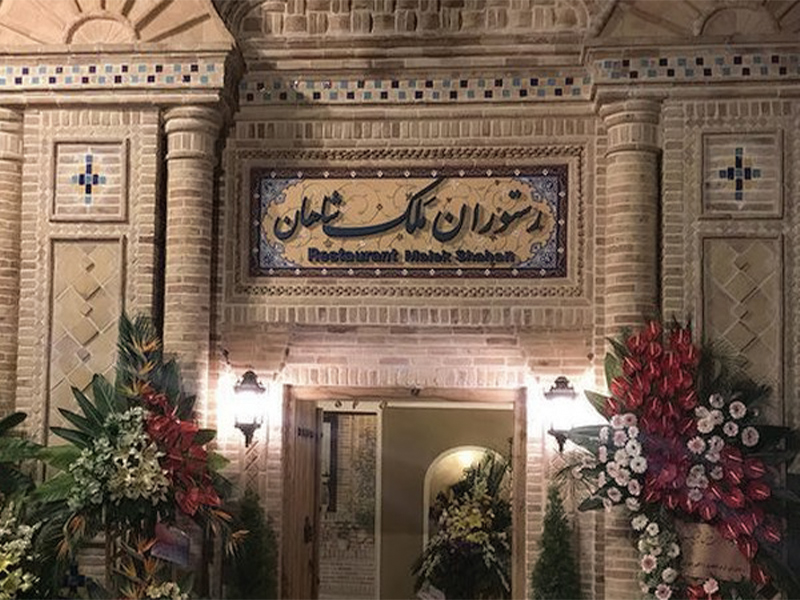 Mashhad Almas restaurant
Almas restaurant is located in one of the closest hotels in Mashhad to the shrine of Imam Reza. You can go to this restaurant on foot after the pilgrimage and choose your favorite food from the very different and varied menu that you like. Any food that comes to your mind is most likely on the menu of this restaurant.
Address of Almas Mashhad Restaurant: Mashhad, Imam Reza St., between 4 and 6 Imam Reza
Mahestan Shandiz Restaurant
Mahestan restaurant is also on the list of the best restaurants in Mashhad. The positive thing about this restaurant is that they have two completely different spaces for the cold and hot half of the year to provide suitable conditions for the guests. In addition to its different atmosphere, we should mention the delicious dishes of this restaurant, which has made the Mahestan Shandiz restaurant to be on the list of the best restaurants in Mashhad.
Address of Mahestan Shandiz restaurant in Mashhad: Mashhad, Vakil Abad Highway, Hafte Tir Blvd., the beginning of Hafte Tir 8 (Golshan St.)
Eram Shandiz restaurant
If your favorite food is kebab and you are out of the city, one of the best restaurants in Mashhad is right here, Eram Shandiz Restaurant. In this restaurant, you can enjoy the best quality Iranian kebabs. This kebab is much bigger than the kebabs in other places and it is served with excellent saffron rice.
Eram Shandiz restaurant address: Mashhad – Shandiz – not reached the second square – Eram Shandiz restaurant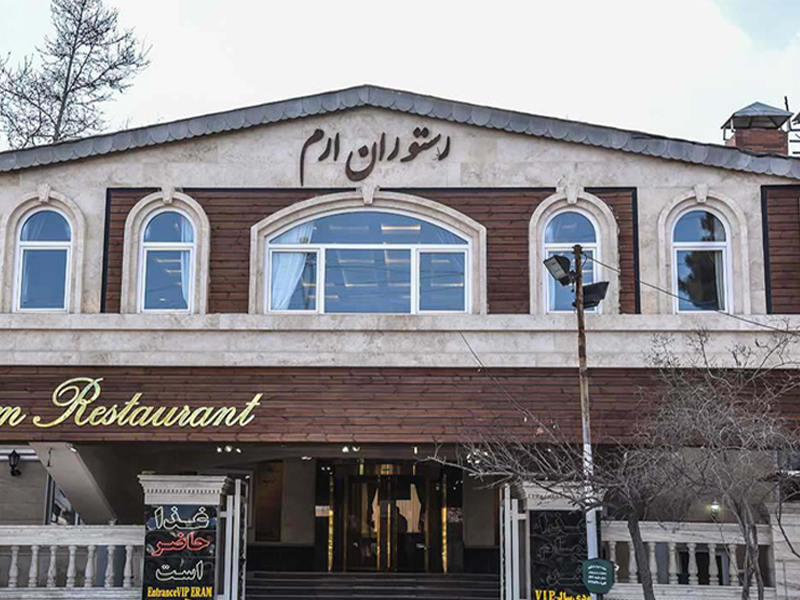 Kolbeh restaurant
Kolbeh restaurant is one of the best restaurants in Mashhad, which has many fans among Mashhad residents and travelers due to its international cuisine. This restaurant attaches great importance to the healthiness of its food. For this reason, most foods contain very little meat and fat.
In addition, the restaurant itself has a very stylish and modern atmosphere and is considered the best option for your formal and informal occasions. You can find a variety of Iranian and international dishes on the menu of the cottage restaurant.
One of the most popular dishes on the menu of Kolbe restaurant is filet mignon in different types and types of pasta. On the other hand, the chicken and meat steaks of this restaurant cannot be missed.
Those who come to Kolbeh restaurant usually choose milk soup as an appetizer, which is extremely delicious and warms you up on a cold winter night. Of course, if you don't like soup, you can choose tandoori potatoes.
The address of the Kolbeh restaurant: Vakil Abad Blvd., Hashemiye Blvd., corner of Hashemiyeh 18p
Darvish Qasr Restaurant
In this luxurious restaurant, you can see one of the most luxurious halls of the holy city of Mashhad. This restaurant has four separate halls, and each of them has reached the highest level of charm and beauty. Here, you can enjoy the amazing architectural style and design of the space while serving delicious food.
Address of Qasr Dervish Mashhad Restaurant: Mashhad, Taghi Abad Square, Kooh Sangi St., after Ghaem Hospital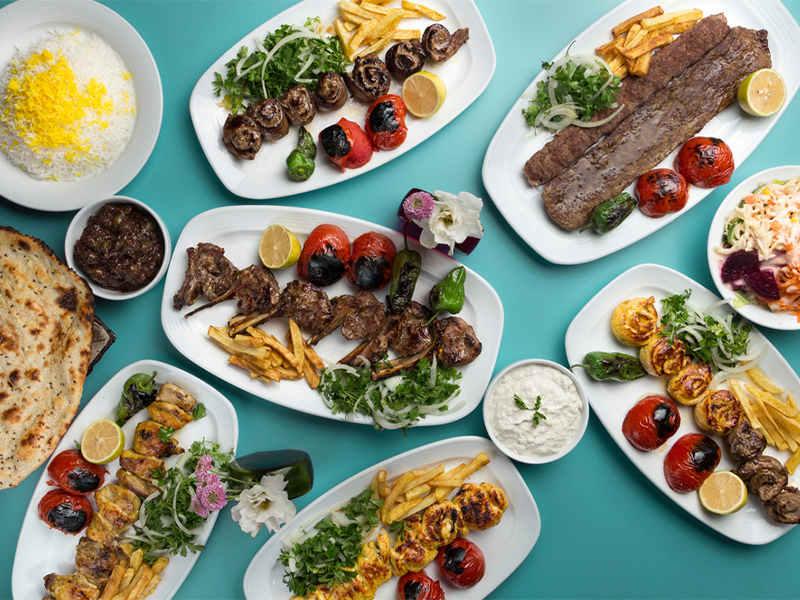 Rastgoo restaurant
Mashhad's Rastgoo restaurant has a history of more than half a century. This restaurant is one of the most famous restaurants in the Vakil Abad region and is popular with residents of Hashemiyeh. This place has been one of the luxury restaurants in this country for years and has an expensive menu. Mashhad Rastgoo Kebab is one of the best kebabs in the city and has gained many fans during this period of activity. This restaurant is located in a convenient location and is close to various hotels and is considered an excellent option for travelers.
Address of Rastgoo restaurant in Mashhad: Vakil Abad Blvd., between 23rd and 25th Vakilabad
Conclusion
In this article from Eligasht, we have introduced you to the best restaurants in Mashhad. One of the pleasures of every trip is the quality of the food collections of that city. Mashhad restaurants have always been one of the attractive parts of this city, as the best and most reliable restaurant brands are located there. If you have chosen this city for shopping or visiting the sights of Mashhad, you simply cannot pass by some of the restaurants in Mashhad.