One-day trips from Barcelona
Glimmering Barcelona is an adorable city. Located on the northeast coast of the Iberian Peninsula, in addition to its fantastic Mediterranean beach, it has a lot of amazing attractions to offer. There are wonderful sights all around the city that are among the top European tourist attractions. Every visitor can also use the amazing opportunity and plan some day trips from Barcelona. There are a lot of fabulous things to experience just a day away from the city, so why not giving them a chance?
Barcelona is believed to be one of the most beautiful cities in Europe. It is one of the most popular travel destinations in the entire world and tourists from everywhere on the planet come to visit this lovely city. The city is also on millions of people's wish lists. Not only because of the urban attractions that are incredibly unique but also for the attractions that you can find even outside of it, Barcelona is a true gem in the heart of Spain.
You can find impressive sights in the city, as it is a cultural wonderland rich in beauty. With the famous architectural wonder, the majestic Basilica de la Sagrada Familia, and numerous adorable works of the worldly known Spanish architect, Antoni Gaudí, you will have a wide set of options to choose what attractions to visit during your stay. In addition to these magnificent masterpieces, there are different delightful monuments, churches, and palaces. It is obvious that Barcelona has a lot to offer to every visitor.
With an atmosphere that is filled with art, history, and architecture, Barcelona is famous for another type of attractions as well. There are some world-class beaches that together with an always pleasant weather, create a magnificent combination. Every visitor to the city will fall in love with these beaches and they are one of the most important reasons why tourists choose Barcelona as their destination.
Barcelona is a mecca for those who are into sports, especially soccer lovers, as it homes the world-class soccer team Barcelona FC that has been European champion several times. The majestic stadium of Barcelona, Camp Nou is also located in Barcelona.
As you can see there are numerous tourist attractions in Barcelona that can make every single day of your travel. It is incredible to see how much more are outside of the city as well. You can use the city as a base to have day trips from Barcelona. Some trips that are just some hours far from the city and you can spend some time in there and come back to your accommodation in the city before the day comes to an end.
These day trips from Barcelona can be planned in different directions and visiting different types of attractions. You may like to see a holy mountain or a historic city. You may want to see more beaches that are less crowded or different from the beaches in Barcelona. You may are fond of natural attractions and prefer visiting them instead of spending time visiting cultural and architectural sights. The good news is that they are all available, and there are also are many more. You just need to decide what do you like and soon you will see there are a lot of different day trips from Barcelona that fit your desire.
For every destination out of the city, you can use various tours available from the city. On the other hand, there is a good coverage by public transportation for a lot of these destinations and you also can always consider hiring a car as an option. With these ways of travel, every single destination among day trips from Barcelona is easily reachable. Even if it is you are a first-time traveler, you can simply make your way to the destination.
In this article, we will introduce some of the most popular destinations between day trips from Barcelona, so that you can have a nice and thorough approach to the various options you can choose from. With reading this article, you will have better items in order to plan your visit.
Stay tuned with us.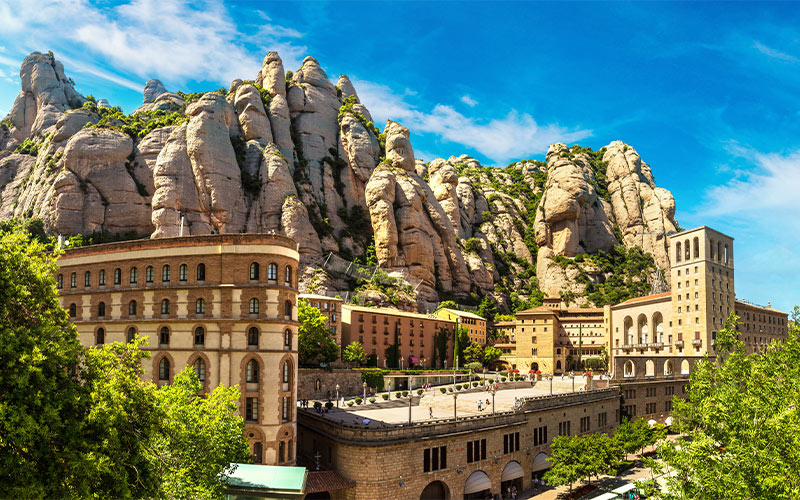 Montserrat Mountain
Just about half an hour away from the city you can find the adorable Montserrat Mountain. This scenic mountain that has a brilliant landscape is one of the top destinations for those who are looking for day trips from Barcelona. The rocks that form the mountain are saw-toothed with a nice formation. The best time to visit Montserrat Mountain is in the afternoon so that you can visit the mountain during its famous sunset as the rocks look impressive when the sun sets. You can incredibly see that they look as if they are glowing in a unique pink color.
In addition to all these beauties that look enough to attract thousands of visitors every day, most visitors come to the Montserrat Mountain for another reason as well. Apart from its beauty, Montserrat is Catalonia's sacred mountain. Millions of people come to visit the famous Benedictine Abbey, the Santa Maria de Montserrat monastery, and congregate around it every year.
This attractive abbey that is a fabulous building as well, houses an important statue of the Madonna and Child. This amazing statue is called the Virgin of Montserrat, or as it is known by more people the Black Virgin. The Black Virgin of Montserrat is believed to be carved by Saint Luke himself and represents the patron saint of Catalonia.
The abbey that is located underneath the magnificent St. Jerome's peak, has a fabulous vies over entire Catalonia. Even if you are not fond of whatever the Montserrat Mountain offers, just for these views, this mountain should be included in your plan of day trips from Barcelona and visiting it is highly recommended.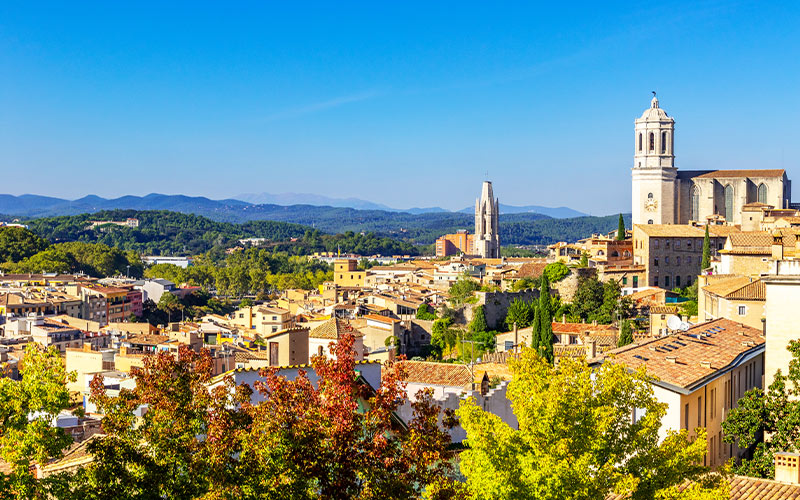 Girona
If you are looking for a travel in time, and the medieval era is among your favorites, you definitely should put Girona in your list of day trips from Barcelona. Located beside the River Onyar, there is a lot to see in this spectacular city of Catalonia.
Girona has a lot of different attractions to see. It is even worth spending more than just one day in. with the famous Barri Vell that is the old walled quarter of the city and Roman remains known as the Forca Vella fortress, everyone who is into history and architecture will fall in love with Girona.
On the other hand, the picturesque streets covered with cobblestones and colorful houses all over the city are adorable enough to make you busy for hours, just wandering around Girona. There are also nice cafes close to the river that is the best place to spend your evening in while watching the water passes through the city. Some of the best restaurants in the world are located in this district, namely the three times winner of the world's best restaurant, El Cellar de Can Roca. If you are a fan of the popular TV series, the Game of Thrones you have double the reasons to pay a visit to this lovely city. This is where some of the most famous scenes of the series were filmed. You can see numerous familiar locations while you are wandering in the city as various parts of the Game of Thrones have been filmed here. For example, Sant Pere Galligants monastery was where the famous Oldtown scenes were filmed. The famous atonement of Queen Margaery and many more scenes related to the Sept of Baelor were filmed in Girona Cathedral and its surroundings. There are also many more locations like the scenes in Braavos or the capital, King's Landing, or Oldtown that all were located somewhere in Girona.
In order to reach Girona, you can take one of the frequently departed trains from Sants Station. You will arrive in around 40 minutes and the ticket costs around 16 Euros. Due to the cheap price of travel, and the scenic path you will take, it seems taking these trains is the best way of reaching Girona.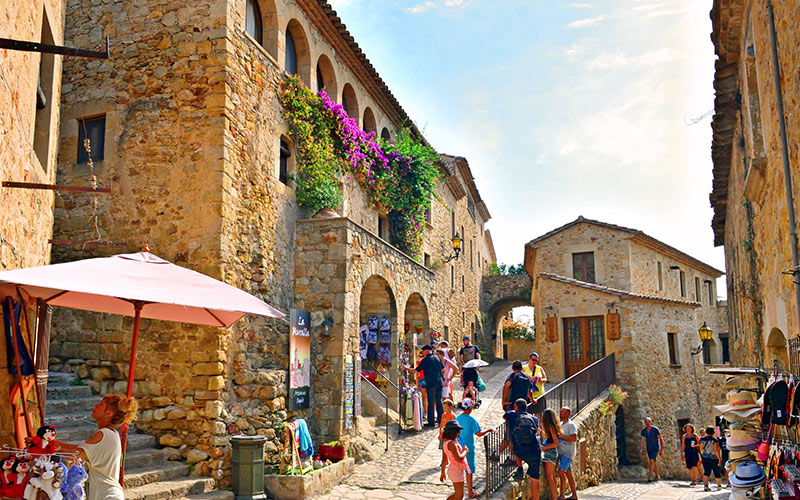 Pals
Another medieval experience is to visit the spectacular village of Pals. This small village that neighbors the adorable Costa Brava coast is a brilliant place to visit.
The whole village has buildings made of scenic stones and the facades make the village truly a one of a kind place. You can spend hours walking around the village, traveling past in time without being afraid of being bored or tired. There are also lovely landscapes everywhere as the village is built atop a hill and you can expect everywhere to be something more than picturesque.
You can visit Pals while visiting Girona, or you can put it as a separate trip among your day trips from Barcelona. However you plan it, try your best to pay a visit to the fantastic fishing village close to Pals. It is called Calella de Palafrugell. More than the lifestyle you will face in there, the landscape of the Mediterranean Sea is something otherworldly beautiful.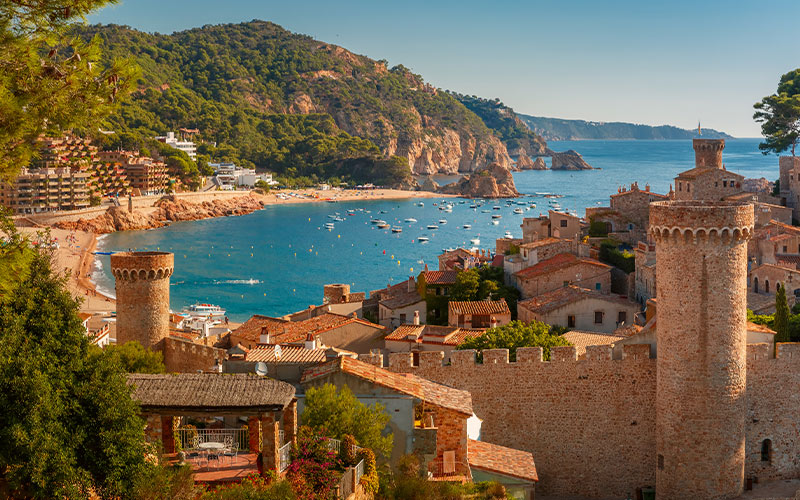 Tossa de Mar
Tossa de Mar is one of those places that may be worthy to think about choosing them as a separate destination to spend a holiday in. Of course, it can be considered as between destinations for day trips from Barcelona as well.
Tossa de Mar is around an hour and a half away from Barcelona and is easily reachable by taking busses from the city. It is one of the easiest places to visit from Barcelona and with one-way tickets that cost between 8 and 15 Euros, you can consider it a pretty affordable, low budget visit as well.
This city is an adorable coastal resort that has a vivid, colorful atmosphere within it. With a brilliant beach that is usually full of tourists, you can be sure that there are lots of fun waiting for you. You can swim at the beach or sunbathe on this scenic beach as well. Hiking is also a favorite activity in Tossa del Mar.
If you are interested in history or architecture, there is the lovely old town of Tossa del Mar that is known among the locals as Vila Vella. This medieval fortress is one of the top landmarks of entire Catalonia. It is definitely an architectural masterpiece where you can see the true definition of the word awe-inspiring. Visiting the Vila Vella is a must-do when you are in Barcelona.
Tossa de Mar is also known for the amazing nightlife of Llorent de Mar. Plan your night to be spent here and you will add an unforgettable night to your collection of memories.
The town is one of the best places to taste the incredible Spanish and Catalonian cuisine. The restaurants offer some dishes that you probably will not try the likes of them anywhere else. Add the atmosphere and everything will be extraordinarily lovely.
Reference: barcelona-life.com