Foods to eat in Spain
Spain is a beautiful city and there is no doubt about this fact. A country so popular among tourists that millions of people from different parts of the planet travel to this charming land to see its magnificence by their own eyes. This European gem is fabulous from every aspect. Attractions to see, events to take part in, cities to visit, and foods to eat in Spain are so fabulous that your trip to this country will never be forgotten.
Located in the Iberian Peninsula in the southern part of Europe, Spain has everything a tourist may like to experience. There are impressive historical attractions all over the country that will make everyone who is interested in history fall in love with. Medieval castles, as well as historic palaces and monuments, can be easily found everywhere. There are plenty of other attractions in Spain. You may like to visit some natural sights or some architectural wonders. Spain has a lot to offer in that case as well.
For those who are interested in having an unforgettable vacation, sunbathing on the beach, swimming in the warm waters of the Mediterranean, and spending the whole life partying, Spain is the ultimate destination. You can find some world-class beaches and islands that are incredibly fantastic.
The weather, on the other hand, is one of the most important factors that attract visitors to the country. It is so pleasant in almost every day of the year that you can plan your visit to the country without bothering yourself about anything related to the climate.
While there are many more attractions to talk about, Spain is famous for another aspect as well. The country is a mecca of gastronomy. There are plenty of delicious foods to eat in Spain that you really need some information about them before visiting the county. Anyone who is into foods probably knows that the Spanish dishes are extraordinary. A lot of dishes served during our daily meals have some roots in Spanish cuisine and there is no wonder that it has a lot of fans worldwide.
From amazing Andalusia to popular Catalonia, from magnificent Basque to the adorable islands of Canary, you can find fabulous Spanish dishes in every corner of the cities. Some of these dishes are well known by many of us, while there are also some traditional foods that you can only try them while in the country. This Mediterranean paradise homes a variety of dishes, from adorable salads to colorful desserts, and from delicious seafood to fantastic vegetable-based dishes. With every kind of taste, you will find numerous dishes of Spanish cuisine suitable for yourself.
In this article, we will talk about the best foods to eat in Spain, so that you will have a better idea while facing the menu in the restaurants. We will talk about some of the most famous and popular dishes in the country and their ingredients. This way you can have a list of foods to eat in Spain if you want. To be honest, that is something really important to have.
Stay tuned with us.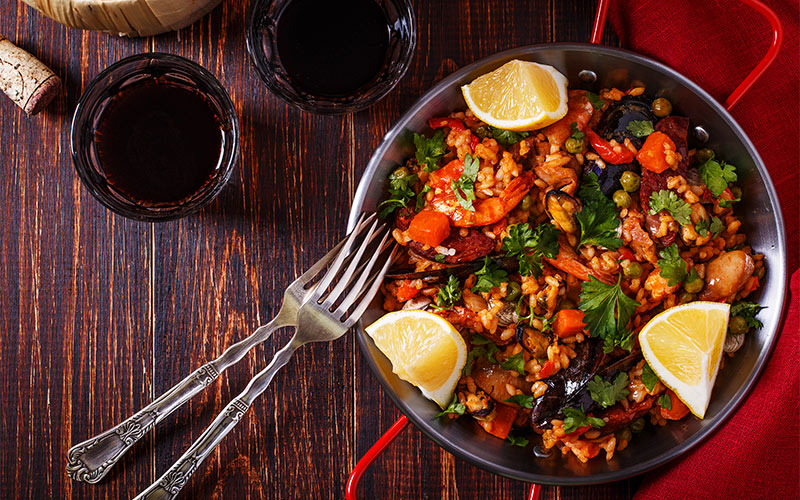 Fabada Astruiana
You may like to visit Spain in the colder days of winter. In this case it is better to know some hot dishes that will help you overcome the cold. The good news is that there are plenty of hot stews and soups among the foods to try in Spain that are really delicious. These dishes will help you have a pleasant meal even if it is snowing outside.
Fabada Asturiana is a tasty Spanish stew that is so heavy that you should keep it for the biggest meal of the day. Of course, there are some people who prefer to have it as a starter, but Fabada Asturiana has the total potential to be considered as a full meal. Locals often have this delicious dish as their lunch, especially during the winter.
The main ingredients used for cooking Fabada Astruiana are pork, white beans, chorizo, and saffron. There is usually a set of spices used to make the dish taste better as well. It is better to have this dish with crusty bread and a glass of red wine.
Paella
Without the shadow of a doubt, this delicious dish is the first number of the list of foods to eat in Spain. It does not matter if you prefer vegetables, seafood, or meat as fortunately, Paella has different varieties based on different ingredients.
Paella, that is a traditional food of Valencia, is one of the most famous and popular Spanish dishes. You can almost fond it in every restaurant in every city you may visit, and of course, Paella is a must-try. A good tip to have in mind is that it is better to try it as the main dish of the lunch, just the way the locals do it.
The original Paella, which is known as Valencia Paella is a savory yellow rice dish prepared with seafood like shellfish, clams, and squid. Tomatoes, onions, and peas are usually combined in this dish. In some varieties chicken drumsticks, lamb, or rabbit is also being used instead of seafood.
Paella is a fantastic dish, so why not giving it a chance?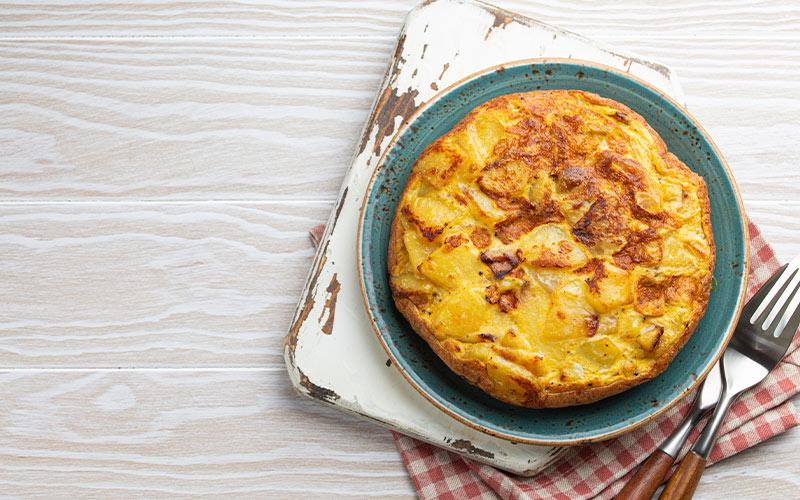 Tortilla Española
Tortilla Española or as it is better known among tourists as the Spanish Omelet is one of the most common foods to eat in Spain. You can find this dish in almost every café or restaurant. It looks like a simple dish, to be honest, but it tastes fantastic.
The ingredients of Tortilla Española are eggs, potatoes, and onions and that is all. Of course as a famous dish in a Mediterranean country undoubtedly there should be a sign of some olive oil in this dish. Tortilla Española will be cooked by frying onions and potatoes are slowly in olive oil and then mixed with the beaten eggs. Sometimes you may find chorizo, ham, or spinach between the ingredients as well.
Believe it or not, Tortilla Española is a favorite dish among the tourists. You can try it whether as a side dish or as a main dish. Tortilla Española can be served in every meal.
Pulpo a la Gallega
If you are looking for special seafood, then you must try this amazing dish. This unique dish that is originally from Galicia is believed by many of the people, both local and tourist as one of the best foods to eat in Spain.
Pulpo a la Gallega is made from boiled fresh octopus, that is flavored with paprika, rock or sea salt and the signature of Spanish cuisine, olive oil. The taste of this dish is incredibly delicious, so prepare yourself to have something you probably will not experience in any other place in the world.
In order to have the best dishes, it is better to have it in Galicia where this dish is originally from, but as a traditional Spanish dish, you can find it almost anywhere in the country. In Spain, and often in Galicia you will find some restaurants called Polbeira. These restaurants cook delicious dishes all based on octopus, and are favorite places for those who are into seafood.
In these restaurants, Pulpo a la Gallega is usually cooked in their traditional cooking style. By cooking it in copper cauldrons the octopus gets a unique taste that along with the other ingredients creates a pleasant combination like nothing else. Pulpo a la Gallega is usually served on a wooden platter with a couple of potatoes beside it.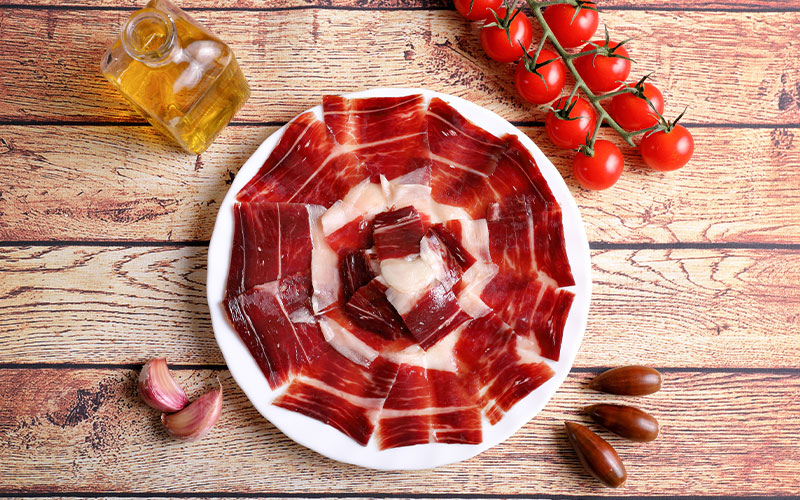 Jamón Iberico
Jamón Iberico is something you cannot ignore noticing while in the country. You will see them wherever in the cities you are in. They are the huge dried pork legs that are hanging from every shop and you probably will be in doubt that should you give it a chance or not?
The answer is absolutely yes. This cured Iberian ham is one of the most fantastic foods to eat in Spain. Whether a local or a tourist, with the first slice of this amazing Spanish snack, you will fall in love with it. Jamón Iberico is definitely delicious, so why should be there any doubts?
This snack is a small slice of a bigger cured ham that is made either from a black Iberian pig or from a mountain pig. These big hams are salted and hung to be dried.
You can have Jamón Iberico as a snack, as an appetizer, or even as a main dish when served with bread.
Patatas Bravas
The name of this food is translated to the brave potatoes which is a funny name, to be honest. It is another famous name in the list of foods to eat in Spain and is a common tapas in the country. Tapas are small dishes or snacks that are being served at cafes and bars.
Patatas Bravas small chunks of fried potatoes topped with traditional hot red sauce or sometimes creamy garlic sauce. It is so adorable that people usually order more than just one dish, while they just wanted to have only one dish.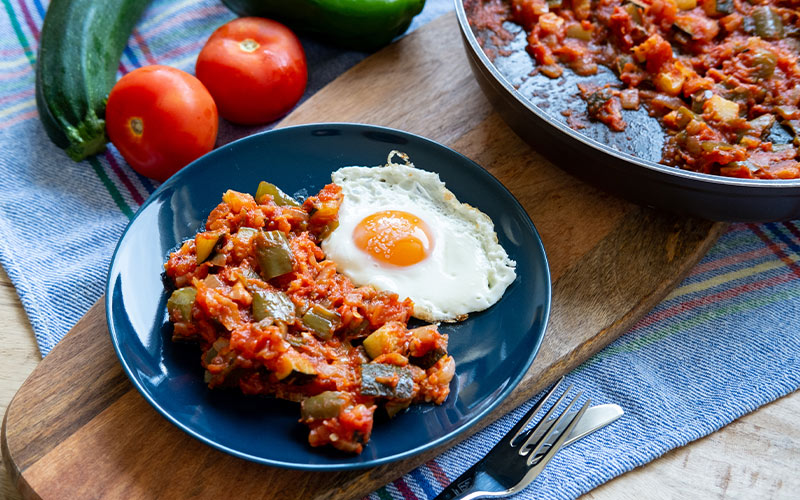 Pisto
A pleasant combination of vegetables, Pisto is a delicious dish, whether you are vegetarian or not. Based on eggplant, there are usually tomato, onion colorful bell peppers, and of course olive oil in this amazing dish. These ingredients are sliced and stewed together and served with pieces of bread.
Pisto is considered a full meal and sometimes there are some toppings like fried eggs or chorizo on it. It is one of the most delicious foods to eat in Spain and you should give it a chance while in the country. In order to have a better idea about this dish, it is good to know that Pisto is somehow the Spanish version of Ratatouille.
Gambos al Ajillo
The name of this food says what is whole of the story about. It means garlic and shrimps and obviously, we are talking about a fabulous dish of seafood. As a Mediterranean country, Spain has a lot of dishes based on seafood. Gambos al Ajillo is one of them and it is fair to say that when cooked by a good chef, there is no dish more delicious than this one.
As the name indicates, the main ingredients of Gambos al Ajillo are garlic and shrimp. There are some other ingredients like olive oil or spices as well. In some dishes of Gambos al Ajillo paprika, lemon juice, and parsley are also being added so that the taste will be at its prime.
Gambos al Ajillo is among the top foods to eat in Spain, but do not forget that it is better to have it as tapas, just the way locals usually have it.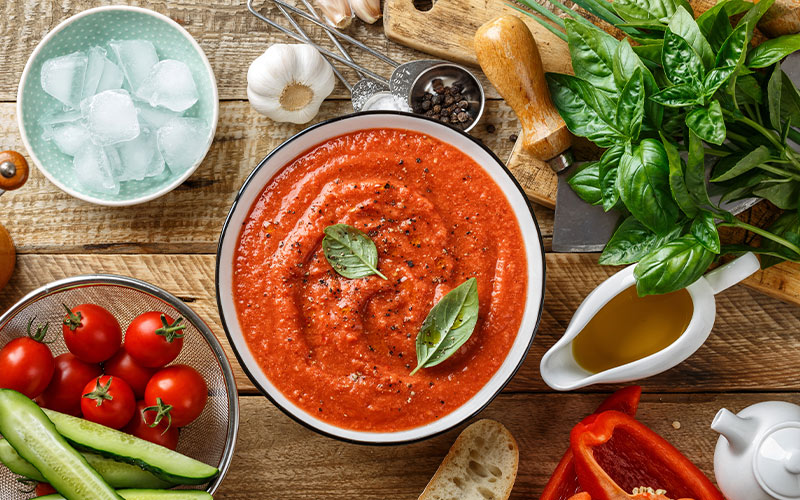 Gazpacho
If you are interested in trying a mouthwatering dish of soup, Gazpacho is the right option to be chosen. Of course, there is a little difference between Gazpacho and other kinds of soup as this amazing food is usually served cold.
Gazpacho is made from tomatoes and cucumber as well as garlic, bread, red bell peppers, and of course olive oil. The whole ingredients are then blended together to make a smooth liquid that is both unique and delicious.
Gazpacho can be eaten both as an appetizer or a meal, it depends on how you would like to try it. The portion size differs from a glass or a bowl and you can also have some bread along with it if you think it is necessary.
Reference: spanishsabores.com