Natural sights in the UK
When it comes to deciding on a destination for an upcoming holiday, there are plenty of options that we can choose among them. Many of us look for a famous landmark that is not usually located within the country's borders. Paris, Rome, Barcelona, and many more cities are without the shadow of a doubt some of the most interesting tourist destinations for us. On the other hand, there are a lot of people who are interested in natural sights in the UK, and visiting one of them will make their holiday.
With the amazing color of trees and the heights of mountains, or the beauty of waterfalls, nature has a lot to offer. Millions of people are deeply in love with nature and its wonderful attractions and spend their entire holidays or at least a big part of it discovering nature and wandering in its beauty. The good news is that the number of Natural sights in the UK seems to be unlimited and there is no lack of attractions in every season you are.
From Edinburgh to Glasgow, or Liverpool, in addition to historical landmarks, there are various awe-inspiring natural attractions. You can visit amazing islands, magnificent mountains, adorable rivers, and much more without getting too far from your home. To be honest that is one of the good points about natural sights in the UK.
Britain homes some impressive natural wonders that are ideal places for every visitor to spend a relaxing time in them. You can live an experience that is nothing less than a dream. There are symphonies made of the sound of water and birds, and masterpieces of paintings created using the adorable colors of nature. You just need to choose, travel and be charmed.
You can plan your trip for the closest attraction and come back home afterward, or travel to some other cities and visit these attractions as a part of some day-trips. In both ways, there are a lot to see and a lot of new experiences waiting for you to be discovered. There are stunning sceneries almost anywhere in the country, so you do not need to go so far to find something adorable.
In this article, we will talk about some of the most famous natural sights in the UK, so that you will have a list of attractions to choose from while thinking about a landmark to visit. After reading this article, you have some new items on your travel bucket list.
Stay tuned with us.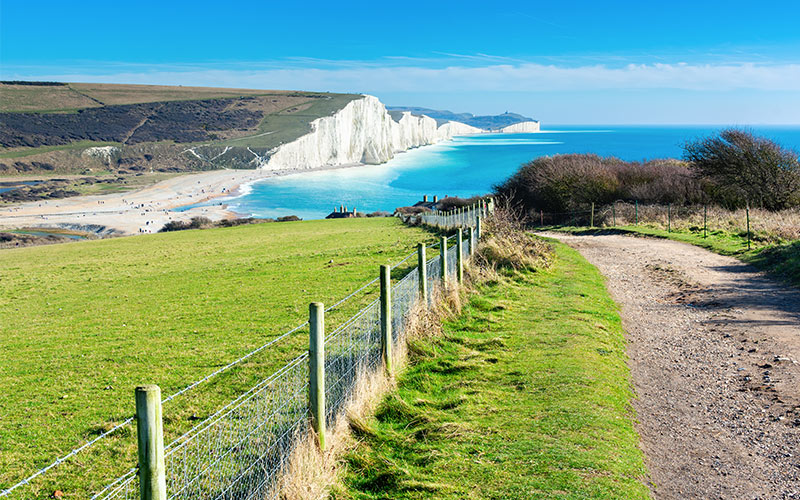 The Seven Sisters Cliffs
These cliffs are probably one of the most famous natural sights in the UK. They are a series of chalk cliffs located between Eastbourne and Seaford in East Sussex in the Southern part of England.
The Seven Sister Cliffs are included in the famous South Downs National Park and are dated back to millions of years ago. If you are interested in the history of the Earth, or if you like to visit a magnificent landscape that is standing still for millions of years, this is the place you need to visit.
You can get to the Seven Sisters Cliffs with about two hours of drive from London, although there are other ways as well. You can get to Brighton, Eastbourne, or Seaford train stations and use the bus transportations from there to reach this adorable landmark.
In case you are willing to see the attraction from the best point of view, we suggest having a sail out to the sea and enjoy a unique landscape.
Norfolk lavender fields
Located in East Anglia and a neighbor to the beautiful North Sea, Norfolk is a pleasant place with some nice natural sceneries. Among them, you can find the fabulous lavender fields of Norfolk. They look like symphonies of colorful, adorable flowers that will charm every visitor.
You can plan a visit to the Pristine Holkham Beach that is very close and pay a visit to the fields as a part of your day trip. On the other hand, you can plan a full day trip to this beautiful place and spend your whole day visiting it and enjoying its landscapes.
Norfolk lavender fields, with their amazing flowers, are one of the most picturesque natural sights in the UK. Of course, the photos cannot show how charming they are, you just need to go and see them yourself.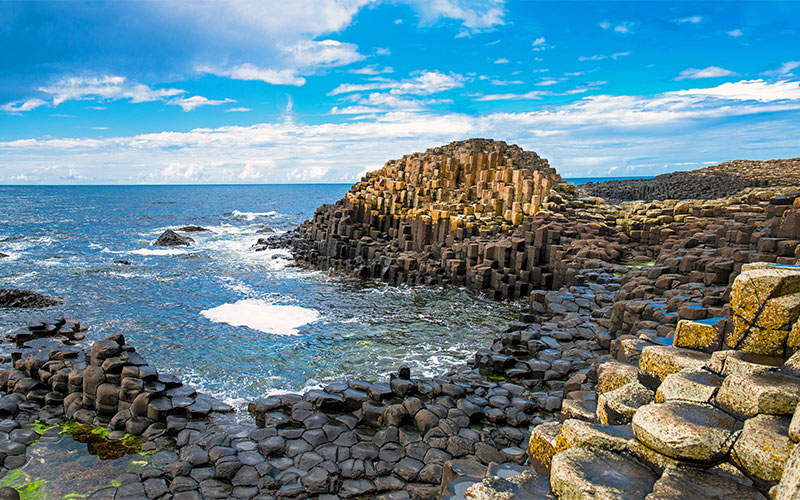 The Giant's Causeway
There are a lot of wonderful landscapes in Northern Ireland and plenty of them are among the top natural sights in the UK. The Giant's Causeway undoubtedly is among the most scenic ones of them. The incredible fact about this impressively beautiful causeway is that it is completely natural and has not been made or even maintained by any person.
The Giant's Causeway is actually a road made up of thousands of hexagonal basalt columns all interlocked together. It looks like a path straight into North Atlantic Ocean and there are a lot of stories behind it. Even if you do not know about the stories, the landscape is mythic enough to let you make some for yourself.
It is good to know that this member of the National Nature Reserve list is in fact remnant of an ancient volcanic lava flow that during the time has been frozen. The landscape here is magnificent and remained from thousands of years ago, so what more is needed to make the Giant's Causeway a must-see?
The good point about the Giant's Causeway is that it is completely surrounded by nature. You can see a lot of caves, beaches, and forests while visiting it and that means you have a lot to do while around the is impressive attractions. This is what a lot of visitors do when visiting this fabulous member in the list of natural sights in the UK.
Gaping Gill
Without any doubt, this magnificent landmark is one of the most spectacular natural sights in the UK. Gaping Gill is a famous cave that is located in the North Yorkshire and is considered as one of the largest underground chambers in Britain.
If you are fond of exploring new places and visiting a 100 meters deep underground cave is something that you are interested in, this is the right place to go. The beauty of Gaping Gill is different from other attractions as it is somehow mysterious as well as magnificent.
Pay a visit to this picturesque natural attraction of North Yorkshire and it will not make you disappointed.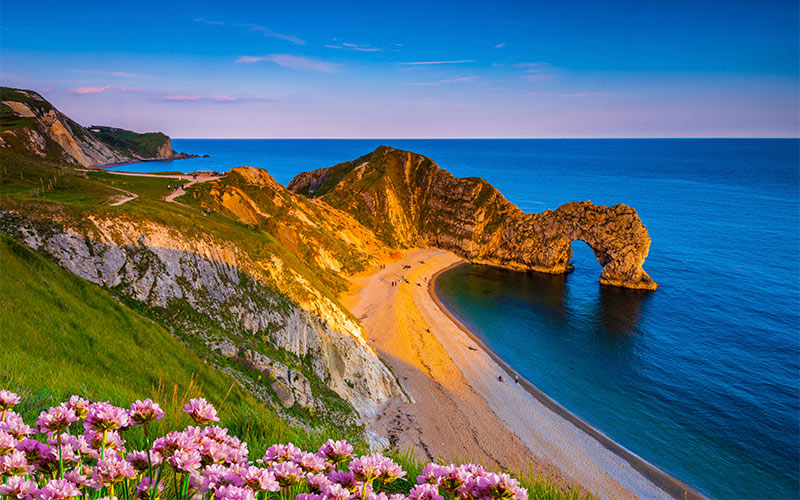 Durdle Door
This adorable wonder is probably the most famous name among natural sights in the UK. Durdle Door is actually a natural stone arch located in England's Jurassic Coast. The door looks like a door leading to the English Channel, or as some people describe, it is like an ancient dinosaur rising from the sea. One of the most picturesque scenes is when the sun is passing through the door.
Jurassic Coast itself is a fantastic natural attraction. It is the place where the very first dinosaur fossils were found. A scenic coast that has a special atmosphere, it smells like millions of years of existence in Jurassic Coast.
Durdle Door, however, is a breathtaking sight that is a brilliant place for a relaxing picnic or taking extraordinary photos. So if you are not into ancient bones and dinosaurs' history, you still can enjoy an unforgettable holiday in this place. If you are also interested in swimming, you can experience a daring swimming adventure.
Malham Cove
North Yorkshire homes some of the most interesting natural sights in the UK. In addition to the scenic Gaping Gill, there are some more amazing attractions that are popular among the visitors.
Malham Cove is an ancient remnant of the last Ice Age. It is a large curved limestone that was formed 12,000 years ago by a waterfall that carried meltwater of glaciers, and to be honest, it is a magnificent work of art.
Malham Cove is close to the village of Malham in North Yorkshire and is also a part of the Yorkshire Dales National Park. It is an ideal location for walking and the view from the pavement across Yorkshire is something spectacular.
The countryside that surrounded this attraction, and also the lovely nature all around it are very nice places to spend time in. You can enjoy this beauty for hours without feeling the time is passing. Malham Cove without any doubt is a truly amazing place to pay a visit to, it also was featured in the famous movie, Harry Potter and the Deathly Hallows (Part 1). Ready to put it in your bucket list?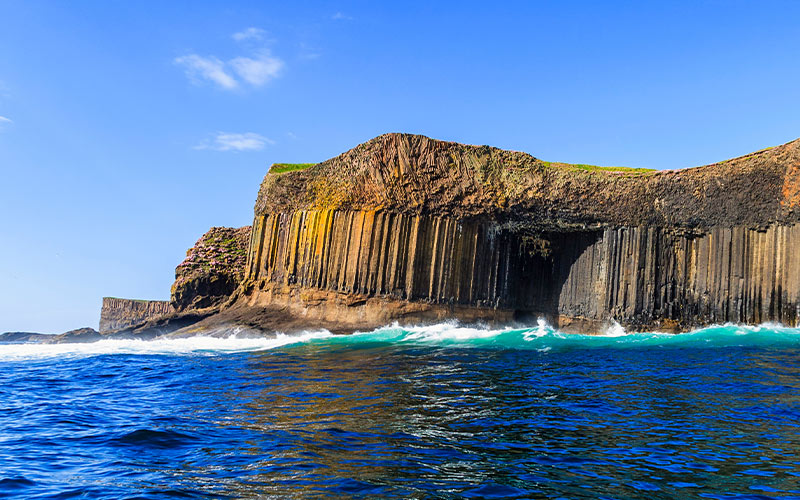 Fingal's Cave
Fingal's Cave is located across the charming Giant's Causeway and is another wonderful attraction between natural sights in the UK. Being a part of the same ancient lava that created the Giant's Causeway, this the place where the famous Sir Walter Scott called it "baffled all description".
This cave is a sea cave on the island of Staffa in the Inner Hebrides, Scotland. Fingal's Cave is so awe-inspiring that a lot of different artists have been inspired by its beauty. As an example the worldly known composer, Felix Mendelssohn created his masterpiece, Hebrides Overture, based on the strange echoes of the water sloshing around the cave. In fact, the name of this sight in Gaelic means cave of melody.
In order to visit this impressive cave, you need to take an exciting boat ride from the mainland.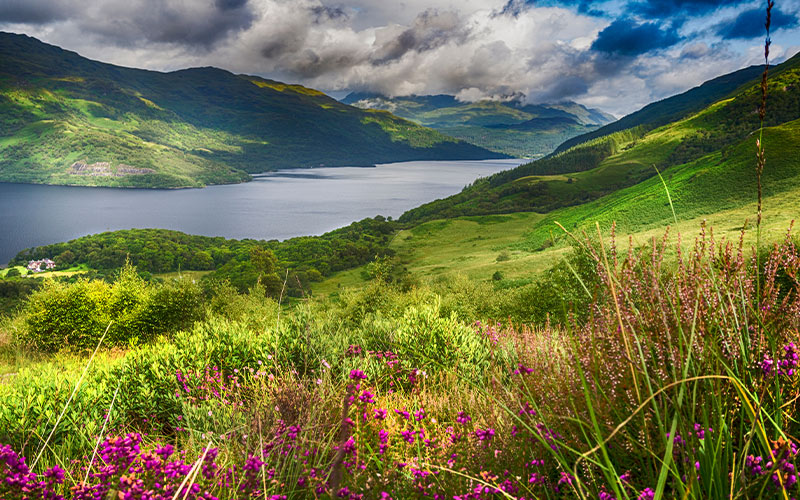 Loch Lomond
Britain's largest bay is a must-see. There are adorable landscapes almost anywhere around it. With the beautiful water and magnificent mountains all around it. It does not matter if it is in the middle of summer or in the cold days of the winter, the Loch Lomond is always adorable.
Loch Lomond is a famous lake that is located in Southern Scotland. It is located within the amazing Loch Lomond and the Trossachs National Park that is a unique reserved area. You can find lovely animal species like red deer as well as beautiful oak woodlands.
The Loch Lomond and the Trossachs National Park in general and specifically the scenic lake are a favorite place for having a relaxing walk. Actually walking is one of the most popular things to do in this area, as there are nice tracks and paths all around it. You can enjoy an unforgettable time and visit some of the most amazing natural sceneries in the country while walking in this area. Not mention that the weather is one of the most pleasant ones you can experience.
One of the most picturesque spots in Loch Lomond is the Loch's Tarbet Bay. There are usually tourist boats in the waters and create a landscape that is nothing less than spectacular.
Reference: dailymail.co.uk