No word can describe the phenomenal beauty of the capital city of Hungary. Perhaps this is the reason why Budapest is known as the Paris of the East. Hungarian capital glimmers in beauty and it makes every visitor fall in love with this city. You can enjoy an unforgettable trip by visiting the sights inside Budapest, while there are of course a lot more out of the city as well. Sometimes it is a nice idea to use the city as a base and have some day trips from Budapest.
With the likes of scenic Buda castle, iconic Fisherman's Bastion, and the famous Parliament Building, Budapest has a lot of attractions all around it. There are too many sights in every corner of this amazing city that you can be sure of seeing a lot during your stay in this impressive city. Budapest is an adorable city, a charming mixture of different combinations. Here you will see a combination of Eastern and Western European culture. You can see a lovely combination of modern and traditional lifestyles. As you see the city you will find more different combinations in it as well.
You may want to see a different perspective of Hungary while spending time in Budapest. In that case, the best thing to do is to take some day trips from Budapest and see the beauty outside of the gates of the city. There are fabulous destinations that you can travel to, visit, and come back all in one day. A lot of these destinations are so impressive that you should put them in your bucket list.
In this article, we will introduce some of the most popular day trips from Budapest. With the information provided in this travel guide, you can have a better approach to the options you can choose from and if you were interested in them, you can put them in your schedule.
Stay tuned with us.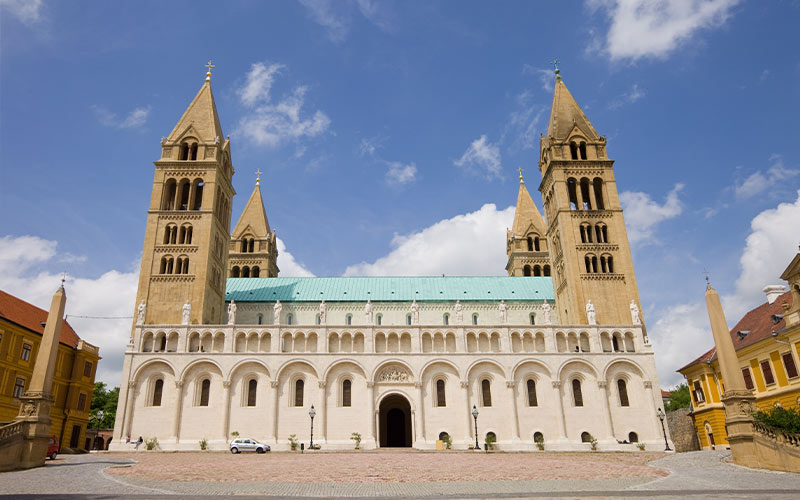 1. Pécs: A trip to the heart of Hungarian history and culture
With pleasant weather and the scenic Mecsek Mountains neighboring it, the historic city of Pécs is one of the most popular day-trip destinations for those who are accommodated in Budapest. To be fair, Pécs has everything a tourist wants to visit. From natural sights to historical buildings, and art galleries.
Among the best attractions to visit in Pécs, there is the 12th-century Cathedral of St. Peter. This impressive historical site has an interesting story during its long history of presence. It has served as a cathedral, a mosque, and a cathedral again. The architectural style used to build this landmark is one of the most amazing things you can see.
You can also pay a visit to one of the most adorable signs of the vibrant culture of the city, Szénchenyi tér. This place is a lively market that is remained in the heart of the Old Town of Pécs from the medieval era. You can feel a brilliant atmosphere in this market that you probably have not experienced anywhere else.
The city of Pécs is an ideal destination for your day trip as it is just a two-hour drive away from Budapest.
2. Baradla Cave: Meet a wonder of nature
If it is natural sights that you are fond of, then you must put Aggtelek National Park among your must-sees while in Budapest. This fabulous complex is around 2 hours and a half away from Budapest and close to the border of Hungary with Slovakia.
This UNESCO World Heritage Site has a lot to see. The most important one of course, that attracts tourists from all around Europe, is the adorable Baradla Cave. This cave is known as one of the most beautiful and largest caves on the continent. The unique thing about this gigantic 25-kilometer long cave is its structure that is formed by numerous stalactites and stalagmites.
There are different landscapes in the cave that you can enjoy visiting. From awe-inspiring limestone to the landscapes of carved chalks into them made of water dripping over the years. There are also a number of picturesque stalactites and stalagmites that you should not miss while in the Baradla Cave.
The main tunnel of Baradla Cave stretches for around 7 kilometers with various passages all over it. Some parts of Baradla Cave has stretched into Slovakia.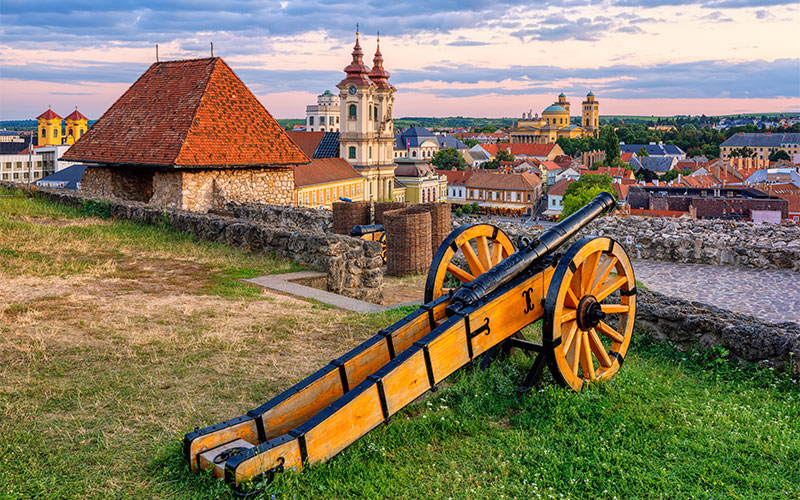 3. Eger: A travel in time to the medieval era
With a drive that will long around an hour and a half to the east of Budapest, you can have a one day trip to one of the most popular tourist destinations in Hungary. The scenic Eger is an open-air museum of Baroque art and architecture.
There are 17 Baroque churches that are more than enough for those who are interested in visiting such masterpieces. Turkish minaret is also an iconic landmark to be seen, and the marketplace of the town is something every visitor must pay a visit to it while in the town.
One of the most fabulous attractions to visit in Eger is the beautiful Basilica of the town. It is such an awe-inspiring architectural wonder that you will find yourself wandering in it for hours. With its scenic twin towers and the great views they offer, it is not a wonder why people are deeply in love with this building.
Another landmark of this town is the magnificent Castle of Eger. A landmark dated to the medieval era, it is said that this castle is built back in the 11th century. You can enjoy different sights located inside this castle as it has seen several expansions during its 10 century of history.
4. Kecskemet: Experience the traditional Hungarian culture
By visiting this city that is located in the beautiful Great Plains of Hungary, you can have a better approach to the traditional lifestyle of the country. Although Budapest still has different factors of this lifestyle but visiting a city like Kecskemet will surprise you.
This small city offers a lot to visitors. They can enjoy the scenic natural landscapes, or just experience living in an adorable atmosphere that is different from almost any other place in the continent.
Kecskemet is also a good place to try traditional Hungarian cuisine. The foods cooked in Hungary are unique enough to make you fall in love with them, but having them when they are made in the traditional style of cooking is another fabulous experience you should have.
The Great Plains of Hungary is known for its famous horses. As a city located in that region, it is a great activity to ride horses in Kecskemet, of course, if you are interested in these kinds of activities.
Kecskemet is situated just about an hour away from the capital, so it is one of the best destinations among day trips from Budapest.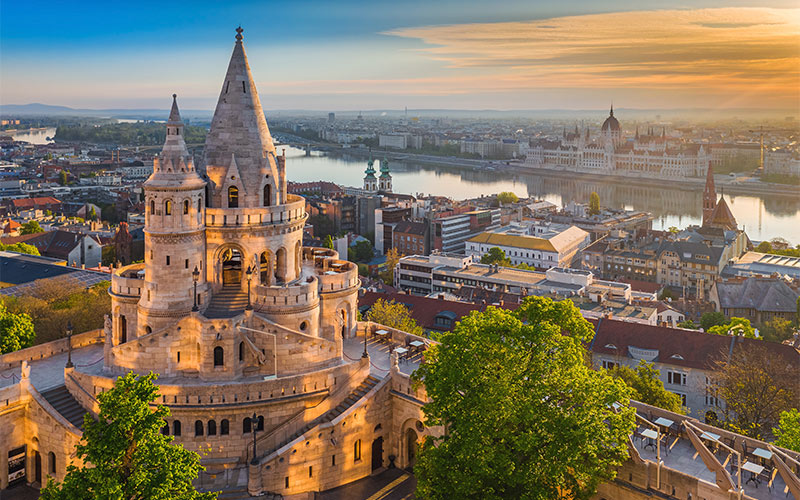 5. Diósgyor Castle: The magnificent wonder of Hungary
Everyone who visits this masterpiece of architecture will admire its beauty and the way it was constructed. Built in the middle of the 13th century in the style of southern Italian castles, this impressive landmark of Hungary is something you should not miss.
The castle was built in a fantastic style. With four towers surrounding it on the corners and a well-built outer circle of fortifications, it cannot be described by any words except magnificent. The materials used to construct this impressive wonder and the style used to build it makes it look impenetrable.
A great part of the castle was reconstructed and fortunately, you can have a visit to a well-rebuilt sight. This will help you have a better idea about how impressive the Diósgyor Castle was.
Iconic Castle of Diósgyor is located close to the city of Miskolc in the northeast of Budapest. A travel to this castle takes less than an hour and a half, but it truly worth it.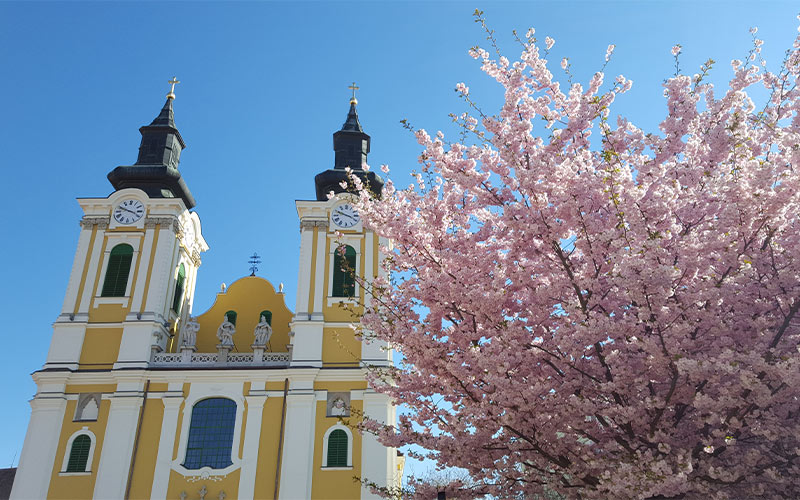 6. Székesfehérvár: All you need to see about the Kingdom of Hungary
Before visiting Székesfehérvár, it is better to have a little bit of information about the history of monarchy in the country. This way, every step you take in this scenic city will show you a great part of that history.
Székesfehérvár tells the story of the beginning of the Hungarian kingdom beautifully. With visiting the coronation church of the Hungarian kings you can feel the history and, of course, see how impressive a landmark can be.
There is the Bishop's Palace and Városház tér that are popular among people, tourists and locals alike. These buildings are great examples of the Hungarian style of architecture in the 17th and 18th centuries. The town hall of Székesfehérvár is another building you can enjoy visiting while in the city. This old city that is painted all in white was built in the late 17th century and looks incredibly picturesque.
In order to make your visit complete, you must pay a visit to the famous Royal Basilica of the town. As the name indicates it was founded by King Stephen in the 11th century. Of course, the landmark located in the city now is the result of being rebuilt several times. This picturesque church is one of the best places to have a better idea about the history of art and architecture in the country.
As you can see, the beautiful city of Székesfehérvár has a lot of different sights to visit. With a distance of just about 45 minutes from Budapest, it is one of the most recommended day trips you can have from the adorable Budapest.
7. Gödöllő Palace: An ideal destination among day trips from Budapest
This attraction is so close to the capital that even if you are not interested in having a day trip from Budapest, you can still have it in the back of your mind as a great option. This magnificent Baroque palace that is known as one of the largest ones of its kind in the continent is just about half an hour away from Budapest.
Gödöllő Palace was a summer residence of Emperor Franz Joseph and his wife Queen Elizabeth, the emperor and queen of the Austro-Hungarian Empire. During its history, it has become the residence of Grassalkovich counts and later Hapsburg monarchs. As you can see, it is a great part of Hungarian history and a fabulous witness to a lot of different events.
The palace is an impressive masterpiece of architecture. The Baroque era signatures can be seen everywhere in it. Due to this style of construction, this majestic landmark can be considered as a vivid example of the architectural style of Hungary.
The shining capital of Hungary has a lot of different attractions in it, but we have seen that beauty is not restricted just to the city. Landmarks introduced in this article show you that it is a good idea to put some day trips from Budapest in your schedule, as there is a lot more to see in them.
Without a doubt, plenty of other famous and beautiful sights are not listed here as this article just has talked about some of the most popular attractions available.
You may also need some information about Budapest both before planning your trip or after you have decided to visit this amazing city. In both cases, a travel guide like Eligasht's travel guide to Budapest is something that you may find it useful. There are several tips provided in this travel guide that can help you with your travel.
Reference: budapest101