The largest city in the southern part of Germany, Munich, is a one-of-a-kind tourist destination. There are a lot of amazing things about the capital of Bavaria that draws tourists from all over the world to it. As the gateway to the magnificent Alps, Munich offers numerous outdoor activities to the visitors. If you are into history and arts it is one of the best destinations in Europe for you as the city homes plenty of amazing attraction almost everywhere. With this wide variety of things to do, a Munich travel guide is very useful for every visitor, whether they are considering a trip to the city, or have chosen it as their destination and are packing their bags.
Munich travel guide
The famous American author, Ernest Hemingway once said: "You do not even go somewhere else, I tell you there is nothing like Munich." To be honest, Munich is righteous to be described as Hemingway did.
The heart of Bavaria is one of the most pleasant places to visit in Europe as you can experience being in its impressive atmosphere. This atmosphere is created because of the interesting combination of magnificent traditional Bavarian culture and the modern style of living running through its veins.
The architecture wonders you see in Munich is something you probably will not witness anywhere else in the world. The majestic Baroque style of architecture that can be seen in historic palaces and buildings on one hand and Munich's unique contemporary architecture, on the other is enough for every visitor to spends days and weeks wandering around the city. The more you explore, the more you will be charmed by the magic of Munich. Of course in this Munich travel guide, we will talk about some of these wonders and introduce them.
Apart from the attractions we have mentioned above, Munich is worldly known for an event as well. The annual Oktoberfest is one of the most popular festivals in the world. As its name indicates, it is an annual festival that is being held every year in the month of October. During this festival, you will see how different the city becomes. It is the best time to try traditional Bavarian dishes and of course beers. There are beers everywhere.
Munich is also a fantastic destination if you are interested in history. There are several museums in the city that house numerous impressive items in them. You will see more and will know more about World War II during your visit too.
With fantastic natural wonders close to the city, you have the opportunity to visit some of the most beautiful sceneries in Europe, while you are in Munich. German Alps, that Munich is known as the gateway to them are both adorable and magnificent, but they are not the only natural wonders that Munich is offering. Try your best to visit some of these lovely attractions while in Munich.
In this Munich travel guide, we will provide some useful information about this adorable city. Some information about the best time to visit the city, the best places to stay in while in the city, and the top tourist attractions of it. With the information and tips provided in Eligasht's Munich travel guide, you will have a better idea while planning your visit to the adorable heartland of Bavaria.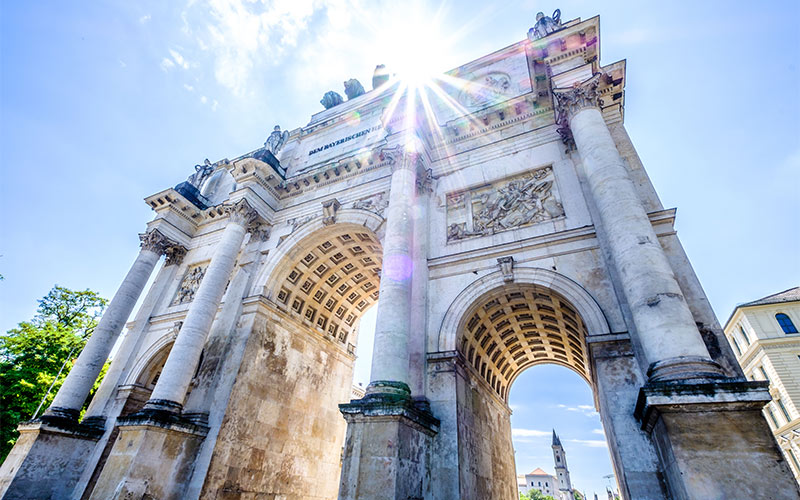 When to visit Munich
To be honest, there is no exact time to consider it as the best time to visit somewhere. There are several factors that will help you decide when to visit a destination. The weather is an important factor, but so are the prices. On the other hand, you may find a destination cheap when the weather is delightful, but you need to consider the number of tourists visiting it as well. You do not wish to visit a destination when all the attractions are so crowded that you need to stay in long queues for every single one of them.
About the adorable city of Munich, the story is not so different. You need to consider some factors. As mentioned above and as a tip from this Munich travel guide, the weather, the prices, and the number of visitors are the top factors you need to think about when planning your trip.
Summer in Munich is the high season. The weather is fantastic, with the sun shining and the temperature at its peak. That was the good news about it, but as the weather becomes pleasant there are more and more tourists coming to the city. You will face some difficulties in finding accommodations and of course in finding the attractions less crowded. Prices will see a surge during this season as well. But for those who want to visit Munich in fabulous weather, summer is the right choice.
Winter of Munich is the opposite of summer. With the temperature dropping down, there are fewer people visiting the city and with prices becoming cheaper, it will be a fantastic destination for an affordable trip.
On the other hand, there are two mild seasons of spring and fall. The weather in these seasons is extraordinarily pleasant. The prices are nice and so is the crowd. Of course, fall is a little bit different.
With Oktoberfest in October, this month becomes even more crowded than summer, and prices will surge drastically. But do not forget that this festival is something you cannot miss.
As a wrap-up, in this Munich travel guide, we suggest spring as one of the nicest times to visit the city, although there are notable pros and cons about other seasons as well.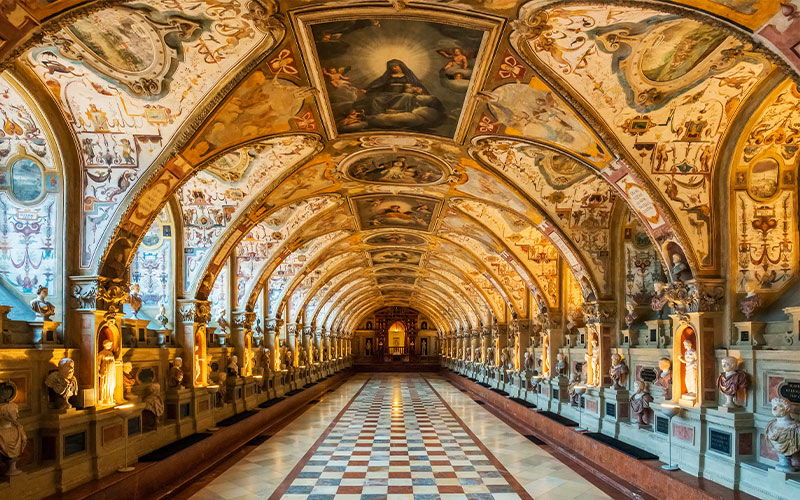 Top tourist attractions of Munich
As a favorite tourist hub, there are a lot of different attractions in Munich. These attractions are in various types, historic sites, architectural wonders, modern buildings, and natural sights. Every visitor has his own taste of attractions and fortunately, Munich has something to offer for all of them.
It is hard to name all the attractions of the city, and it is even harder to choose just a few of them to be listed. In this part of our Munich travel guide, we will just introduce some of the most popular attractions in the city, but there are plenty of them not mentioned in this section.
Residenz
Munich Residenz is a magnificent building with an important role throughout Munich's history. It was the seat of the rulers of the region, from the dukes and electors to the kings of Bavaria. This majestic palace is one of the most beautiful ones among the palace of the continent.
Visiting Residenz is highly recommended as it is a living museum to the whole history of Bavaria and its rulers. It is, on the other hand, notable for its outstanding architecture.
There are three different main sections of Residenz called Königsbau, Alte Residenz, and Festsaalbau. Each of these sections is a magnificent example of the style of art and architecture in different eras.
While in Residenz, make sure you will visit the monuments located in it. There are numerous monuments in the complex that are extraordinarily amazing. Masters of art through the history of Bavaria have created these masterpieces and they are available to be visited now.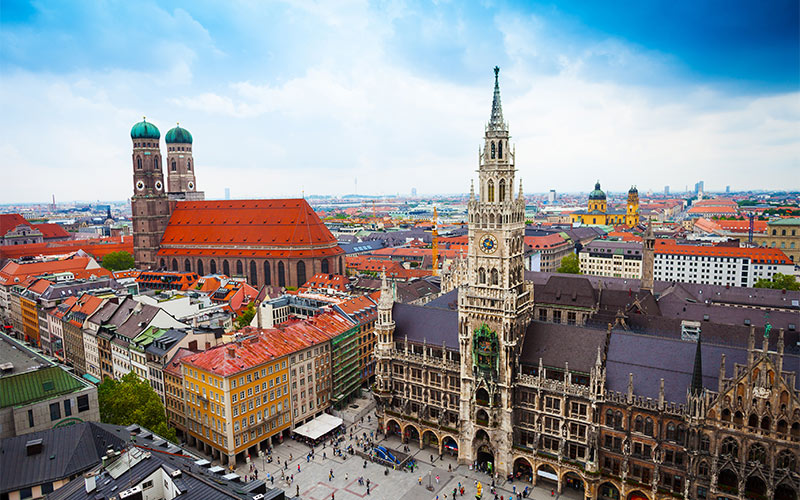 Frauenkirche
Wherever in the city you are, you probably will notice this colorful attraction of the city at first sight. The 15th-century Gothic cathedral is one of the most popular buildings in the city due to its scenic façade and of course the unique interior design of it.
The Cathedral Church of Our Lady has two iconic 100-meter tall towers, two exactly look-alike twins with scenic domes and the roof of the church is colored in vibrant orange color.
There are plenty of things to see while in the church. You may visit the Tomb of the Emperor Ludwig the Bavarian, a fabulous tomb in black marble decorated with bronze figures. You can also take a look at the impressive statue of Sorrowing Christ that dates back to the 14th century and is located in the Baptistery.
Frauenkirche is a truly picturesque attraction that you should not miss at all. Try your best to pay a visit to this magnificent cathedral and see how amazing it was constructed. There you will find new definitions of the word, magnificent.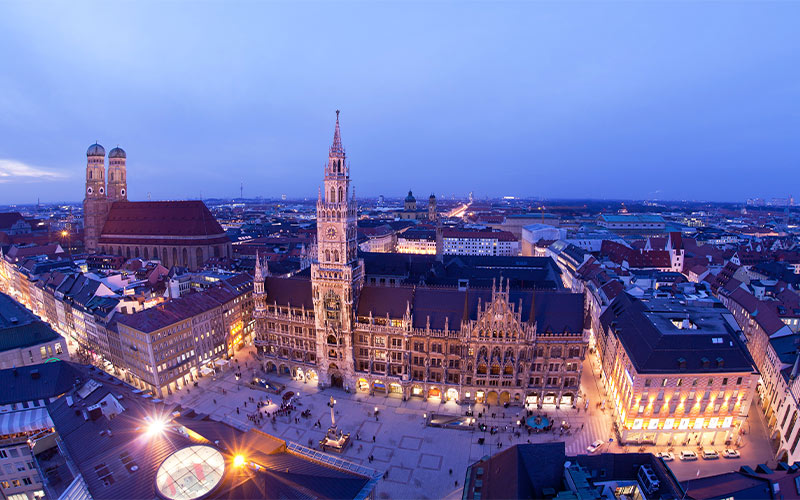 How to reach Munich
As well as being a favorite destination for tourists, fortunately, Munich is an important business hub. Due to this fact, there is no need to worry much about the way you will travel to the city. You can travel to Munich using planes or by different transportation methods that are widely available.
If you are a fan of traveling by airplane, the good news is there are frequent flights from different airports to the famous Munich International Airport. Munich is well connected to almost every city and country in Europe and of course, there are flights from intercontinental sites to it as well, from Bangkok and Abu Dhabi to New York and Chicago. This airport was voted the best airport in Europe back in 2015 and various major airlines have frequent flights to it.
With a brilliant transportation system in the city, it is simple to reach from the airport to any place in Munich and vice versa. So you just arrive at the airport and the rest is easier than you could imagine.
It is good to have some ideas about the flights, airlines, and the prices before planning your visit to Munich. The easy to use Eligasht flight ticket booking system provides great help for that purpose as it provides a complete list of available flights and their prices. This way you can book your tickets from it easily.
You may also like traveling by train. Good news is that the main train station of the city, which is known as Munich Hauptbahnhof is very well connected to different European cities such as Amsterdam, Milan, Rome, Venice, Vienna, Zurich and many more.
You can also hit the road both by public transportation, taxis, or even your own car. The path is very nice and there are fabulous landscapes through the path. So consider this option as it can be tempting.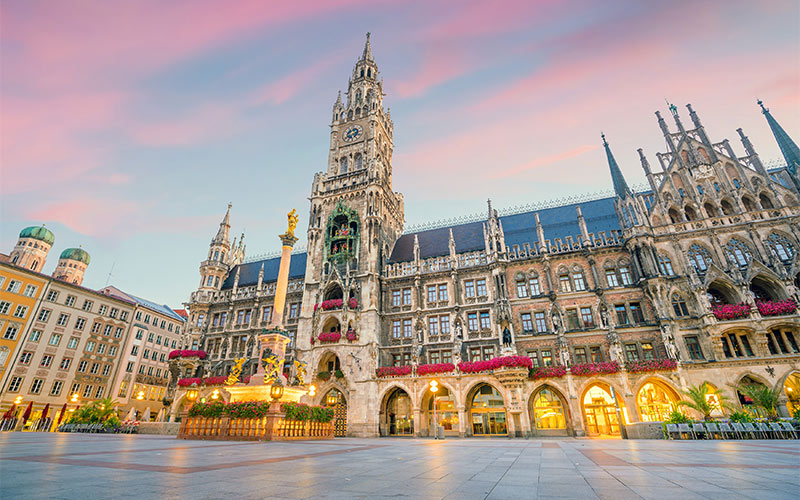 Where to stay in Munich
One of the good things about Munich is the variety of accommodations it offers to visitors. There are plenty of options for you based on your plans.
If you are looking for an affordable hotel room to stay in as a part of your travel on a budget, you can find various rooms in different parts of the city with different features. If you are looking for a luxury stay in the heart of Bavaria, there are also various choices provided in different corners of the city, with fabulous services.
Just a reminder that Eligasht's hotel room booking system is an easy-to-use system for booking accommodations in Munich. It offers different hotel rooms in various regions of Munich, with different ratings, and different features. The process of booking a hotel room has never been easier.
Source: muenchen