You have probably seen some photos of a magnificent, historic carving on a mountain located in a desert. It definitely caught your eyes and you ended up searching for this iconic landscape. All searches will lead you to one name: Petra in Jordan.
Petra is one of the world's most popular attractions. It is also among UNESCO Heritage Sites. It is so fantastic and awe-inspiring that was voted by tourists around the world as one of the "New Seven Wonders of the World". This ancient city is so picturesque that everyone who is visiting the Middle East somehow ends up with some lovely photos with Petra.
Although the construction of this ancient wonder goes back to the 3rd century BC, Petra is rich in a style of architecture that looks more advanced than its time. The details are impressively carved and when you look at them you will see what a masterpiece they are. If you also watch the entire picture as a whole, you can see nothing but a masterpiece of art worked by ancient masters of architecture.
In this article, we will talk about the famous ancient wonder of Petra in Jordan. We will introduce it completely and provide some information you need before visiting this impressive landmark.  In the end, you will have a better approach to Petra in Jordan, so that you can enjoy your visit to it more.
Stay tuned with us.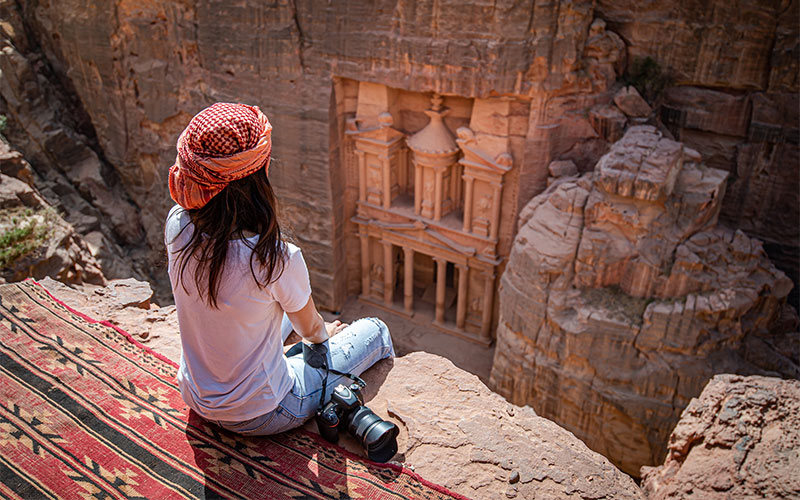 Where is Petra?
Located on the slope of the Al Madbah Mountain, or as it is called among locals Jabal al Madbah, Petra is a part of Arabah Valley in Jordan. The name of this amazing landmark simply means Stone. You will soon find out that it is being called Raqmu by the locals, although Petra looks a little bit more elegant.
The Arabah Valley, that is located in Ma'an Governate of the beautiful country of Jordan is a scenic valley extended from the Dead Sea to the Gulf of Aqaba. This area is amazing to be visited, especially the famous Dead Sea and its shores. You can enjoy some time in that region before reaching the mesmerizing beauty of Petra.
There are also some attractions there, such as camel riding that you can enjoy. Who is not interested in doing what the creators of Petra did for thousands of years?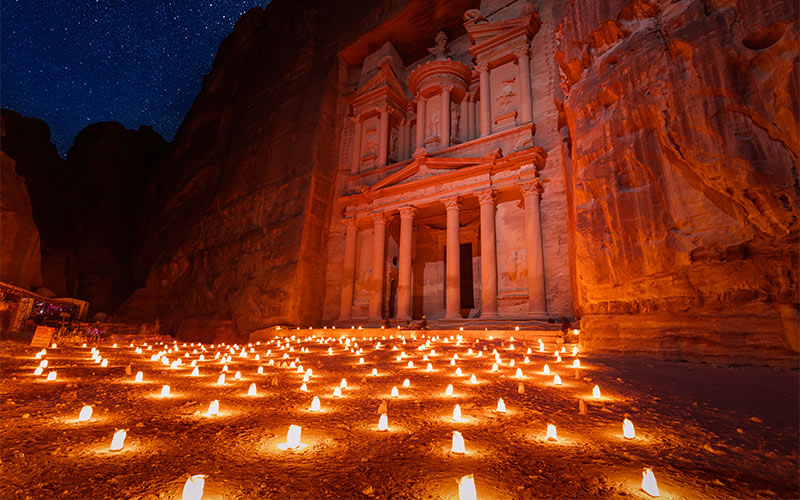 The history of Petra in Jordan
Raqmu was the place in which the ancient community of Nabateans ruled their territory. Nabateans were a community of people who were masters of masonry and were skillful in engineering, iron and copper production and refilling and of course, trading.
In the ancient Middle East, one of the most famous trade routes was the one that connected Damascus to Arabia. Merchants were active in this path, and Petra was in the middle of the road. Somewhere that provided accommodation and safety, and of course made them charmed with its beauty.
The city was glimmering in its beauty until a sudden accident, most probably an earthquake, in the middle of the 3rd to the middle of  the 5th century led it to be demised. Since then it was buried under the sands of time until it was founded in the 19th century.
The construction was so impressive that since its discovery, it attracted visitors. Now it is one of the most visited landmarks not only in Jordan but also in the entire Middle East.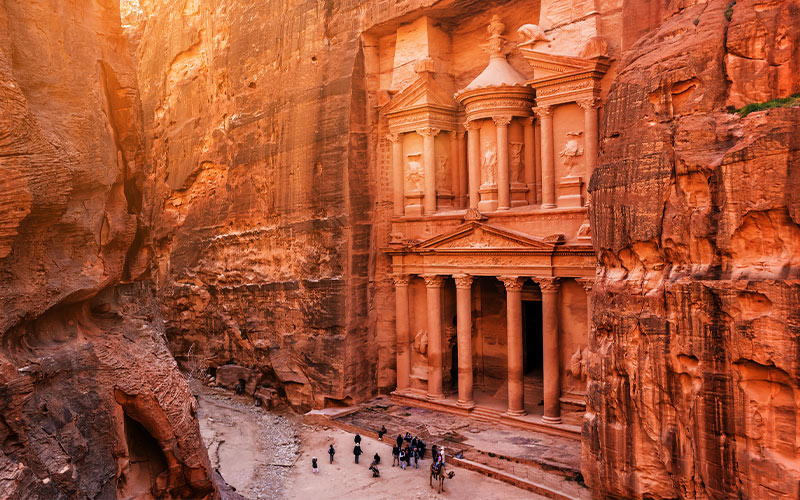 Attractions in Petra
Petra as a city consists of different sections. With the art created by ancient Nabateans, every single remnant of this lovely city is a masterpiece to be visited. In this part of our travel guide to the Petra, we will introduce some of these impressive attractions.
The Treasury
The most famous, and arguably the most beautiful part of Petra is the Treasury. This is the amazing tomb of the powerful Nabatean ruler, King Aretas III.
Although there is a lot more to see while in Petra, but the Treasury is the must-see. It is a masterpiece of art and architecture. Carved completely out of the sandstone with great details, it shows how fabulous Nabatean masons were.
Street of Facades
Street of Facades is where you can experience unique, unforgettable hiking. Many of the visitors will come back again, just to step on this ancient hiking trail once more.
The masons and the people of ancient Petra have created the tombs and houses of the city in this wider area. The trail seems to be their streets and the buildings that are all carved into the stones are easily recognizable.
This street is about 2000 years old and the atmosphere you will experience here is something extraordinary.
The Royal Tombs
You have probably noticed that tombs were so important for Nabateans. This way, the best thing to find out how amazing builders they were is just by visiting them. What can be better than a series of tombs carved in the mountains?
These tombs belonged to the royal family of Nabateans and their facades are breathtakingly beautiful. You can also take the opportunity and pay a visit to what is inside. The beauty is indescribable.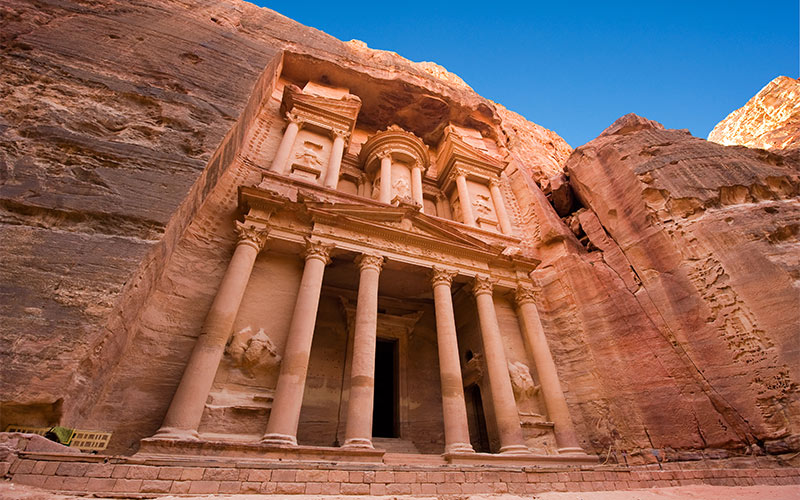 Where to stay to visit Petra
To visit Petra in Jordan, it is a good idea to plan a day trip while you are accommodated in cities around it. Of course, there are a lot of hotels in Petra, but this way you can have a better visit to the other areas of the country as well.
The closest town to Petra is Was Musa where there are numerous hotel rooms available to be booked. You can also plan your stay in Amman, the capital city of Jordan, but Wadi Musa, or even Siq in Petra seems to be more sensible choices.
As a tip at the end of the article, in order to have a better experience for booking hotel rooms to visit Petra in Jordan, using an easy to use, a thorough solution like Eligasht online hotel room booking service is something you can use. With this service, you can check all the available options and choose from them based on your preferences.
Reference: visitpetra