The fabulous land of smiles is one of the most favorite travel destinations in the world. Breathtaking scenery, brilliant historic sights, and world-class tropical beaches are not all that Thailand can offer. It is that part of the world where you can try the best Thai foods, which honestly are among the most delicious dishes in the world.
For a lot of people, one of the most amazing parts of traveling to Thailand is the food. You can simply find yourself surrounded by some of the most delicious dishes in the world, dishes from the most famous Thai food, pad Thai, to different curries, seafood, soups, salads, and noodles.
For a vast country like Thailand it is no surprise that as you travel to different parts of it, you will see the cuisine varies, although the food is still as delicious as it used to be. The northern cities cook the food different from the southern ones, and foods from the eastern cities are delicious in a different way from the foods from the western cities.
A good point about the dishes is the price. Even if you are having one of the best Thai foods in Thailand, you can be sure that it is remarkably inexpensive. It does not matter if you are trying a dish in a food center on the streets, or a fancy restaurant in Bangkok, the prices are incomparable to any other country in the world.
In this article, we will introduce some of the best Thai foods you can try in Thailand. Undoubtedly, with any kind of taste, you will find some of the foods listed here delicious during your stay in Thailand.
Stay tuned with us.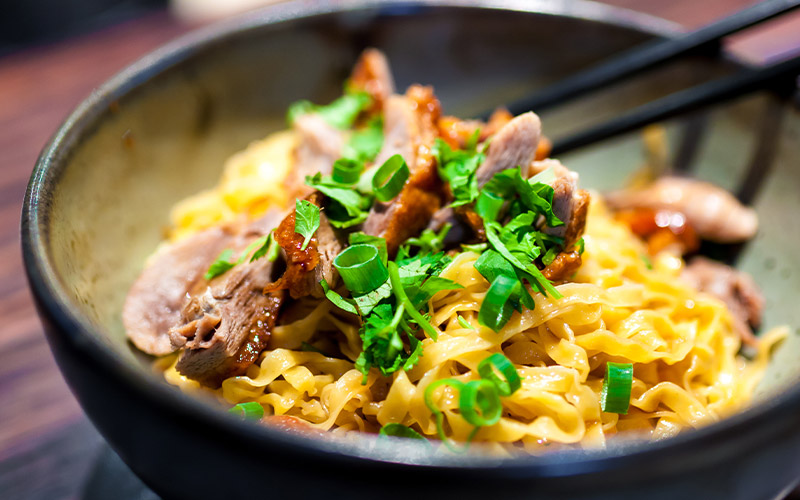 Tom Yum Gung
A fabulous combination of aroma and taste. It is the favorite soup in the country. Tom Yum Gung hosts a variety of tastes that will make you love it. With the first spoon of it, you will have an amazing mixture of sour, salty, spicy, and sweet tastes all at once. Add the unique aroma of the soup to that taste, and then you will understand why it is so popular.
With ingredients such as fresh prawns, mushrooms, lemongrass, chili, galangal, and fish sauce, Tom Yum Gung is known as one of the best Thai foods among the tourists.
There is also a creamy and sourer version that contains coconut cream as well.
Kai Pat Ma Muang
A sweet dish made of stir-fried chicken, delicious cashew nuts, soy sauce, mushrooms, and honey. It is a very tasty and nutritious dishes you can find in Thailand.
Also known as cashew chicken, this amazing food has a fabulous flavor as well as a lovely appearance. Make sure you try this simple and tasty dish once you are in Thailand.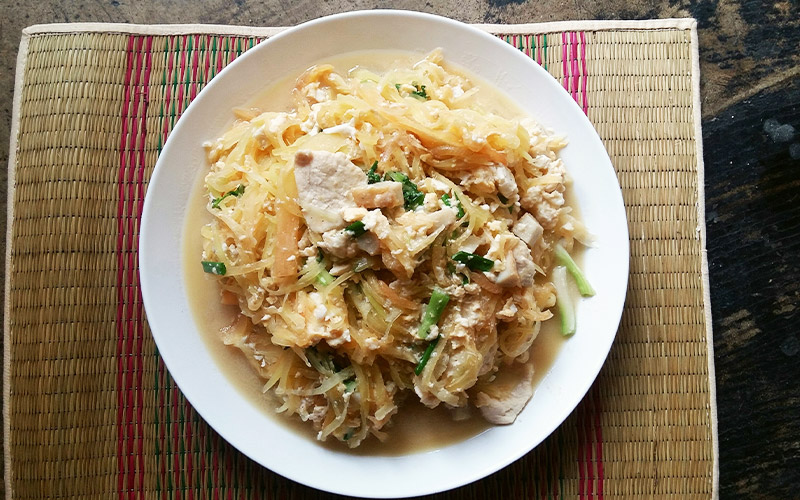 Pad Thai
Undoubtedly the most famous Thai dish in the world. This national Thai dish is a must-eat during your Thailand visit.
Pad Thai is stir-fried rice noodles, along with some ingredients like tofu, peanuts, garlic, lime juice, and fish sauce. As the main ingredient, the noodles are fried with chicken or shrimp. There is also a vegetarian option, in case you did not like the former ones.
This cheap and delicious food is probably the best dish to start your journey with.
Guay Teow Rhua
A famous soup made of pork blood broth sopped up by rice noodles (Sen Yai), medium rice noodles (Sen Lek), angel hair rice noodles (Sen Mee), or glass noodles (Wun Sen). As an addition to this combination, beef, pork or liver are added to the bowls as well.
Since these noodle bowls are usually being sold from the boats, it is known in Thai as "Boat Noodles".
Laab 
Laab is an extremely spicy salad that is originated in the northeastern province of Isan.
Its ingredients are mushroom, chicken, or pork, with mint and specific spices that create a uniquely spicy taste which you probably have not tasted before.
If you are not really into spices, Laab is not recommended at all.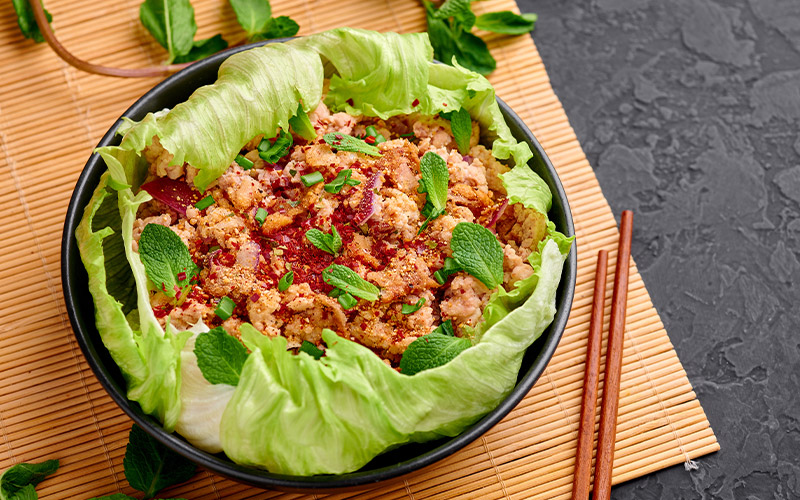 Khao Pad
The name of this dish means fried rice, and it is exactly the same food. Add some egg and onion, and the dish is ready.
Khao Pad is one of the most popular dishes in Thailand. Thai people usually serve it with slices of cucumber or pickles that will help the taste to change in the way they like it most.
Khao Soi
A northern Thailand dish which is an egg noodle soup, cooked with creamy coconut broth and special spices. This food is inspired by the Burmese style of cooking and because of that has a unique taste you can hardly find in other parts of Thailand.
For a more local experience, you can have this tasty soup with a little fresh lime juice.
Pad Phuk Tong
One of the best Thai foods you can find, especially if you are vegetarian or like vegetable-based foods. Pad Phuk Tong is a dish of stir-fried pumpkin flavored with unique Thai spices and additions.
You can have this dish along with a plate of brown rice to have a different experience of the taste.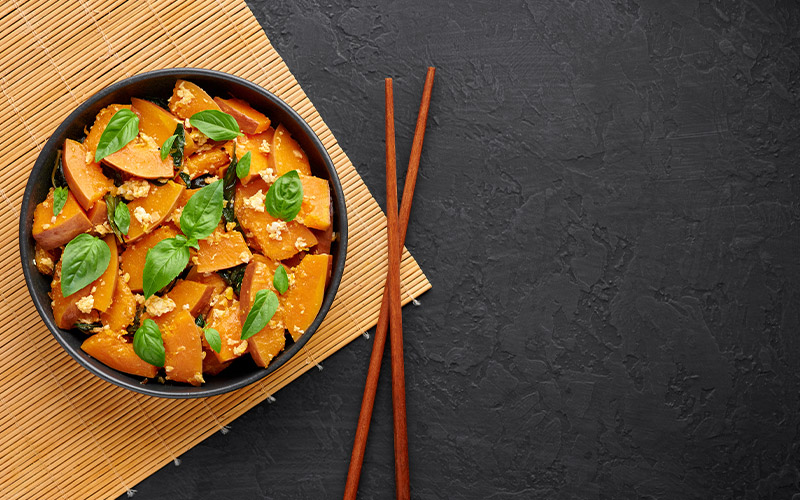 Tom Kha Gai
If you want to try Tom Yum Gung but are not really into spicy foods, Tom Kha Gai is the best option for you. It has the same fabulous taste but with a lower amount of spice.
This delicious soup is usually made of lots of creamy coconut milk, which makes it a sweet rich dish.
The vegetarian version is also available, which replaces the meat or chicken with some vegetable alternatives.
Pad See Eiw
Stir-fried rice noodles and meat, cooked with dark soy sauce. Chinese broccoli or cabbage is an addition to this tasty dish. Pad See Eiw can be considered as a softer version of Pad Thai.
It is a delicious dish with a lower amount of spice than Pad Thai that is a brilliant choice for those who cannot have very spicy noodle dishes.
Reference: edition.cnn.com