The tourist attractions of Tabriz are the must-visit places for any traveler looking for a mix of history, culture, and nature. Tabriz is a large and verdant city located in northwest Iran and is considered one of the historical capital of the country. Its mountainous climate has made it a popular tourist destination, with a range of historical landmarks and beautiful natural scenery showcasing the stunning views of Azerbaijan. Eligasht is here to help you become more familiar with Tabriz and its surroundings, so you can plan a suitable trip to this city. In this article, we aim to introduce you to the tourist attractions of Tabriz in more detail.
Book a flight London to Tabriz with the Eligasht UK
1.Tourist attractions of Tabriz: Tabriz Grand Bazaar
Tabriz Grand Bazaar is one of the most popular attractions of Tabriz and is the world's largest covered bazaar, covering an area of one square kilometer. This beautiful and historic bazaar is listed as a UNESCO World Heritage Site and played an important commercial role on the Silk Road in the past. The bazaar was destroyed by an earthquake in 1193 AH but was rebuilt by the efforts of Najafqoli Khan Denbili, the ruler of Tabriz. The bazaar contains many historical mosques, schools, and caravanserais, which have given it a unique appearance with its brick facades, domes, and beautiful arches.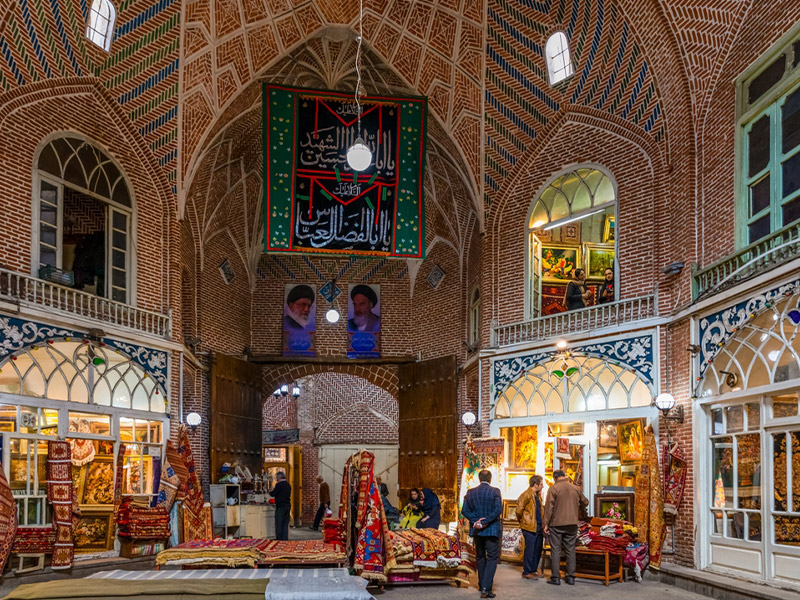 2.Tourist attractions of Tabriz:The Blue Mosque of Tabriz
The Blue Mosque or Jahan Shah Mosque is another historic landmark of Tabriz, built in the ninth century AH by Salehe Khanom, the daughter of Jahan Shah Qaraquyunlu. This beautiful mosque was destroyed in the earthquake of 1193 AH, and only its main entrance and porch remained. These remaining parts are evidence of the magnificence and grandeur of the mosque. The blue tiles of the entrance, which gave the mosque its name, have intricate and beautiful designs. The mosque also features artistic calligraphy. Tilework inside and outside the mosque is still being restored. At present, the Blue Mosque is one of the main tourist attractions of Tabriz.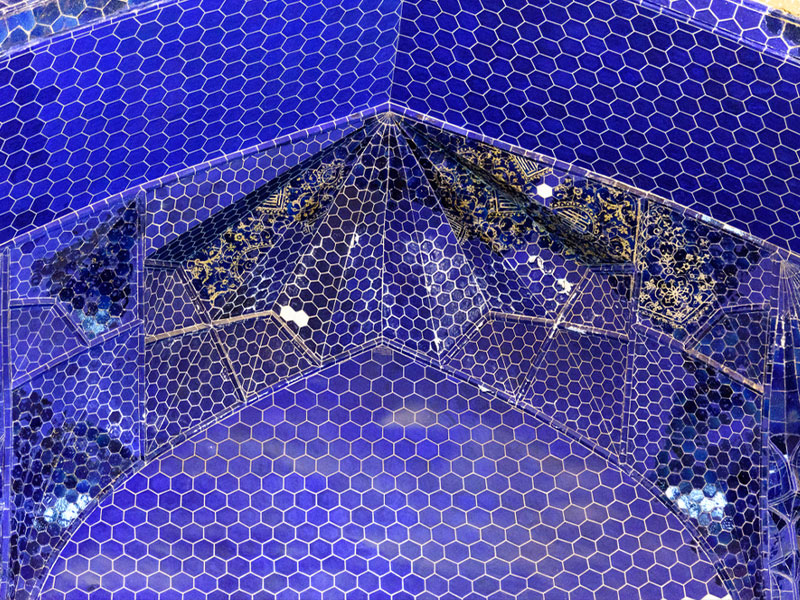 3.Tourist attractions of Tabriz: Arg-e Tabriz
Arg-e Tabriz (Alishah) is another historic site in this city, the construction of which began in the eighth century AD. This building was intended to be a mosque, but due to the collapse of the roof and the death of Alishah, it was never completed. During the Iran-Russia war, this unfinished building was converted into a military defense site. Many parts of this building have been destroyed in recent years, and only the walls of the winter quarters remain. Arg-e Tabriz is one of the oldest tourist attractions of Tabriz.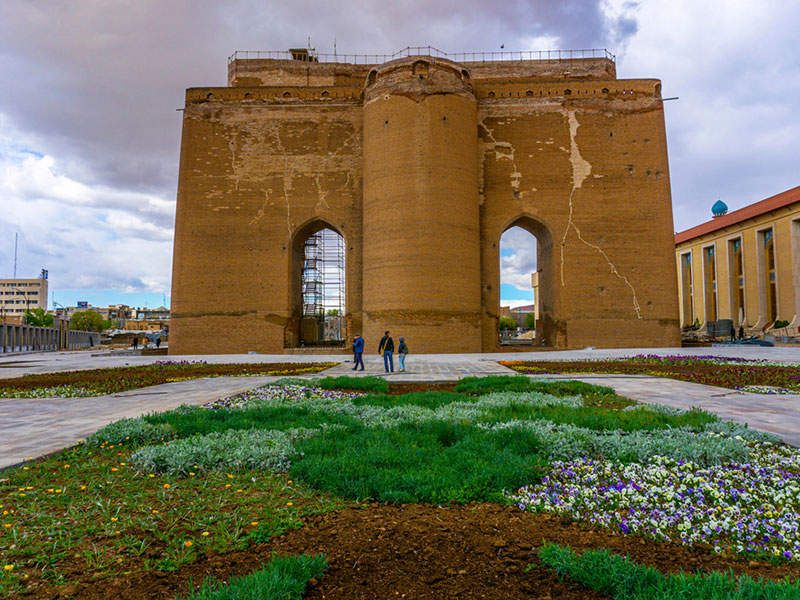 4. Tourist attractions of Tabriz: Tabriz Grand Mosque
Tabriz Grand Mosque is one of the historical sites and tourist attractions of Tabriz, which was built during the Seljuk period, and the Tabriz bazaar was formed around it. This old mosque has been destroyed and rebuilt several times due to frequent earthquakes in Tabriz. Therefore, its architecture is a combination of old and new. The entrance is decorated with tiles and the beautiful flower patterns of this mosque are among its attractions.
5.
Tourist attractions of Tabriz: The Azerbaijan Museum
The Azerbaijan Museum is one of the archaeological museums of Iran, located near the Blue Mosque in Tabriz. This museum was built in 1962, but before that, exhibitions of Tabriz coins were held. There are 1,200 antiques in this museum, of which a small portion is displayed. Some of these antiques date back to the Iron Age. The Azerbaijan Museum is the second archaeological museum in the country after the National Museum of Tehran. With three display halls and several administrative rooms and a library, it is one of the largest museums in Iran and a popular tourist attraction in Tabriz.
6. Tourist attractions of Tabriz: The Maqbaratoshoara
The Maqbaratoshoara or Red Cemetery is one of the historical sites of Tabriz, which is over 800 years old. This cemetery was destroyed and abandoned until 1971. In that year, Gholam Reza Farzanmehr's plan was chosen for its reconstruction, and now it is one of the symbols of Tabriz. Over 400 famous people and mostly poets are buried in this cemetery, including the famous Hakim Asadi Tousi and Shahriyar.
7. Tourist attractions of Tabriz: Il Goli Park
Il Goli Park is one of the tourist attractions of Tabriz, which has a 12-meter-deep lake. You can go boating on this lake. This park is located 7 kilometers from the center of Tabriz and has been built since the Ag Qoyunlu period. The Safavids also expanded this park. This park is a suitable place for a peaceful afternoon with family, picnics with friends, or playing badminton.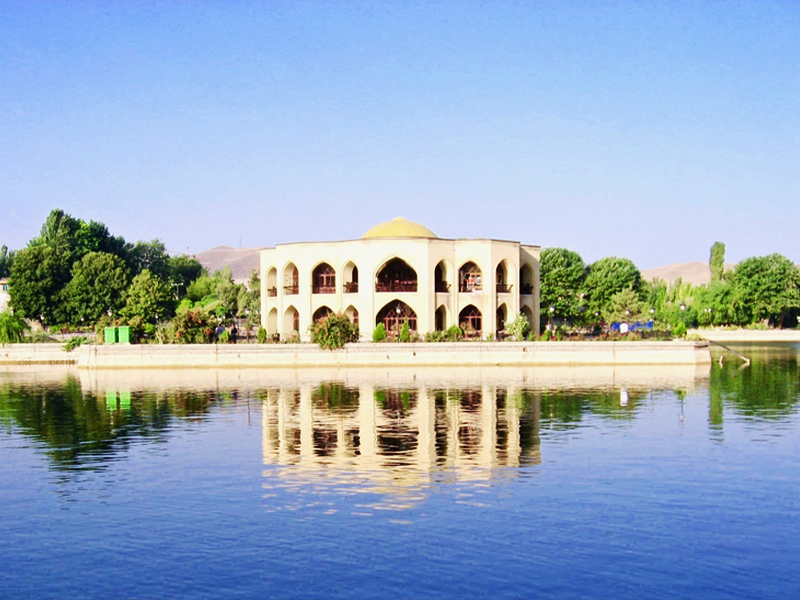 8.Kandovan village
Kandovan village is one of the tourist attractions of Tabriz, which has houses like beehives in the heart of the volcanic mountains of Sahand. These traditional houses have been combined with more modern village houses. The village is located 48 kilometers from Tabriz and we recommend visiting it. Kandovan village is very old and has a history of more than 7,000 years. This village is registered on the list of national monuments of Iran due to its unique architecture. Some compare this village to Cappadocia in Turkey, but the difference is that 117 families still live here. It is worth traveling for an hour by car to visit this village.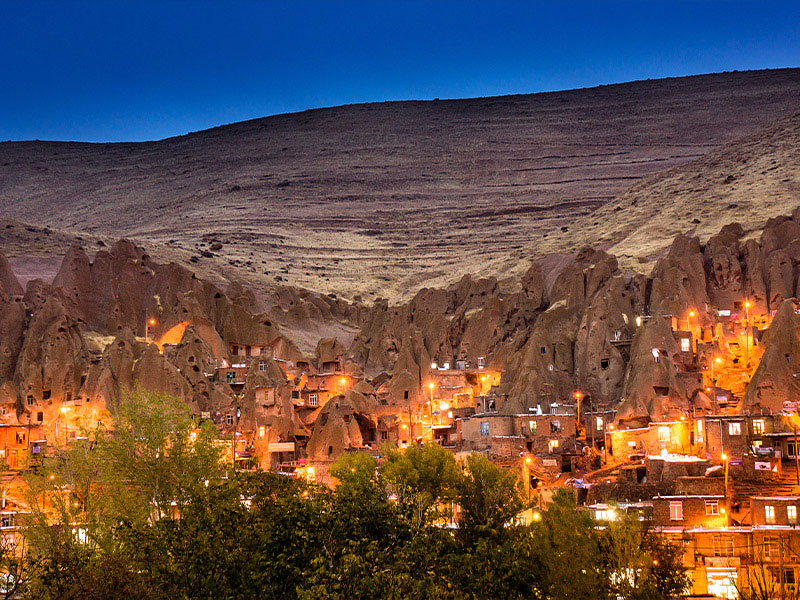 9.The Holy Stephen's Church
The Holy Stephen's Church is one of the historical monuments of Tabriz, located near the Aras River, 17 kilometers away from Jolfa. It takes about 1.5 hours to get there by car. The construction date of this church is not certain, but some believe it dates back to the early Christian era, while others believe it was built in the 4th to 6th centuries AH. The church was destroyed in the earthquakes that hit Tabriz, and it was restored by the Safavids. It belongs to the Armenians and is their second-largest church in Iran. Armenians celebrate their special occasions in this church, and thousands of people come to it on special days. This beautiful church is one of the tourist attractions of Tabriz.
10.Eynali Mountain Park
Whether on foot, by car, or by cable car, the journey to Eynali Mountain Park doesn't matter. The Eynali Mountains provide a beautiful and impressive view of Tabriz to all visitors. Just remember that it's cool at the top of the mountain, so you should wear warm clothes. One hot cup of tea can make your day fantastic in this amazing place. This park is undoubtedly one of the best attractions of Tabriz.
11.Constitutional House
After touring the Tabriz bazaar, you can visit the Constitutional House on Motahari Street. This house was the gathering place for people such as Sattar Khan, Baqer Khan, and many others during the Constitutional Revolution and afterward. This building, which was built in 1868 by Tabrizi architect Vali, has many rooms, halls, and corridors, and the most beautiful part of it is a corridor decorated with mirrors and beautiful stained glass. The Constitutional House is one of the tourist attractions of Tabriz.
12.The House of Shahriyar (Shahriyar Museum)
When it comes to the greats and poets of Azerbaijan, the name of Master "Shahriyar" is the first that comes to mind. The Shahriyar Museum was once the residence of "Mohammad Hossein Shahriyar" which is located in the Moghaddasieh neighborhood of Tabriz. After the Master's passing, the house was turned into a museum to commemorate him and attract poetry and literature enthusiasts. In this museum, you can see the personal belongings and works of Shahriyar such as books, handwriting, and various souvenirs. You can also sit comfortably and write whatever you want in the Master's commemorative notebook.
13.Golestan Garden
If you want to see Golestan Garden, you should go to Honarestan Square in Tabriz. This park, which was previously an old cemetery, with an area of 53,000 square meters, is one of the most important recreational places and tourist attractions of Tabriz. Pools and ponds have added to the beauty of the park, where trees and green grass grow around them. This garden is one of the old gardens of the city and started operating in 1308.
14.Sa'at Square Tabriz
Undoubtedly, one of the most beautiful and unique tourist attractions in Tabriz is Sa'at Square, which was built during the first Pahlavi era. This square, also known as the Municipality Square, is one of the main reasons foreign tourists are attracted to Tabriz. After arriving in Tabriz, many foreign tourists first visit Sa'at Square and take pictures of this structure. It is interesting to know that the clock in Municipality Square is exactly like the clock tower in London, and these two are known as the only clock towers in the world. Sa'at Square is also close to some of the best restaurants in Tabriz, where you can go for a meal after visiting this place.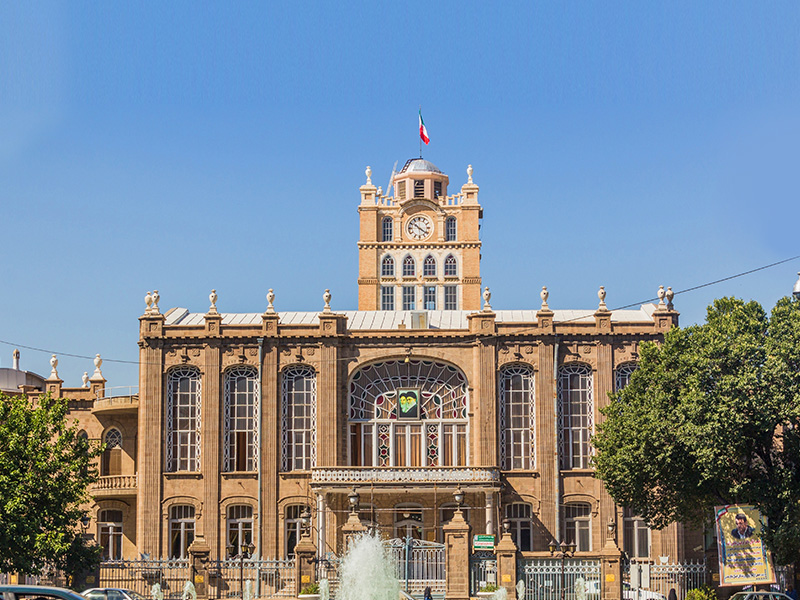 15.Kontal National Park
Kontal National Park is one of the tourist attractions of Tabriz, where you can see beautiful nature and attractive elements such as stone mills. If you visit this park in early spring, the colorful tulips in the Kontal area will amaze you.
16.Qom Tappeh Desert
You may be surprised to hear the name of a desert in Tabriz, but Tabriz, which is famous for its beautiful and green nature, has one of the most beautiful deserts in Iran called the Qom Tappeh Desert. The different texture of this area compared to other parts of Tabriz will amaze you. Wind and dust have caused this area to be full of sand hills.
17.Arasbaran Forest, Tabriz; A Natural Masterpiece
Tabriz's tourist attractions are not limited to traditional buildings, historical houses, and museums. Arasbaran Forest in the beautiful city of Tabriz can be considered one of the pieces of paradise in Iran that showcases itself in this city. The beautiful Arasbaran forest is a natural masterpiece that with its endless greenery and beauty, has attracted many domestic and foreign tourists.
This unique forest, with its thousands of years of history, is considered one of the Hyrcanian forests and is also known by other names such as Qara Dagh, Arasbar, and Qaracheh Dagh. Among the Arasbaran forests, there are valuable historical buildings such as Babak Castle, and an old church, which you can visit during your adventurous nature and forest tours.
18.Roshdiyeh School Tabriz
We can introduce Roshdiyeh School as another one of the most attractive tourist attractions of Tabriz, which falls under the category of historical buildings in this city. This historic school has witnessed many significant events that have made it an attractive site to visit. It is interesting to know that Roshdiyeh School has been relocated twice due to the destruction of the building. The school now occupies an area of 1260 square meters on two floors, and you can visit it during your visit to Tabriz.
19.St. Mary's Church, Tabriz; The Largest and Oldest Church in Tabriz
St. Mary's Church is another attractive and interesting church in Tabriz, which is introduced as the most important Armenian church in Tabriz. This beautiful and impressive church is located in the Dik-Bashi neighborhood of Tabriz and dates back to the years 1200-1300 AD. The architecture of this beautiful building is in the Armenian architectural style and in the shape of a cross, which gives it a special beauty.
Various national-religious ceremonies of the Armenians and major festivals of this religious minority are held at St. Mary's Church. When traveling to historic Tabriz, make sure to visit this largest and oldest church in the city.
Final words
In this article, we have introduced 19 of the most popular tourist attractions of Tabriz with a brief description and photo of each, so that if you wish, you can include them in your travel itinerary to one of Iran's best summer destinations. We also recommend reading the travel guide to Tabriz for more information on the city's geography, the best time to travel, accommodation, food and dining, the best restaurants, and shopping centers. If you have experienced visiting these places or have a suggestion to add to the list, feel free to share it with us and other magazine readers in the comments section.