Travel guide to Stonehenge
One of the most famous and also mysterious attractions of the world is the amazing Stonehenge. For a lot of people at first glance it is just some stones standing tall on a hill, but the truth is different. Stonehenge is a truly magnificent landmark that is surprisingly ancient and uniquely organized. In this travel guide to Stonehenge, you will find out some facts and information that will probably lead you to visit this impressive attraction of England.
Located in Wiltshire, close to Amesbury you can simply identify this colossal, historic site. Stonehenge is consisted of a ring of stones, standing as tall as around 4 meters. The width of each stone is about 2 meters and that makes them simply visible from a very far distance.
But one of the facts that makes this brilliant attraction mysterious, is the weight of each stone. They each weigh around 25 tons and putting this beside the fact that Stonehenge has started being built in the Bronze Age, makes everyone wonder how this gigantic construction could be constructed.
There is a huge debate about the use of this construction and the reason why it has been built, so many different opinions are discussed and many of them can be true. There are also some doubts about who has built this ancient wonder. Some realistic ideas are presented, as well as some other ones that are more like the scenarios of science fiction movies.
Whatever the background story is, Stonehenge is a fabulous tourist attraction with a brilliant view and an unforgettable atmosphere. If you are planning to visit a historical wonder, try your best to put Stonehenge in your bucket list.
In this article, we will provide a complete travel guide to Stonehenge so that you will be more familiar with this amazing construction. We also will provide some tips that may help you during your visit.
Stay tuned with us.
History of Stonehenge
It still is not clear why and how the amazing Stonehenge was built. Some people believe it was a special place for healing, as the ancient Britons believed in special powers of the Sun and the Moon in their lives. Others think of it as a place to watch the sky objects and study of their movement. There are some other ideas like the Stonehenge was a burial ground. Deposits of human bones support that claim.
One of the facts that are certain to be true is that the construction of Stonehenge took a long time and happened between 3000 BC to 2000 BC. This period was in the middle of the Bronze Age and having in mind that with tools used in that era, building such a colossal construction is almost impossible, there is still a big question mark about how and by whom is the Stonehenge was built.
There are ideas discussing that the Druids, the high priests of the Celts, have built this magnificent work. Until now it has been one of the strongest ideas, although there are some strange ideas as well. Some people still believe that Stonehenge is a natural wonder, while some people believe it is a work of the UFOs or some time travelers from the future.
Stonehenge, of course, has undergone some evolutions during its age and some evidence shows that the age of the construction can be even more than 6500 years.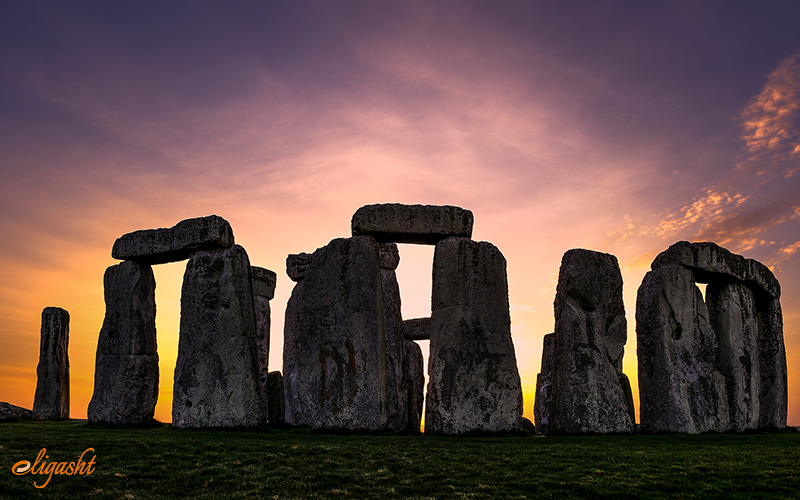 When to visit Stonehenge
In this part of our travel guide to Stonehenge, we will give some information about the best time to visit this amazing attraction. This way you can plan your visit in a better way.
The best time to visit Stonehenge depends on your preferences. If you are willing to have a visit to the Stonehenge while it is less crowded, simply plan it for the end of the day. The site closes at 5 o'clock in the afternoon and your admission period is about 2 hours, so you can simply have a visit and experience watching this ancient monument while it is not so crowded.
As one of the most iconic views you can get from Stonehenge is when the sun is setting, you can plan your visit for that time of the year when the end of your visit gets close to the sunset. Probably this picturesque occasion happens in the fall or winter.
On the other hand, the monument is so amazing that if the crowd does not bother you, you can simply plan your visit for the earliest time possible, as it is always glimmering in beauty.
How to visit Stonehenge
Fortunately, Stonehenge is easy to access. It is just about 3 hours away from London and there are day-trip buses available in the city. There is also a parking lot that you can use. One of the best ways to reach Stonehenge is to take the train to Salisbury train station and then take a bus or taxi to Stonehenge.
As a part of this travel guide to Stonehenge, we suggest that for a pleasant visit it is better to book your tickets online and bring its print with you. You need to arrive half an hour before your ticket time. You need to check the things to see and do items list available in the Stonehenge so that you can make sure you do not miss anything while in there.
Reference: english-heritage.org.uk