Located in the heart of the Balkan Peninsula, the Bulgarian capital is one of the oldest European cities. Due to this historic background, there are fabulous ancient ruins in the city that have a high level of historic importance. Various attractions all around the city, from the impressive Mount Vitosha to a variety of amazing Orthodox cathedrals that are architecturally admiring awaits the visitors. If you are planning a visit to the Bulgarian capital, you will find this Sofia travel guide a very useful source of information about this lovely city.
The city that grows, but does not age. It is the motto of Sofia and when you visit the city you will find out why it is called so. With a history of more than 7000 years, it is as young as a new-founded city. Sofia is a modern, youthful city that homes different attractions from different styles and cultures. If it is the Orthodox churches with their famous onion-shaped domes that you love, Sofia has some amazing ones. If it is the Ottoman mosques that you are looking for, the city still is home to many of them. In addition to a lot of other monuments that belong to the recent years, there is a treasure of Roman ruins from about 2000 years ago. It belongs to an ancient city called Serdica that Sofia is built on its ruins.
Sofia has a long history and it is due to its strategic location. It is in the midway of the Black Sea and Adriatic Sea, and is also close to the Aegean Sea. While in the city, you have the opportunity to pay a visit to some of the world-class beaches just by taking some one-day trips within the country. The likes of Sunny Beach in Nessebăr or Golden Sands beach in Varna. If you are willing to have a taste of different beaches, you also can go further to some other beaches in neighboring countries as well.
The city is obviously an adorable collection of museums and galleries. It makes Sofia one of the top destinations for every lover of art and history. But the joy is not restricted to these people. The Bulgarian capital homes some impressive restaurants. You can enjoy lovely Bulgarian cuisine while in the city and be sure that you can never find something like them anywhere else in the world.
Soaring Mount Vitosha, on the other hand, is a favorite attraction of the country. Not only for its view, but it also is a famous tourist hub because of its amazing ski slopes and hiking trails.
In this Sofia travel guide, we will have a brief review of this fabulous tourist destination in Eastern Europe. We will talk about the best time to visit Sofia, the best places to stay in, the best attractions to visit, and how to plan your visit in the best way.
Stay tuned with us.
When to visit Sofia
In this part of our Sofia travel guide, we will talk about the best time you can visit the mysterious capital of Bulgaria. Knowing about the pros and cons of visiting your destination will help you plan better for your holiday. It also can help you book your hotel room or buy your flight ticket at a better price.
As a North European city, Sofia is generally expected to have cold weather most of the year, and it truly is. This fact means that you should be prepared for different weather when planning your visit to Sofia, but that is not the whole story.
Sofia definitely has pleasant weather during the summer. From June to August you can experience a summer that is not unpleasantly hot at all. The weather will be nothing but fine. That in fact makes this season the most crowded one. With tourists coming the prices will be higher, but the weather guarantees that it is totally worth it.
During the spring the weather is still pleasant, also it is not as hot as summers. During spring the temperature will not be higher than 30 degrees centigrade, and for a lot of us, that is the best temperature. With natural attractions around the city and a lesser number of tourists visiting Sofia, you have a rare opportunity to experience a lovely trip. This period of time is actually the best time to book hotel rooms and to buy flight tickets, as the demand for them decreases and the prices are lower.
On the other hand, with the magnificent Mount Vitosha in the city, a lot of people love Sofia because of its Ski resorts. The good news is from October you can see the city carpeted with snow. So brace yourself for a fabulous skiing experience.
The lifestyle of locals, as they have faced snowy winters for hundreds of years is an amazing thing to watch. You may also like to see the beautiful attractions of Sofia when the white color of snow-covered them.
As a wrap up of this part of the Sofia travel guide, there are different types of weather you may face during your stay. So in order to have the best trip possible, choose the best time based on what you desire to see from Sofia.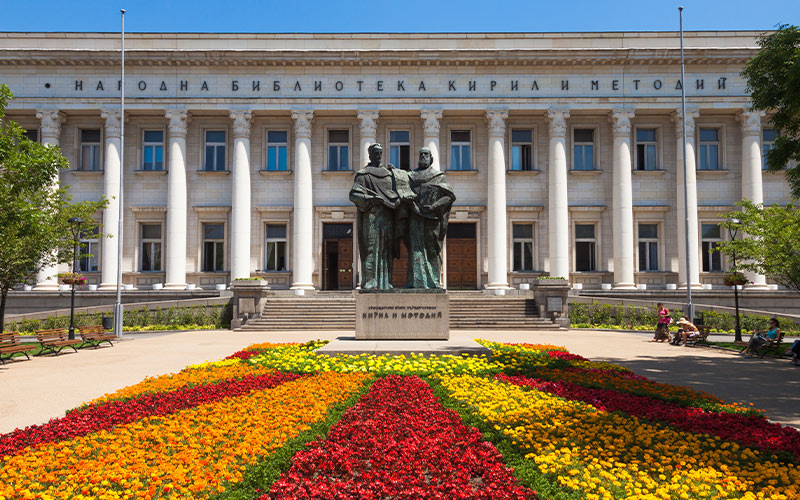 Top tourist attractions of Sofia
The Sofia travel guide is not complete until it gives a list of the best places you can visit during your stay. The likes of Sveta Sofia Church, Boyana Church, Aleksander Nevski Cathedral, and Banya Bashi Mosque are religious buildings that are among the top-visited attractions of the city. There are also cultural sights like the National Palace of Culture, National Art Gallery, and the National Historical Museum in the city that visiting them is highly recommended.
In this part of our Sofia travel guide, we will talk about some of the most famous attractions in the city, although many more will be there that are no named here.
Aleksander Nevski Cathedral
You probably have seen its pictures before. This lively colored cathedral, with its unique domes, is not only a symbol of the city, but it is also one of the most famous symbols of Bulgaria.
Aleksander Nevski Cathedral is built at the beginning of the 20th century in memory of the Russian soldiers who died during Bulgarian independence at the end of the 19th century. The cathedral is named in honor of a 13th-century Russian warrior-prince.
This cathedral is truly a masterpiece of art and architecture. The façade itself is a lovely combination of Byzantine and Russian style of architecture, and the interiors and decorations are unbelievably fabulous. There are also some interesting chandeliers inside the cathedral.
Apart from visiting the building, watching the daily services and chanting Orthodox prayers are something unique that you can experience here.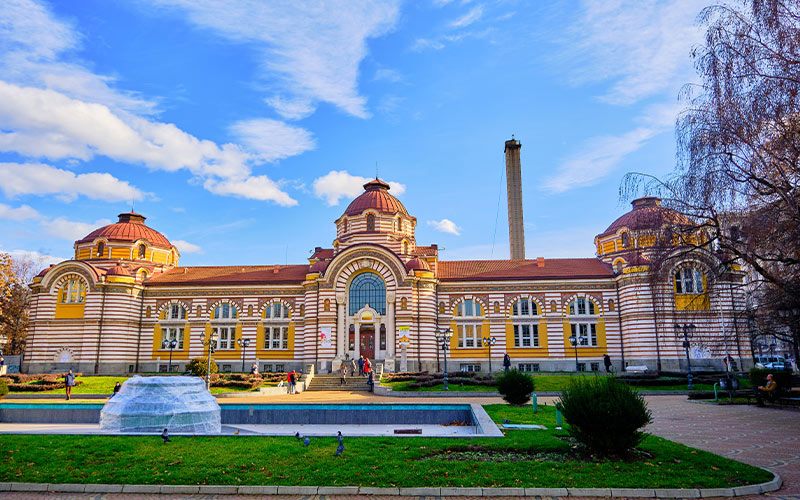 National Museum of History
With a stunning collection of eye-catching historic items, the National Museum of History of Bulgaria is one of the best places to pay a visit during your stay in Sofia. A tip from this Sofia travel guide is to visit this museum, especially the adorable treasury Thracian gold and Roman statues.
There is also a fine collection of local and folklore costumes and weaponry that gives the visitors a nice approach to the history of Bulgaria and Sofia, the lifestyle of people, and the culture of the region.
There are some Russian MiG fighter aircraft that are being held outside of the main buildings. If you are interested in weapons and aircraft, pay them a visit as this experience is a unique one.
There are also some exhibitions held in the museum occasionally. Check out for them as you may be lucky enough to visit one of them while you are in the city.
In addition to the items collected in the museum, visiting this amazing attraction gives you the opportunity to see a historically-important building as well. The museum is hosted in the former communist presidential palace.
How to reach Sofia
As one of the most amazing parts of every travel, in this section of our Sofia travel guide, we will talk about the paths you can take in order to reach the city that grows bud does not age.
With an airport just around 20 minutes away from the city, taking a flight to Sofia seems to be an ideal way to reach it. There are some bus routes and taxi lines that you can take from the Sofia-Vrazhdena Airport to the center of the city and vice versa. The airport has a metro station as well. In order to avoid possibly crowded streets, this metro station is the best way to use it.
Major airlines are having direct flights to Sofia airport. You can find British Airways, Lufthansa, Air France, and Qatar Airways among them. You can simply check the available flights and book flight tickets to Sofia using Eligasht flight ticket booking system easily.
Sofia central train station is connected to some major cities, and this makes trains another favorite way of travel. Istanbul in the East, Vienna, and Belgrade in the West and Bucharest in the North are the most important cities that you can take trains from them to reach Sofia. Maybe taking trains is a slower way of travel, but a lot of people prefer them for the flights.
You can also hit the road, either using your own car or by the buses departing from different cities around Europe. The roads to Sofia are impressively amazing and you can see their beauty with your own eyes.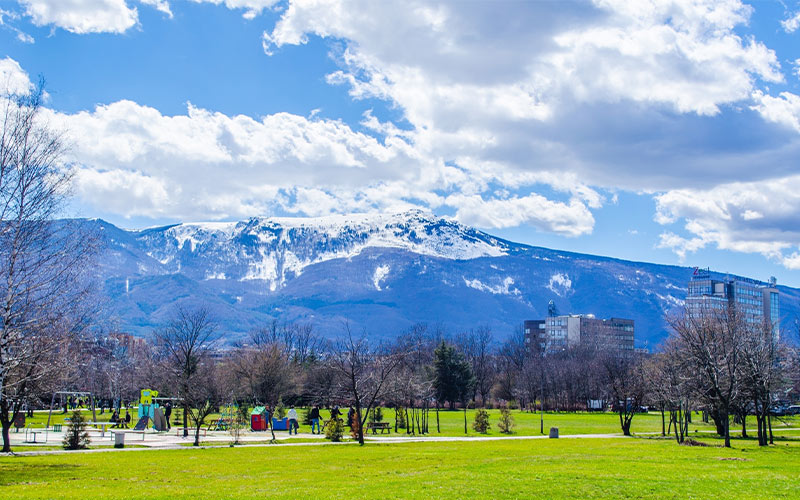 Where to stay in Sofia
With a wide variety of hotel rooms with different options and in different points of the city, you can be sure that there is always a vacant room for you in Sofia, matching your preferences. If you are a young traveler looking for a budget hotel room, or a visitor looking for luxurious, top-class accommodation, it is not so hard to find the best room for you.
As a tip from Sofia travel guide, the best and easiest way to find and book your preferred room is using online hotel room booking systems. With these systems, you can simply search for the hotel rooms with features you would like to have, compare them with each other, choose the best one matching your preferences, and book it.
One of the easiest to use booking systems is Eligasht's hotel room booking system. You can simply search for Sofia and find the best accommodations with the best prices possible. Your Bulgarian journey starts right there.
Reference: nationalgeographic.com