Bali travel guide
If there are just a handful of places on Earth that deserve to be called a paradise, Bali is undoubtedly one of the first places to be put on the list. With an adorable combination of natural attractions, you will see almost any kind of natural sights in Bali. With this variety of beauty, reading a Bali travel guide is necessary for all who are planning a visit to this amazing island, as well as those who are deciding whether to visit it or not.
Located in the east of the famous Java, the word Bali actually indicates the main island of Bali and a few small islands surrounding it. Nusa Penida, Nusa Ceningan, and Nusa Lembongan are the most notable ones of these islands. Bali is known as the one shining star among the numerous islands of Indonesia. For the record, Indonesia has around 18,000 islands and lots of them are among the most beautiful tourist destinations of the world.
If you are fond of nature, you will definitely fall in love with Bali. It is no wonder why it is being called the Island of God by many. When in Bali you have the chance to see the famous rice terraces and mountainous terrain. Some worldly known volcanoes can be found in the same frame with various amazing waterfalls. In addition to all the beauties named above, there are the fabulous beaches of Bali that a lot of visitors are drawn to the island just to spend their vacations in them. With the beaches and the seas around the island, Bali is a mecca for divers and surfers. It is an ideal place for the lovers of water sports to spend their vacation there.
The beauty in Bali is not restricted to the natural attractions only, although they are more natural sight than a lot of other tourist destination rivals combined. Bali homes some of the most amazing cultural and historical attractions as well. We have talked about some of these amazing attractions in this Bali travel guide.
As one of the most visited tourist destinations in the world, and one of the top wonders of Southeast Asia, Bali has so much to offer. It does not matter who the visitor is. Bali guarantees a pleasant and unforgettable stay for them. It is so vast and the options are so various that both people who are looking for a cheap vacation and the ones who seek a luxurious holiday can have a quality stay on the island.
In this Bali travel guide, we will have a glance at this brilliant destination and its top tourist attractions. We also will provide some useful tips that you may need for your trip to this fantastic destination, about the best time to visit it and how to make your stay a comfortable one.
Stay tuned with us.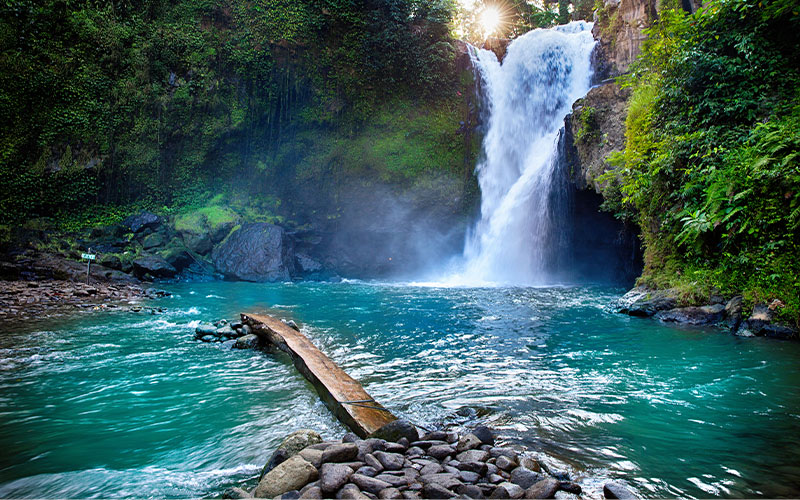 When to visit Bali
Visiting every destination needs good planning. You may have the trip of your dreams to a top destination, but because of having it at the wrong time, everything will go in the wrong way. A trip at the right time however, can turn a simple, normal trip into an unforgettable trip.
In this part of our Bali travel guide, we will provide some information about the best time to visit the island. With the tips provided in this section, you can plan a trip to this fabulous destination in a way that makes you feel better.
One of the main factors about the time to visit Bali is the weather. As an island that is close to the equatorial, Bali has tropical weather. It is warm throughout the year, with a high amount of humidity. There are of course wet and dry seasons.
The weather in Bali is dry during the summer and the sun shines brightly during June, July, and August. With this pleasantly warm weather, you can expect a fabulous stay, especially if you are willing to spend your time on the beaches.
With this pleasant weather, we arrive at the second factor, the crowd. It is not a big surprise that when the weather is nice, the number of visitors to this highly visited island increases significantly. People will be almost anywhere. There is no difference between the beaches, the surfing sites, historical attractions, or natural sights, you can see queues everywhere in the islands. This is the only probably unpleasant point about the high season in Bali, so if you can tolerate the crowd, then this is the exact time to visit the island.
On the other hand, if you are not willing to visit the island during its high season, there is the so-called green season of Bali. Although it is showering almost every day, there are some advantages that make it a considerable option. If you can check the online hotel booking dates, you will see that the prices are significantly lower than the high season, both in the luxury hotel options and the low budget ones. This lower price applies to a lot of other costs as well, so you can expect a cheap stay in Bali.
With the showers, there are undoubtedly lower tourists. So if you are not going to spend much time on the beaches, you will have the chance to see the less crowded attractions. In addition to the above-mentioned items, the weather is much leaner with less dust, and that is good news for people who suffer special allergies.
Of course, you may not expect an all good stay in Bali in the low season, as there may be consistent downpours span for a number of days, and the humidity is much higher than the summer. With this much humidity, you feel the heat much more and that is not a piece of good news.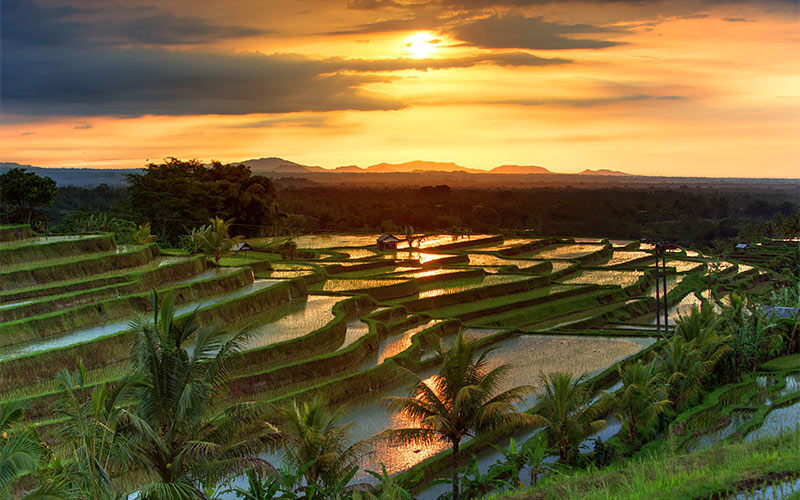 Top tourist attractions of Bali
With a wide range of attractions, it is hard to name all of the top attractions of Bali. In this part of our Bali travel guide, we will review a list of some of the attractions that are considered the must-sees of the island. Although so many more are not named here.
Uluwatu Temple
This amazing Balinese Hindu sea temple is one of the most spectacular landscapes of the island. Located on the edge of a 230 feet high cliff, you will have a picturesque view while visiting the temple.
The Uluwatu temple is built in the 11th Century by the Javanese sage, Empu Kuturan. It is believed that there was a smaller temple in its place that was constructed many years before the Uluwatu.
The temple is inhabited with monkeys that are almost everywhere in and around it. They are funny and cute, but you should be extra careful with them as they are infamous for snatching visitors' belongings.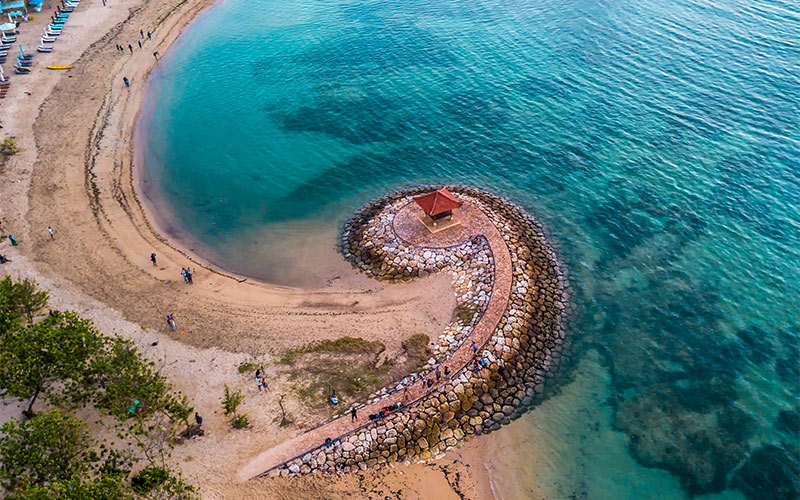 Kuta Beach
Kuta Beach which was formerly a fishing village is now famous for its pleasant atmosphere and impressive resorts. With sandy its beach, nice restaurants, and stylish buildings you can expect nothing but a lovely stay in Kuta.
As a tip from the Bali travel guide, because the beach is located close to the only airport on the island, Ngurah Rai International Airport, try your best to book your accommodation near here. This location, in fact, is one of the many pros of this beach. Arrange your stay close to this beach and you will have a better saving in time.
Make sure you have enough of Balinese cuisine while on the beach as there are several restaurants around it that serve tasty foods. Here you truly can taste the brilliant traditional foods of the island.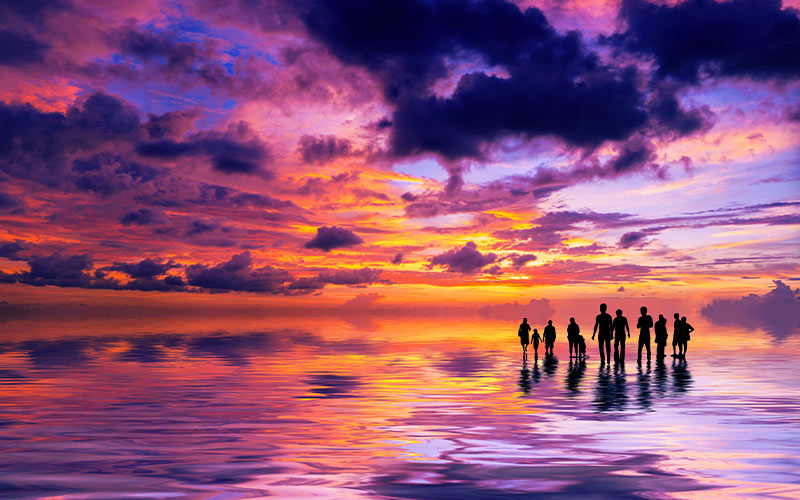 How to reach Bali
In this part of our Bali travel guide, we will provide some information on different ways to reach Bali, so that you can have a better approach when planning your trip to this fabulous destination.
In order to reach Bali, there are plenty of options that you can choose based on your preferred means of travel. You can consider different factors when deciding which means you will choose. Time and cost are the main factors, while there are other factors like your own favorite style of traveling.
If you prefer a fast trip that is straight forward to the point, traveling by plane is the best choice for you. Although Bali is an island, you cannot consider it a remote one. It is very well connected to the other parts of the world by a lot of different airways. Different airways have regular flights to Bali and you can book flight tickets online in order to reach this amazing island by air.
Ngurah Rai International Airport, which is also being called the Denpasar International Airport by locals, is where the planes will take you. From there, you can simply start your Bali journey.
Just a reminder that using the Eligasht flight ticket booking system, you can easily book your ticket to Bali.
There are also some other paths to take in order to reach the amazing Bali. You can take the beautiful sea path that will grant you some breathtaking landscape of the sea, and of course an unforgettable experience of a sea journey in Southeast Asia. There are inexpensive cruises that can help you with the costs. There are also various luxury cruises as well that you can travel to Bali using them. They offer a different taste of waterway travel to you, so why not take them?
In order to reach Bali from the sea, you can take either ferries o cruises from Sumatra, Java, or Singapore. All three ports can be reached using flights that you can easily book them online.
You also can hit the road and reach Bali using cars or bikes. Although your path will not use the land roads completely, as Bali is an island, but riding or driving in the greenest roads of the world will be an unbelievably lovely experience that no one can ignore.
What path do you take? Air, water, or land?
It really does not matter as all of them have their own pros and cons that we have named some of them in this Bali travel guide. It is really up to you to decide which path attracts you more.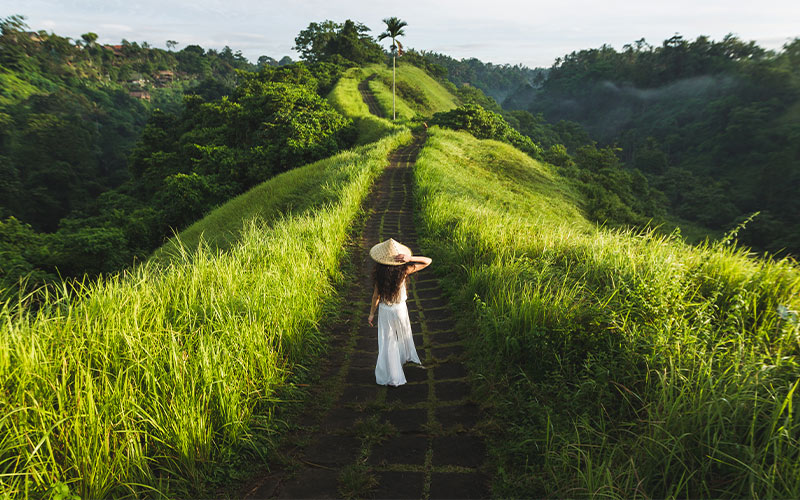 Where to stay in Bali
The good point about Bali is that there is a wide range of accommodations available in the city. You may think about spending your holiday in a luxurious top hotel with very nice options, and Bali owns numerous ones with these features. If on the other hand, you are thinking about a vacation on a budget, there are plenty of options as well.
It is important to note that with every budget, you can find a pleasant room to stay in Bali, and that is something unique among the other popular destinations.
As a tip from this Bali travel guide, Online hotel room booking systems is the best way to have a better experience of booking your preferred room. You can search for the hotel rooms in the area you are willing to stay, compare them, and find the best one matching your preferences.
Eligasht offers a variety of hotel rooms in its easy to use hotel room booking system. You can simply search for Bali and find the best accommodations with the best prices possible.
Reference: bali.com