As a country with world-class dishes, Turkey is worldly known for its famous cuisine. There are several Turkish dishes that are now being served in different restaurants all around the world. If you have traveled to Turkey, you probably have found out that one of the most essential ingredients of Turkish dishes is meat. A variety of meat types such as lamb, fish, or chicken are being used in Turkish dishes and it seems that people love this style of food. If you are not fond of meat or a vegetarian, the good news is you still can enjoy the fabulous taste of Turkish food, as there are several Turkish dishes for vegetarians.
These dishes are whether originally based on vegetables, or are a new version of a meat-based dish. However, they are you can be sure that they are delicious, like all other Turkish foods. It is a gift that in a country that Doner, Lahmacun, or Kebaps are favorite for all people, locals and tourists alike, there are also numerous dishes that do not have any kind of meat. Knowing the dishes and their ingredients, you can have a pleasant stay in the country, without being worried about what to eat and where to look for them.
In this article, we will take a look at some of the most famous Turkish dishes for vegetarians, so that you will have a better approach to the dishes best fitting your taste and style of eating.
Stay tuned with us.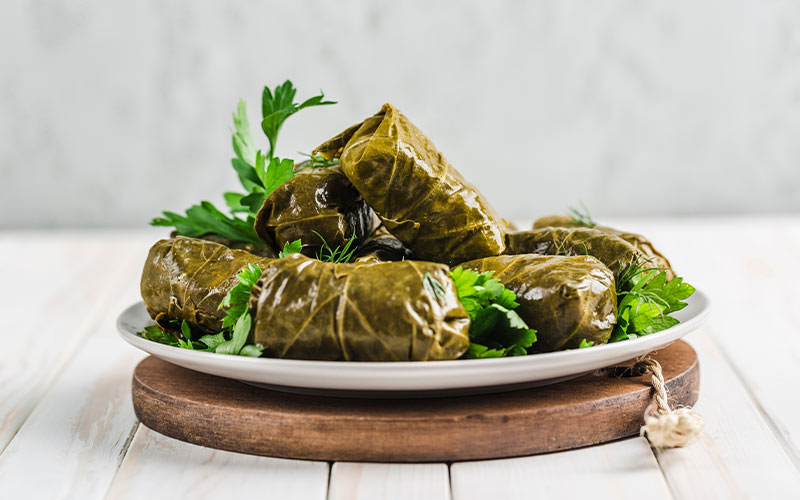 Dolma
One of the most famous dishes in the Middle East region, Dolma is a favorite dish all over Turkey. Its name means stuffed, and exactly as the name indicates it is made of stuffed food inside a variety of vegetables. The most famous vegetables are the leaves of grapes, zucchini, tomato, eggplant, and pepper.
In order to have a vegetarian –friendly Dolma, you just need to make sure there is no meat in the ingredients used to fill the main vegetables. Fortunately, there are usually several meat-free Dolmas in every restaurants' menu.
Without the meat, there are still several items to fill the Dolma. Some vegetables and cooked rice, as well as spices, are the most favorite fillings used, so there is no need to miss the meat.
Gözleme
A hand-rolled dough stuffed with either spinach or potato. Gözleme is usually cooked over a griddle or a frying pan. It is an absolutely delicious dish that you will fall in love with. Healthy, tasty, and of course meat-free.
This simple food is one of the best options among Turkish dishes for Vegetarians. The best time to have it is dinner, and try to have Gözleme as hot as possible, as it is more delicious this way.
It is good to know that it sometimes contains cheese as well. So if you are vegan, make sure your Gözleme does not contain it.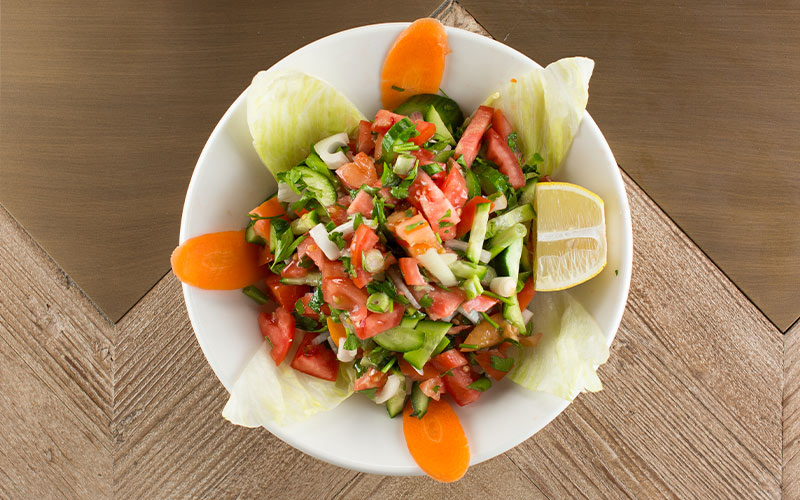 Coban Salatasi
The name means "Shepherd's salad" and you can guess that like almost every salad, this dish does not contain any meat. It is a simple dish that can be served as a side food during your lunch or dinner.
Although it is a simple side dish, you will feel wonderful when having it, as it tastes brilliant. Coban Salatasi has cucumber, tomato, and onion as its main ingredients. A dressing of lemon, olive oil, salt, and pepper is added to it and the dish is ready.
In some versions of this salad, green pepper and parsley are added that create a fabulous aroma and taste. Like Gözleme, sometimes there is cheese, usually white cheese such as feta, included in the dish which you may dislike. In this case, simply ask the restaurant not to add it.
Şakşuka
One of the nicest Turkish dishes for Vegetarians that you can find it usually in locals' homes. So next time you have a Turkish host asking you what you prefer to have, you will have an answer in your mind.
This amazing dish is made of eggplants, potatoes, and tomatoes all fried together. People usually have it with bread. A local tip is to add a little bit of lemon on it to change the taste, as it tastes better a little sourer.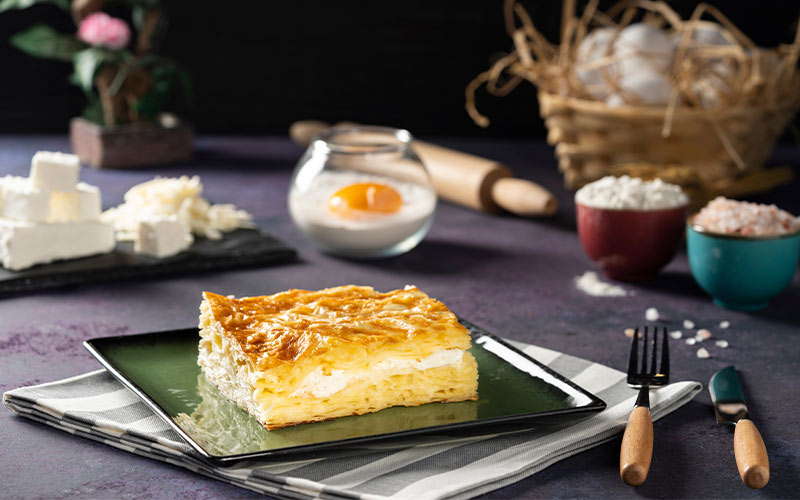 Borek
This cooked pastry dish is one of the most amazing Turkish foods. It is usually served in small portions and is considered as a fabulous snack. Borek has a variety of ingredients and you can see different versions of it beside each other almost in every restaurant. There are different types of Beef Borek, chicken Borek, and more.
The good news is you can have Borek in your list of Turkish dishes for Vegetarians. In many restaurants, there is at least one type of completely vegetable-based Borek. The most famous ones are the eggplant, spinach, and feta cheese Boreks.
Reference: theculturetrip.com