As one of the top-visited countries in the world, Spain is a destination in which every visitor enjoys a fabulous vacation they can experience nowhere else in the world. World-class beaches or magnificent historical attractions are not the only reasons why tourists love this country. There are some top festivals in Spain that are famous worldwide and unique just like the county itself.
These festivals are an important part of Spanish culture. They attract millions of tourists as well as numerous locals, bring them to streets, and create unforgettable atmospheres. You should visit Spain during one of these amazing events and see with your own eyes that how the cities are full of life and color during them.
Every village, city, or state in the country has its own celebration at different times of the year, with a unique subject, in a unique style. Although there are hundreds of different festivals, in this article we listed some of the top festivals in Spain, from famous La Tomatina to El Colacho, and Las Fallas.
Stay tuned with us.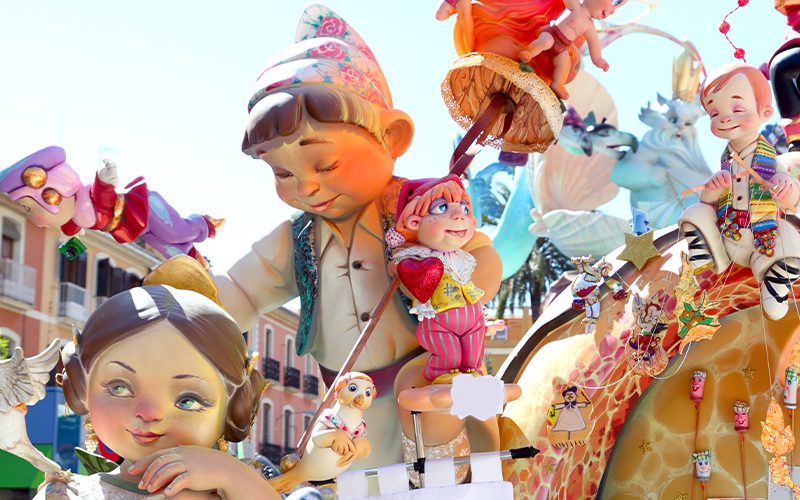 Las Fallas
Las Fallas de Valencia is one of the most iconic events in the world. During this festival that longs five days, people bring gigantic colorful statues and figures to the streets. The figures are usually representing pop-culture and famous events that have happened during the year.
The figures presented in Las Fallas are so photogenic that if you are interested in such arts, you should put this event in your bucket list. Every year, hundreds of artists work on these figures to be as perfect as possible, and it is fair to say that they are always successful.
The sculptures are the main part of the event, but the festival is not restricted only to them. This mid-March event is full of parades, dances, and drinks.
On the last day of the festival, the figures are mainly burned on the street, although some of them will be transferred to the museum of Valencia.
La Mercè
One of the top festivals in Spain that is being held in Barcelona. La Mercè is aimed to represent the Catalonian way of life. Thousands of people every year come to Barcelona to visit this magnificent event.
La Mercè that takes place in September every year, is a 4-day festival that includes concerts, parades, and fireworks, all in a magnificent way. There are also some impressive castling every year that adds to the beauty of this amazing festival.
As it is called in Catalonia, Fiesta de La Mercè actually honors the Barcelona's patron saint. One of the most beautiful parts of the festival is when Catalans come out to perform their traditional dance, Sardana.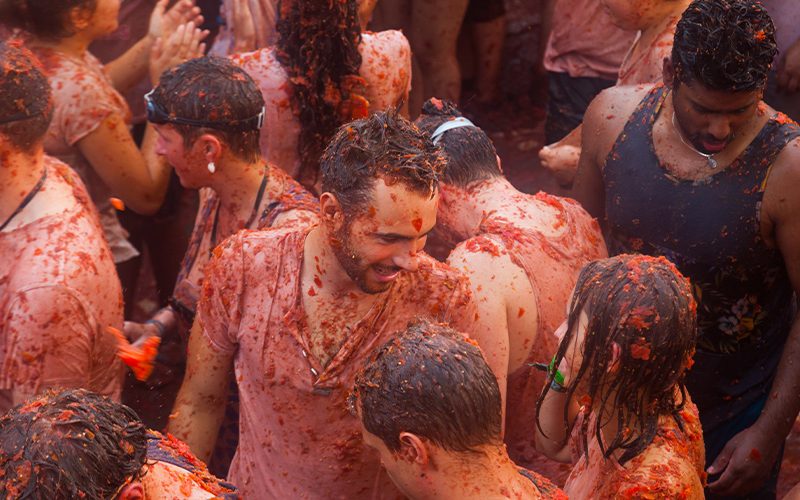 La Tomatina
Without a doubt, La Tomatina is the most famous Spanish festival in the world. This festival has started around 70 years ago and is so popular that some people visit the county just to participate in that.
In La Tomatina which takes place in the Buñol town of Valencia, people smash and throw overripe tomatoes to each other. The idea may seem fun, but the festival itself is nothing but awesome.
The number of participants has recently been limited to 20,000, that is actually a lot, but it may surprise you that every year tickets are sold out in a few hours.
This tomato fighting festival is loved by a lot of people and is not only among the top festivals in Spain, but it is also one of the best festivals in the world.
La Tomatina which is a part of a larger celebration takes place every year on the last Wednesday of August. If you are interested to join this amazing festival, do not forget to purchase the tickets before planning your visit.
El Colacho
It is an amazing festival, rooted in historic and traditional beliefs of Spain. During El Colacho people dress up in colorful traditional costumes. The main reason for the festival, of course, is to rid newborn babies of evil spirits and illnesses. For that purpose, the babies who are born in the past 12 months are brought out, with their parents forming a long queue.
The costumes are so amazing, and the atmosphere is so delightful that visiting this festival is one of the things every tourist should do during their stay in the country.
San Fermin
The start of July in Spain is one of the most exciting times of the year. You can visit the one-week-long festival of Pamplona Bull Run during this period.
This Festival is so famous that almost anyone in the world has already heard about it. There are some angry bulls sent out to the streets. Although the festival name is about the running bulls, the excitement is not done just there. Some brave and adventurous people are there to run ahead of this group pf angry bulls.
The run starts at 8 o'clock in the morning, every seven days of the festival and when it is over, the city will be like any other Spanish festival. There will be music, dance, foods, drinks, and light work.
The festival and the atmosphere is unique and brilliant, especially if you love the adventure. San Fermin is a magnet for those who are fond of thrills. Even if you are not so much into it, you should pay a visit to this amazing festival and experience its difference with other events, at least once.
Reference: spain-holiday.com