The fashion and design capital of the world is an absolutely pleasant city to visit. Beautiful as a fair lady of the stories, with fabulous historic sites, and brilliant artistic attractions, Milan is a gem in the heart of Europe. There are top tourist attractions in Milan in every aspect you look at the city. Whether it is history that delights you, fashion, art, or even sport.
Located in the south of the Alps, Milan is a glamorous city in every aspect. There is just 30 minutes' drive to the beautiful Alps, where you can enjoy the brilliant mountains of Europe. There are also some scenic lakes around the city. Lake Como and Lake Maggiore are among the must-see attractions of Milan.
There is also a short distance between some of the most amazing cities in Europe. As an example, you can reach the beautiful City of Canals, Venice, with just 3 hours of travel, thanks to the practical fast trains between the cities.
The city is also a mecca for those who love shopping. With numerous shopping centers all around Milan, and worldly known brands having their home in the city, you will never have a better shopping experience than the one you have here.
Milan is also a favorite city for soccer fans, as it is the city where two of the most respectable soccer teams are located. AC Milan and Internazionale are two famous soccer teams in the world and have a common stadium, San Siro. This stadium is an architecturally eye-catching construction, as well as being an iconic sports monument.
As an artist, you can visit the famous opera house in Milan, La Scala. This amazing opera house has a thrilling historic background for those who are into art and music. Milan is also home to some of the best art galleries in Europe.
In this article, we will talk about some of the top tourist attractions in Milan that every visitor should pay a visit to while in the city.
Stay tuned with us.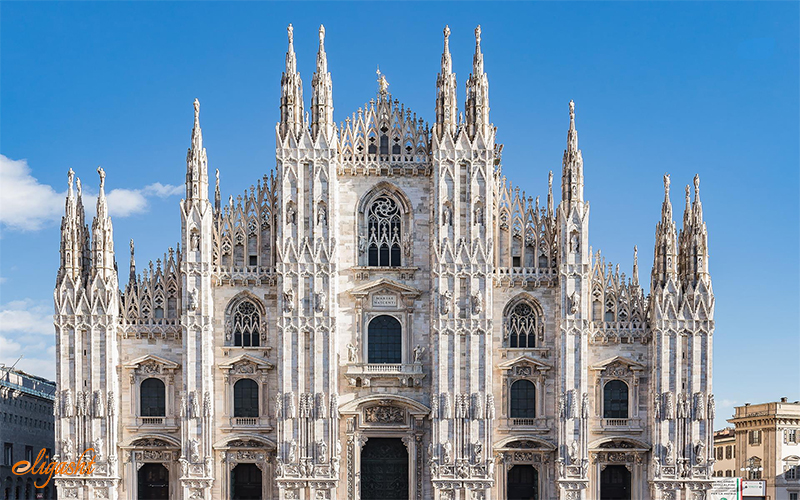 Il Duomo
This magnificent architectural wonder is the biggest Gothic building in Italy. Constructed with the iconic white marbles, the fabulous Cathedral of Santa Maria Nascente has a capacity of 40,000 people. That number puts it among the largest churches in the world.
The construction of Il Duomo has an interesting history. The procedure has started during the 14th century but it was not finished until the early 19th century.
Among the most important attractions of this fabulous sight, there is the famous seven-branched candelabrum. This artwork that is made of bronze is dated back to the 13th century and is a work of Nicholas of Verdun. There is also the jeweled gold reliquary of San Carlo Borromeo.
While the façade and interior of the cathedral is a breathtaking masterpiece of art and architecture, there is an almost hidden treasure on top of the building. If you can take the chance and visit the rooftop of this massive building, you will be rewarded with a unique, panoramic view of the wonderful city of Milan.
Located in Piazza del Duomo in the center of Milan, this building is easy to reach as well as easy to find. Try your best to pay a visit, as it will be a fabulous package of experience.
 Opera Teatro alla Scala
Italy is home to the opera, and La Scala Opera House, or as it is being called in Italy Teatro Alla Scala, is home to the best opera performances of Italy. La Scala is considered as the most prestigious opera house in the world and one of the top tourist attractions in Milan. It is the premier destination to watch the best performances of either opera and classical music, or ballet.
It is a dream for every musician or dancer to someday perform in this fabulous opera house, as it hosts the best performers, singers, and orchestras from all around the globe.
The luxurious interior design of this fabulous hall is so charming. Red and gold as a royal palace, you will feel the elegance from the very first moment till the end of your visit to the Teatro Alla Scala.
There is also a remarkable museum in the opera house, Museo Teatrale Alla Scala that contains a fabulous collection of items related to the historic performances and eminent performers. The museum also hosts some brilliant costumes from landmark performances that if you are a true fan of this art, you probably know them well.
Chiesa di San Maurizio al Monastero Maggiore
Home to a remarkably detailed cycle of frescos known as the Sistine Chapel of Milan, this Benedictine monastery is one of the top tourist attractions in Milan. You can see a complete history of the evolution of painting in the region while looking at its interiors.
Dating back to the 16th century, this historic gallery of art hosts masterpieces from famous artists such as Simone Peterzano, Boltraffio, and Bernardino Luini and his sons Evangelista, Aurelio, and Giovan Pietro.
Chiesa di San Maurizio al Monastero Maggiore is a favorite place for art lovers as well as those who are interested in history, especially the history of arts. If you want to visit this amazing monastery, you just need to have a short walk from the famous Il Duomo to reach Chiesa di San Maurizio al Monastero Maggiore.
San Siro Stadium
With a capacity of more than 80,000 seats, this stadium is one of the largest and most favorite soccer stadiums in the whole of Europe. San Siro was opened in 1926 and renovated several times during its history of around a hundred years.
As AC Milan and Internazionale are among the most famous and respectable soccer clubs in Europe, San Siro has become a mecca for millions of fans through all these years. Plenty of memorable soccer matches were played here, including three matches in the 1934 FIFA World Cup, six games of 1990 FIFA World Cup, and four different European Champions' League finals in 1965, 1970, 2001, and 2016.
Apart from history and sport values it has, San Siro is a masterpiece of architecture and is known as one of the top tourist attractions in Milan. With a unique style of construction, it is a hilarious building that will charm everyone at the very first sight.
Even if you are not a fan of AC Milan and Internazionale, you can have a great time here, especially if you book the tour which is being operated in the stadium. In this tour, you will have the chance to enter some areas in the areas that are usually inaccessible, such as the changing rooms and champion tunnel.
San Siro owns a museum as well. This museum home some fabulous items related to soccer history, especially the ones related to Milan's teams.
Pinacoteca di Brera
Located in a palazzo in the Brera district of the city, this place is a major public museum of Milan. Brera neighborhood is a fabulous region in the Milan with a romantic atmosphere and cobblestone covered streets. This area of the city homes many art galleries and design spaces, and of course Pinacoteca di Brera is a gem in this region.
Originally used as an art gallery brought back from French armies conquests, Pinacoteca di Brera is now a famous art gallery where you can enjoy paintings from different artists, especially the ones created by the artists of Venice and Lombardi. Pinacoteca di Brera is one of the top tourist attractions in Milan that you should try your best to pay a visit to it.
With a huge collection of modern arts, you can pay a visit to some masterpieces of great painters such as Bellini, Caravaggio, Severini, and Boccioni.
The most important artworks that made Pinacoteca di Brera a must-see are The Marriage of the Virgin, a masterpiece of Raphael created in 1504, and The Kiss, painted by the famous Franceso Hayez in 1859.
The building itself is an eye-catching masterwork, with a delightful courtyard, hosting a number of brilliant statues all around it.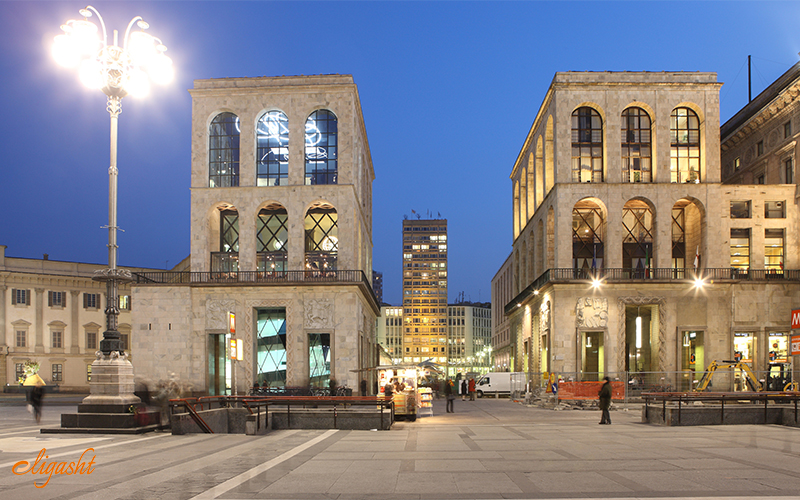 Museo del Novecento
This is one of the best galleries in Europe. Hosting an amazing collection of more than 400 paintings belonging mostly to the 20th century, Museo del Novecento is a complete gallery of Italian modern and pop art and one of the top tourist attractions in Milan.
If you are really into paintings and art, Museo del Novecento is an ideal place for you, as there are fabulous works from different artists and periods, including Futurism and Abstraction.
Located close to Il Duomo, you can simply pay a visit to this amazing museum with just a short walk after your visit to the cathedral.
Castello Sforzesco
Another major symbol of the city and one of the top tourist attractions in Milan, Castello Sforzesco is a thorough history class to learn about Milan and its evolution. This medieval castle was built by Francesco Sforza, the first Duke of Milan, in the 15th century, as a strong fortress, and has seen different eras during its days. Castello Sforzesco was there during the medieval era, Spanish, Habsburg, and Napoleonic rule, and still stands tall in the heart of Milan.
This symbol of Milan is so beautiful that you must pay a visit to it, even if you are not interested in history at all. Numerous museums and galleries located in Castello Sforzesco make sure your stay in it will not be short at all.
Among the best galleries, you can enjoy visiting during your time in Castello Sforzesco is the Pinacoteca in which you can find several masterpieces painted by Bronzino, Tintoretto, Titian, and many more.
Chiesa Santa Maria delle Grazie
Probably the most important attraction you must visit during your stay in Milan. The most famous item and the reason for this importance is the worldly known masterpiece of art, The Last Supper, painted by Leonardo Da Vinci, in the 15th century.
This famous artwork, which is one of the world's most recognizable paintings, illustrates the last supper of Jesus Christ and his apostles, as it is described in the Gospel of John.
If you come out of the shadow of this breathtaking artwork, you can visit the optical illusion attributed to Renaissance master, Donato Bramante which is located in Chiesa Santa Maria Delle Grazie.
It is important to manage your visit to the Chiesa Santa Maria Delle Grazie, as you are only allowed to visit the museum for 15 minutes, while the capacity of it is limited to 30 people. However, these restrictions should not make you cancel your visit to one of the top tourist attractions in Milan.
Galleria Vittorio Emanuele II
The grand gallery of Vittorio Emanuele II is so magnificent that it forms one side of Piazza del Duomo, and opens the other side of Piazza Della Scala. Designed by the famous Giuseppe Mengoni, the Galleria Vittorio Emanuele II that is constructed in 1877, was once the largest shopping arcade in the whole of Europe.
One of the most iconic parts of this fabulous arcade, that is considered one of the top tourist attractions in Milan, is its remarkable dome that is 48 meters above the ground. You can visit this masterpiece of architecture, made of iron and glass to feel its beauty, as well as spend some time in the several cafés and restaurants located in it.
Locals usually plan their meetings for lunch or dinner in one of the elegant cafés of Galleria Vittorio Emanuele II, or window shop in its luxury shops. That is the best idea for a tourist as well.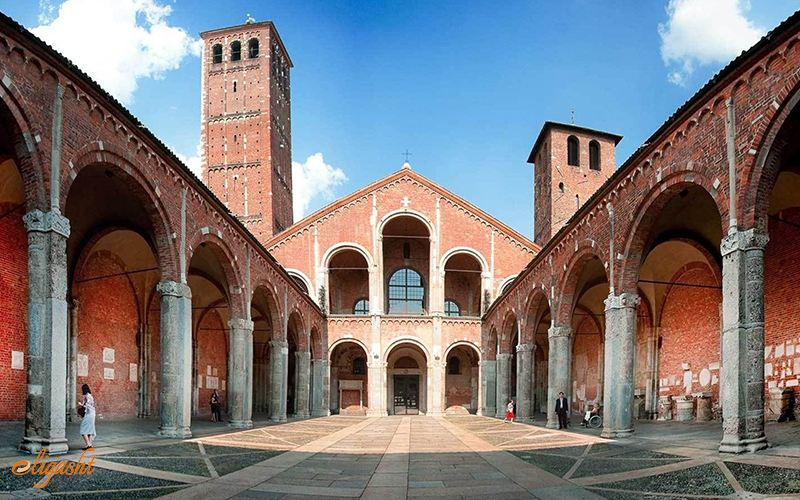 Basilica Sant'Ambrogio
In the beginning, this church was built in the fourth century by Milan's patron saint, Sant'Ambrogio. After being rebuilt once in the ninth century, the present church was constructed on the ruins of the former churches in the 12th century and is among the top tourist attractions in Milan.
It is a fabulous masterpiece of the Romanesque style of architecture. While the façade is simply magnificent, you can pay a visit to the interiors to see how impressive this brilliant church is, with its numerous relics and carvings. Make sure you have an eye down on the ground so that you will not miss the extraordinarily beautiful mosaics all over the church.
The high altar and its casing, which is called Paliotta, is a remarkable attraction that you absolutely should see.
Reference: planetware.com