As a country in the heart of the Mediterranean Sea, Greece is the one country you can try the original Mediterranean cuisine in it. There are so many delicious foods and drinks in the country, and almost all of them are fabulous, that it is impossible to have a list of best Greek dishes without dropping some amazing ones.
As we all would probably know, the olive and its oil, yogurt, lemon, and fish are the main ingredients of the Mediterranean cuisine. But the variety of dishes made with one of these items as a part of their ingredients are so vast that you can spend numerous days in Greece and have brilliant food, without trying one dish twice.
In this article, we introduce some of the best Greek dishes that you must try while you are in the country.
Stay tuned with us.
Souvlaki
One of the most popular Greek foods which are usually served with rice or pita as a dinner. Souvlaki is actually small pieces of meat marinated and grilled on a skewer.
The meat that is used to make Souvlaki is either lamb, beef, or chicken.
Remember that this food is called Souvlaki just in Northern Greece, while in Southern Greece and the capital it is been referred to as Kalamaki.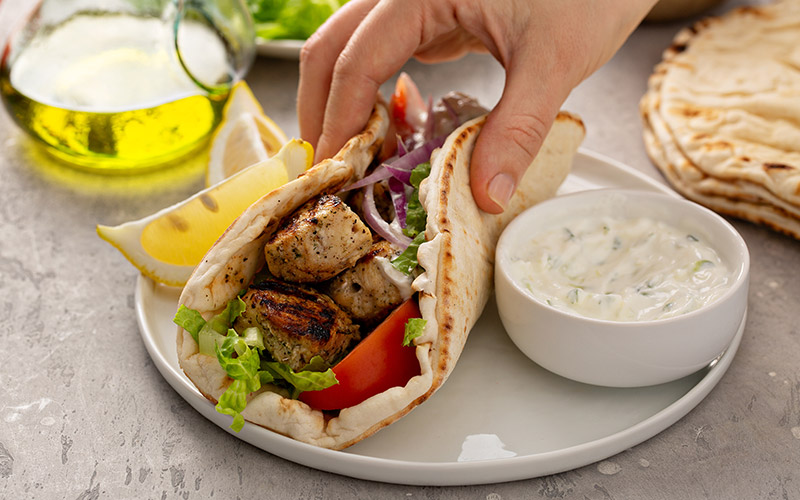 Dolmadaki
This amazing food, which is also known as Dolmades, Dolmathakia, or Dulma, is also popular in other regions like Turkey or Iran.
In the classic version of Dolmadaki, grape leaves are stuffed with rice, meat, nuts, and a traditional combination of herbs, all marinated in some special sauce. In some variations, grape leaves are replaced by tomatoes or bell peppers.
Dolmadaki is one of the best Greek dishes you can have during your stay and is usually served as an appetizer or a side food.
Moussaka
One of the most well-known foods of Greece. It consists of layers of fried eggplants, minced meat, and potatoes all put on a base of tomato. A creamy béchamel sauce will be topped on it. Then it will be baked until it turns golden brown.
Moussaka is most typically served as a lunch dish, and there are a variety of versions for it. So if you did not like the first plate of Moussaka you have tried, give it another chance when you found it in another restaurant next time you saw it on the menu.
The minced meat can also be removed to form a vegetarian version of Moussaka.
Stifado
No wonder if you fall in love with this beautiful dish. Pearl onions and some cinnamon added to a plate filled with sliced beef or rabbit which is usually served hot with some fresh bread or rice form a fabulous stew you will definitely love.
Make sure you will try this dish while you are in Greece, as this is one of the must-eats of your trip.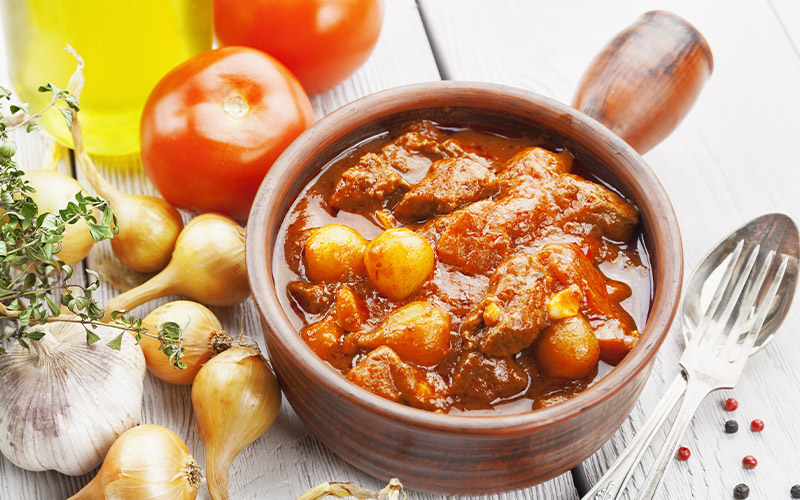 Greek salad
One of the best Greek dishes in the summer, whether as side food or as your main dish. Greek salad is a fabulous solution to run from the heat of midday peaks.
Also known as Horiatiki, this famous salad is made just the way you have probably seen it in other countries. It includes tomato, cucumber, green pepper, red onion, Kalamata olives, and whether a large brick or small pieces of feta cheese.
As the Greek feta cheese is one of the awesome ingredients, try Greek salad even if you think the taste will be the same.
Saganaki
An appetizer made of slightly fried cheese served with some sprinkles of pepper which a little bit lemon drizzled on it. The name is after the frying pan it is being made in it. It is both good to be served as a starter or beside a larger main dish.
Sometimes Saganaki is used in Greek salad as a replacement for the feta cheese, which is a different taste worth giving a chance to.
Pastitsio
The Greek version of lasagna, which is different from your definition of the dish.
It is similar to the Italian lasagna, but instead of pasta sheets, Pastitsio consists of small macaroni. Pastitsio is made by layering lamb or beef with macaroni. The béchamel sauce, which typically is flavored with cinnamon and Greek herbs is also the other main ingredient of the dish. The whole package will then be baked inside the oven.
It is better to have a salad as the side dish so that you can enjoy one of the best Greek dishes in the best possible combination.
As a Greek signature, it is sometimes topped with grated cheese before being baked.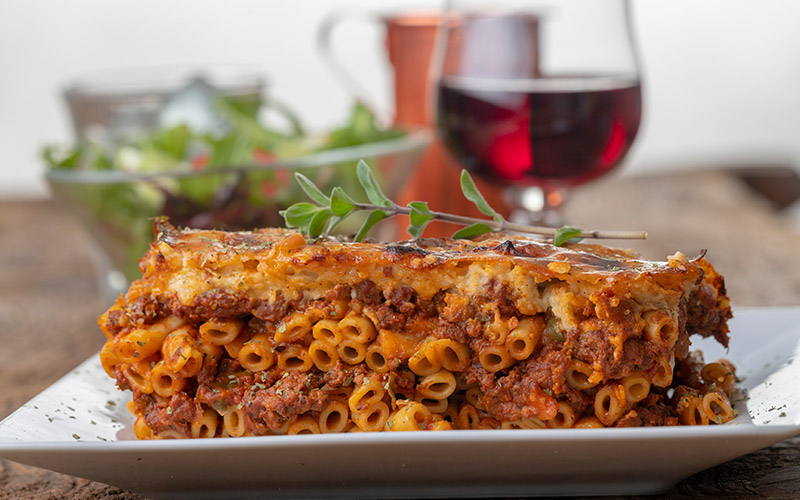 Galaktoboureko
A deliciously sweet, filled with custard. Galaktoboureko is made with layers of flaky phyllo pastry, which is sprinkled with cinnamon.
The warm Galaktoboureko that came straight out of the oven is so astonishingly tasty that if in future you will think it worth coming back to Greece just to try it again.
Fasolatha
A traditional soup made up of beans, crushed tomatoes, onions, carrots, and celery. Sometimes it is being flavored with parsley and thyme as well.
Fasolatha seems like a secret most of the tourists do not know, but if you have a bowl of this classic bean soup, you will see it worth trying.
Gyro
Consisted of pieces of lamb, beef, or chicken, this kebab-like sandwich is one of the most delicious foods you can eat during your Greece travel.
The meat is cooked on a rotisserie, then wrapped in a pita along with salad, onions, and some traditional sauces.
Gyro is usually served as a cheap, quick snack along with a cold drink. You can see some restaurants or eateries offering them with French fries as well.
The vegetarian version is included of feta or Halloumi (a salty cheese which is made of sheep and goat's milk combined) instead of meat.
Reference: bbcgoodfood.com