When it comes to a trip to South Korea, the first thing that comes to many people's minds is that the destination will be the glittering capital of it, Seoul. There is another city in the country that is as beautiful as Seoul, and as it is believed by a lot of people, even more beautiful. The attractions in Busan, the second most populated city of South Korea made it one of the most adorable cities in Eastern Asia. So why not planning a trip to a city with that much beauty?
The largest port of South Korea, which for this reason is known as South Korean San Francisco, is one of the most important cities in the country. While the capital, Seoul homes to different attractions that are known worldwide, the less crowded city of Busan has numerous tourist-favorite landmarks, especially the one Seoul lacks, beaches.
Numerous attractions in Busan include wonderful temples, vibrant beaches, and fabulous cultural sights. Of course, if you are looking for a brilliant shopping hub, Busan is the best choice. With traditional markets and shining shopping malls, you will never find a city better for shopping than the lovely city of Busan.
With pleasant weather almost all year long, Busan is an absolute choice if it is nature that you are fond of. Adorable landscapes from majestic mountains to unique hot springs can be found all around the city, and they are incredibly picturesque. You can also wander around the city and see some parks that will make you fall in love with their Korean type of beauty.
Busan also homes to some unique type of tourist attractions, Jimjilbang. These impressive landmarks are essentially some sort of spas, but in fact, they are the Korean style of spas. Busan is where you can find two of the largest spas in Korea, Heosimcheong Spa, and Spa Land Centum City. These two magnificent complexes are as big as a city with numerous facilities that will make you fall in love with them. They are believed to be the largest spa complexes in entire Asia and two of the largest ones on the planet.
In this article, we will introduce some of the most famous tourist attractions in Busan. With the information provided in this article, you will have a better idea about this city, so that you can find out why it is necessary to spend some days of your South Korean travel here. You also will know about the top tourist attractions of the city, to plan your trip to the San Francisco of South Korea better.
Stay tuned with us.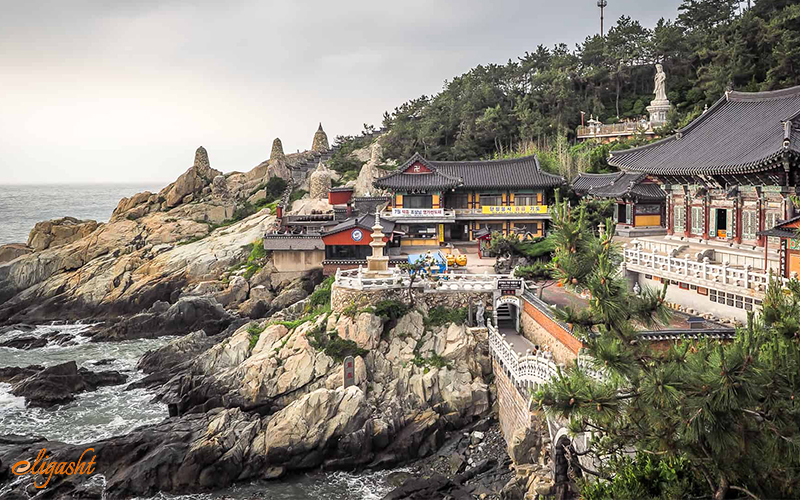 Haedong Yonggungsa: Adorable temple by the sea
One of the only temples in entire South Korea that has the unique condition of being located by the sea, is one of the most popular tourist attractions in Busan.
Although Busan is definitely less crowded compared to Seoul, this one place is where you probably will see tons of visitors every time you want to pay a visit to it. A lot of visitors from different cities of South Korea, or even from different countries around the world have chosen Busan as their travel destination just because it homes this impressive temple.
As a Buddhist temple, Haedong Yonggungsa is supposed to be in the same style as the other temples. With wonderful architectural style and lively colors visible all around it. It makes it a wonderful place to visit by itself.
Adding the spectacular scenery it gives and how picturesque it is, you will regret not visiting this adorable temple. You can stay here for hours and enjoy the symphony of the sea with a one-of-a-kind view of the vibrant waters. It is a picture that will never be forgotten throughout your life.
If you want to see a more romantic picture of the Haedong Yonggungsa, try your best to visit it during April. With vivid blossoms of cherry, it will be nothing but poetic.
Another good time to visit this temple is Buddha's birthday. With numerous paper lanterns decorated the Haedong Yonggungsa temple, it becomes one of the most scenic places to spend time on that special occasion.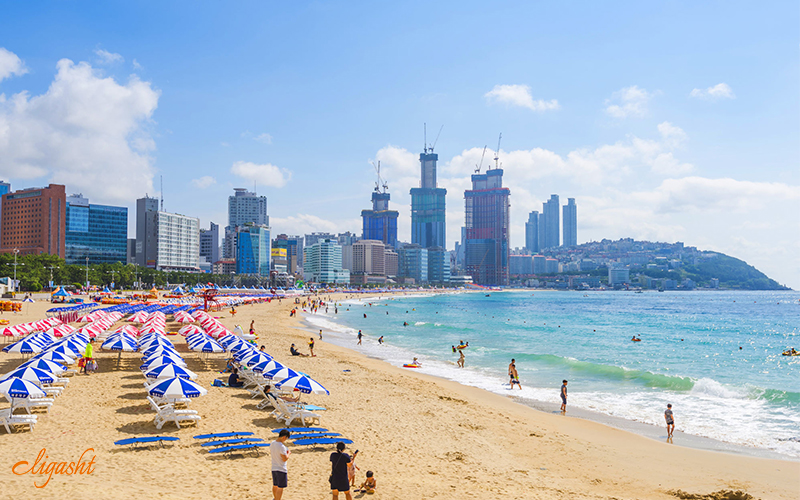 Haeundae Beach: A beach to rule them all
There are a wide variety of beaches in Busan. Wherever in the city you are, with just a short walk you can arrive at a beach that can make your day.
The views are fantastic and so is the atmosphere. It does not matter if you are going to the more relaxing Gwangalli Beach or Songdo Beach that homes to brilliant ocean walkways, the fact is that beauty and joy is everywhere.
Haeundae Beach, however, is whole another story. With a length of around 1.5 km, this beach is a long one with any standard you consider. It has the potential that hosts as many beachgoers as about 100,000. With this huge size, you can be sure that there is always some room for you, no matter how much crowded it is.
Haeundae Beach is nationally known as the most famous and popular beach in South Korea. People from the entire country try their best to end up their holidays here. So why not join them?
The joy in this adorable beach is not limited just to summer. The colder days of winter have their own beauty in Haeundae Beach. You can spend time visiting the scenic landscape of the sea or going to the Haeundae neighborhood. This neighborhood houses various attractions such as Sea Life Busan Aquarium, which is one of the best ones of its kind in the country.
There are also the city's best resorts as well as the best cafés and restaurants in which you can try delicious Korean cuisine.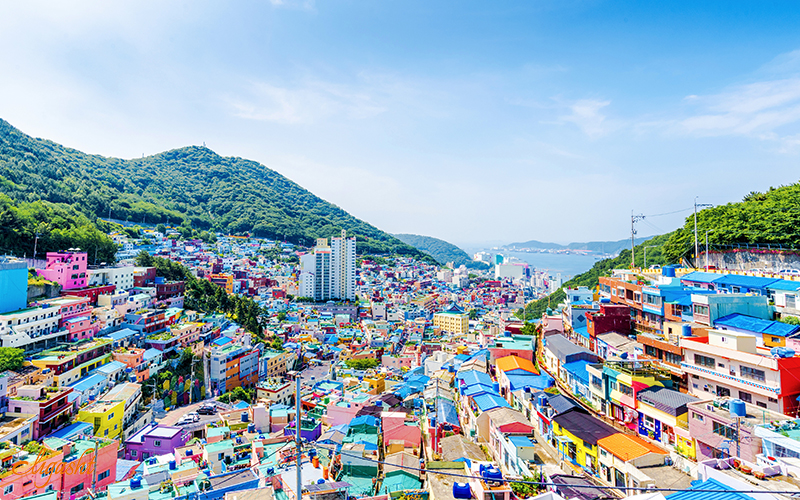 Gamcheon Culture Village: The artistic face of Busan
For many tourists, Gamcheon Culture Village is the first reason to head south from Seoul. This adorable neighborhood has a beautiful historic background. Gamcheon was built as a ghetto for the refugees of the Korea War back in the 1950s.
Located in the seaside and having a perfect view, it was then funded by the government to be transformed into a cultural village colored in vivid, bright colors. Now it homes the artistic aspect of Busan.
If it is winding roads full of public arts, Korean art galleries, and scenic lookout points, you should definitely plan a visit to Gamcheon Culture Village. With artistic cafés and restaurants, it is a complete set for a long visit. You just need to enter the area and experience a unique atmosphere like nowhere else.
It is simply accessible from the city, and you can reach it with the city buses. In less than half an hour you will be in Gamcheon Culture Village. In order not to get lost and also not to miss an important landmark, make sure you bring a detailed map with yourself.

Heosimcheong Spa and Spa Land Centum City: An experience with the world-class spas
As mentioned above, with its excellent hot springs, Busan is an ideal place if you are looking for a healthy trip.
Home to two of the most famous, top-class spas in the world Heosimcheong Spa which is also known as Hurshimchung Spa and Spa Land Centum City, Busan is where you will have endless fun.
With their magnificent architecture and unique atmosphere, they both are among the must-visit attractions in Busan.
Massage tubs, saunas, scented pools and steam rooms that are the main parts of spas everywhere are at the top level in these spas. When visiting you will see why they are considered the best ones of their kind.
Busan Museum: All you need to know about Busan's history
This is the exact thing you need to see when you are thinking about a museum. Incredibly comprehensive, when visiting this impressive landmark you will have that much of information you wanted to have about the historical and cultural background of Busan.
With numerous items to see in the Busan Museum, you need to plan a half or a full-day visit to it. It is one of the best attractions in Busan for a lot of people, especially those who are into history.
The Good news about Busan Museum is that it is free. You do not pay any entrance fee and also no reservation is needed in advance.
One of the best things to do while in the Museum of Busan is to try some of the unique cultural experiences provided. You can experience the unique style of Korean tea making or dress up in traditional local Busan clothing.
Reference: theguardian